Falsetto can be a great tool in your R&B vocal arsenal, but knowing when and how to use it makes all the difference when learning how to sing R&B.
In "How to deliver great R&B vocals in the studio and on stage," singer, songwriter, and producer Alvin Fields peeled back the curtain on great R&B vocals, sharing hard-won wisdom on how to deliver performances worthy of Luther Vandross and Whitney Houston, John Legend and Mary J. Blige.
If you're an R&B fan, you know that falsetto plays an important role in the style — but how do you use it correctly and effectively? "If it sounds good, use it," Fields advises, "but don't do it on every song."
Fields has learned this lesson himself through experience. "I did an album for A&M records after being signed by Herb Alpert and he wanted the whole album to be high," Fields describes. "The problem is that, if you go on tour, singing falsetto every day and night can be restricting."
Fields points to Russell Thompkins, Jr. and the New Stylistics as an example:
"Look at the lead singer," Fields says. "He cannot budge when he's singing. He has to sing straight ahead — he's so busy maintaining his vocal that he can't really move around. There are so many things you can't do singing falsetto live, so I would not recommend basing a career around it. Robin Thicke recently ran away from it, for example, and went down to his regular voice — which is actually nowhere near as good as his falsetto."
Instead of singing falsetto all the way through, Fields recommends bringing it in as a tasteful effect. "Lots of singers don't really apply falsetto until the end of the song, when it sits well over top of background singers."
Fields points to the Usher song "Can You Help Me" as an example of falsetto well applied:
"Part of it is in falsetto, but part of it is his natural voice," Fields says. "You have to really develop a strong head voice. You're sending air into the upper part of the nasal cavity, and most of the air is resonating in your sinuses and your forehead."
When it comes to vocal technique and learning how to sing R&B, Fields further recommends keeping a round mouth and throat and, most importantly, keeping the sound from coming purely out of the nose. "If you can create the sound in the back of your throat, combine that with the air in your upper chest and get some resonance in your nasal cavity, you're good," he advises. "It's almost like singing under water. You always have to have some reserve air and bring more air in than gets pushed out."
Want to learn more from Fields? Check out this video lesson on the song "Rude" by Magic!. Keep an eye on Music School Online, a brand new educational service created by super-producer Ken Lewis, for more videos from Fields as well.
To learn how to sing R&B and hear examples of Fields exploring the high end of his vocal range, visit his SoundCloud page.
Image via ShutterStock.com.
Disc Makers' regular contributor Michael Gallant's debut trio album Completely received a four-star review from DownBeat magazine and a five-star review from Critical Jazz, which stated: "This, my friends, is the future of jazz. Fresh, invigorating, progressive – there are simply not enough positive adjectives to list here." Learn more, download now through iTunes, jam along with the new JamBandit app, or purchase through CD Baby. Follow him on Twitter at @Michael_Gallant or on Facebook.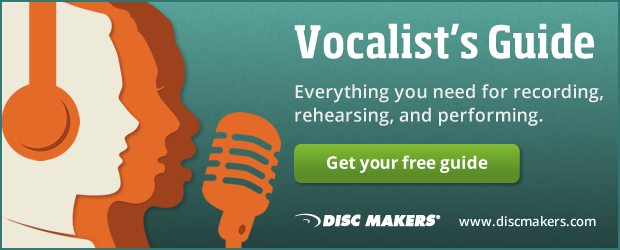 Read More
How to deliver great R&B vocals in the studio and on stage
Five tips for recording vocals at home
Set goals for your vocal lessons
Vocal exercises – Vocal warm ups for your upper register
Singing tips for vocalists in any genre