You should leave your fans wanting more, so if you want to perform live more than once a month, here are four strategies to fill up your performance schedule without saturating the market
To avoid overexposing your band in a market, you should limit your performances, perhaps performing once a month in your local territory and working hard to make each gig an explosive night to remember. The rule of thumb is quality before quantity, and leave your fans wanting more. However, if you desire to perform live more than just once every month, there are plenty of ways to fill up your performance schedule without saturating a particular market. Four basic strategies you should consider include:
A club residency
Alternate format performances
Dual territory performances
A tour
1. Club residency
In a club residency, a promoter will typically give an artist the opportunity to perform once a week or twice a month in his venue with the hope that the extra exposure will generate word-of-mouth promotion and build up local demand. This is an excellent opportunity to test material, work on arrangements and set orders, and gauge your songs' impact on an audience – and it could be a situation where a promoter is forgiving of a partially empty club. But if you fail to promote effectively and fail to grow your crowd each week and keep up your end of the bargain, the club residency can quickly be terminated and the relationship with the promoter forever damaged.
2. Alternate format performance
With an alternate format strategy, you perform two or three times monthly in a market, but you do it using non-competing formats of your music. For instance, an indie artist might play one club or territory with her full electric band the first week, and then do a more intimate acoustic solo performance in the same territory on the third week. This can be a pretty cool way to get fans to keep you at the top of their minds, and an excellent way of building a fan base by targeting different types of venues and catering to the people likely to frequent one type of club over another. However, you must monitor your audience and make sure your efforts are increasing attendance rather than creating competition between your own live performances.
3. Dual territory performances
Under a dual territory strategy, you play once a month in each of two (or more) separate and defined territories. Depending on where you live, there could be numerous markets in a relatively close range. If you live in Southern California, you might play in Hollywood one week and Long Beach the next; or a Delaware band could play Delaware, Philadelphia, and Maryland on consecutive weeks. The result is that you're playing multiple times per month, but only in each territory. To pull this off successfully, you have to promote your ass off, be very organized, and build up a following in each territory. This can be extremely difficult and require a lot of time, money, and energy.
4. Tour
As most of you already know, tours are typically booked with enough distance between each venue so that there is little competition between markets, no risk for over exposure, and a logical sequence to your performance dates and locations. Thus, when touring, you typically play several nights in a row, and as many as 25 shows in a month. While it is possible for a young "original" band to hop on the college circuit or to play military bases, remember that touring is an option typically for those bands that have built up a high demand in a number of territories, who are at a more advanced level to expand outward, or who might be ready to support a bigger act with a draw. This also takes an enormous amount of organization and planning, and requires someone acting as a tour manager to secure and confirm booking dates, lodging, meals, payments, and gig-to-gig logistics.
So that's about it. These tips are common sense, but sense is not always so common – sometimes we all need a few reminders. Good luck getting those gigs!
Vector image via ShutterStock.com.

A renowned drummer, teacher, consultant, and Disc Makers contributor, Bobby Borg is the author of Music Marketing For The DIY Musician: Creating and Executing a Plan of Attack On A Limited Budget (September 2014, Hal Leonard). The book is available on the Hal Leonard website, Amazon.com, or at BobbyBorg.com.
The contents of this post are © 2014 by Bobby Borg BobbyBorg.com. All rights reserved. Not to be posted, printed, or used in any other way without proper attribution to Bobby Borg and Disc Makers.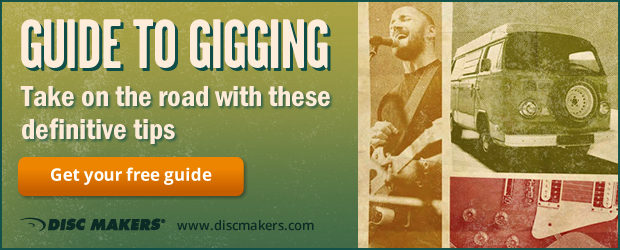 Read More
Indie Touring Strategy: Getting Out on the Road
Five mistakes keeping you from becoming a great musician
Band rehearsal tips: Can you be over-rehearsed?
Tales of the worst music gigs ever
Set list tips for your next live show
Sustain your music career – nine insights to help you do it