Want to learn how to sing R&B and deliver great vocals? Singer and producer Alvin Fields gives advice on choosing material, delivering vibrato, and owning your riffs.
When you study how to sing R&B, start by listening to great singers like Whitney Houston, Luther Vandross, Usher, Ne-Yo, Yolanda Adams, and Mary J. Blige. Every classic R&B vocalist has his or her unique style, and the true standouts display how powerful and majestic great R&B vocals can be, both in the studio and on stage.
While an amazing R&B singer's delivery may seem to come straight from the soul, there are numerous musical and stylistic elements that go into creating that warm, edgy, sexy, or uplifting magic. Just ask Alvin Fields. As a singer, songwriter, and producer, Fields has credits with artists like Kanye West, Drake, Dionne Warwick, Rihanna, Whitney Houston, John Legend, Alicia Keys, and many more – he's a great place to begin if you want to learn how to sing R&B.
Choose the right material
While R&B may be a traditionally black genre, Fields says, artists of all backgrounds have been successful at making the style their own. "You see plenty of singers like Robin Thicke and Justin Timberlake recording hits and getting nominated for R&B Grammy Awards," says Fields. A lot of it has to do with the material they're choosing to perform.
Choosing the right tunes doesn't mean just grabbing the most recent Billboard hit and covering it. "It can help to look outside what you might normally think of as standard R&B songs," Fields continues. "R&B has always included different things. The Beatles' early recordings were all Smokey Robinson, Little Richard – 'Twist and Shout,' for example. Those are Motown hits, and as a group, that's all they liked. It's the same with the Rolling Stones."
These days, Fields continues, Bruno Mars, Chris Brown, and Adele are all considered R&B artists — even though such singers delve heavily into pop and electronica. "The styles have fused," he describes. "R&B is even close to country music. In 1994, All-4-One had a hit on the R&B charts and John Montgomery had a hit on the country charts, both with versions of the song 'I Swear.' The fine line has been broken."
The lesson? "Pick any tune that can cross the line and work well in an R&B context," says Fields. "It has to have some places where you can implement blues riffs and phrasing that gives it an R&B flavor. It also has to be a song that really inspires you."
Hear Fields' advice in action with his R&B cover of the Barbara Streisand Broadway classic, "People."
Listen for phrasing
"Check out the video of Ne-Yo working with Celine Dione on the song he wrote called 'Incredible,'" says Fields. "She really picks Ne-Yo apart, listening to how he phrases everything and asking how he says certain words. She does a great job analyzing what he's doing to be able to phrase her words similarly and riff like he does. When they sing together, it's pretty magnificent."
When it comes to your own R&B vocals, listen closely to singers you admire and pay attention to how they approach notes, color their vocal tones, time their phrases, and use vibrato. "Emulate what you hear, and then make it your own," Fields says.
Work with the right producer
Even if you listen to songs with great R&B vocals from the last three decades on loop and practice tirelessly, having an expert set of ears can help you nail the vibe you're going for, both on stage and in the studio. Especially when you're recording, Fields advises, try to find a producer experienced in R&B to help you along the way.
"If you work with a good R&B producer, among other things, he or she will have the ear to help you choose a song that will appeal to an R&B audience. Even if you've only sung rock music, if I go into the studio with you, I can get an R&B vocal out of you," he says, laughing.
If you have the budget to work with name producers, start by looking at the credits for your favorite songs via Wikipedia or AllMusic, he advises. "Often, the producers are the same as the songwriters. Once you find the names, you can usually track people down through trade magazines and websites or social media."
If, like the majority of indie musicians, you don't have the budget to hire multi-platinum collaborators, never fear. "You have technology on your side," Fields says. "Go to SoundCloud or YouTube, listen to a lot of stuff and find some songs that you really like, and then contact the producers who made those tracks. They can send you stems of their tracks and you can collaborate remotely. Thanks to technology, you can get produced long distance."
A key to making long-distance collaborations work is having access to a decent recording setup where you can track your own vocals and send them back and forth for feedback and editing. For tips on building an affordable and effective home recording rig, check out "Five tips for recording vocals at home."
Own your riffs, and apply with care
One of the best parts of an R&B vocal performance can be the moment when the singer starts riffing on the melody, adding his or her spirit and interpretation and making the performance truly unique. That said, adding riffs can also be like playing with fire — too many runs and ornaments can destroy even the most beloved classic.
"When you learn a riff that works for you, keep it," says Fields. "That's a trick that was taught to me by Cissy Houston, Whitney's mother. That riff is yours. The next time you find that same word in another song, try the same riff." Riffs are a collection, a box of doughnuts, he continues. "You can have all different flavors, and you choose what riffs to use where. Stay consistent with it until you become bored — and then experiment and come up with something new. But if something works for you and the audience likes it, keep it!"
Fields cites drummer Yogi Horton, who played with Luther Vandross for many years, as a great example to follow. "He was one of the greatest drummers alive and he told me his secret. He said that he only had ten different beats that he played, but he used them on different songs and everybody wanted them. So even if you only have ten riffs, that's still enough to cover you song to song. They become your signature."
That said, don't write your signature too big or too often, Fields advises. "It can become a self-parody. Just watch the movie Coming To America where Eddie Murphy parodies an R&B singer, or In Living Color when they mock Whitney Houston riffing all over the place. Especially in the '90s, it got way overdone and became a cliché. A riff has to be tasty. Listen to every Aretha Franklin record. Those riffs are tasty. Maybe even try copying them in your own performances. They won't sound like her riffs when you sing them — they'll sound like yours."
Know when to embellish and when to play it straight
A big part of riffing successfully is knowing when in the song to start. For Fields, the answer again came from Cissy Houston.
"She's one of the best singers on the face of the earth and she gave me and Whitney what I believe to be the ultimate secret of how to sing a song," he says. "In the first verse, sing it like the damn thing was written! You're introducing the audience to your voice and to the song here. When you get to the chorus, present it strong. If it's a sad song, give the chorus that melancholy emotion, but sing it straight. Then, when you hit the second verse, start to play with it a little bit, add some little inflections to take it to the next level — listen to any Whitney or Cissy record and you'll hear this in action. Then for the second hook, the second chorus, backing vocals come in singing the melody that you sang in the first chorus, and you can start riffing on top of that."
"When you hit the bridge, you can really start throwing in riffs, using your voice as an instrument to add color, or just let an instrumental part extend the piece. Then, for the final chorus, you can continue to show off your chops, but you don't have to. Remember, people want to hear the song more than the singer."
This way of building the song — and using your riffs only in the right places — is a golden secret when learning how to sing R&B, Fields says, and one major reason why Whitney Houston had so many hits.
Use the right vibrato for the moment
Vibrato can alter your vocal performance in subtle or dramatic ways — so be mindful and use the right amounts for the right moments.
"Aim to have as much control over your vibrato as you do the words of the song you're singing," Fields advises. "For women, fast vibrato is really the charm when it comes to R&B, and that sells the most records." Case in point? Again, check out Whitney Houston's recordings, and Beyoncé as well. "For men, a slower vibrato like Luther Vandross' can be sexier." Watch Vandross in action, singing "A House Is Not A Home."
Knowing your vibrato capabilities, and being able to control your vibrato from one word to the next, can help you become the most expressive vocalist you can be, Fields says, citing singers Yolanda Adams and BeBe Winans as prime examples. And while emulating popular R&B singers can get you far, Fields encourages you to be thoughtful in the process.
"A lot of the kids I teach emulate the vibrato of the day from singers like Ne-Yo and John Legend. Ne-Yo's vibrato almost loses pitch as it goes sharp at the end of the notes. I've had to train students not to do that. Just because it works for Ne-Yo and John Legend doesn't mean that it works for them."
Learn from the pros
When it comes to figuring out how and when to riff, download some great R&B tracks, set up your microphone and digital audio workstation, and get singing.
"Often, you can find versions of songs that have vocals and don't have the vocals," says Fields. "Download both, align them in your recording software, and if you really love what the singer is doing, try to record yourself emulating every single riff that you hear. See how that feels initially, then go back and listen to it with your own vocals over the instrumental-only track. Listen to how similar or different you are compared to the original singer — and then start adding your own effect. Use your own inflections and try to make it yours, varying it every single time, just a little bit, but trying to keep it close to the original sound."
Want to learn more from Fields? Check out Music School Online, an online educational service created by super-producer Ken Lewis.
Disc Makers' regular contributor Michael Gallant's debut trio album Completely received a four-star review from DownBeat magazine and a five-star review from Critical Jazz, which stated: "This, my friends, is the future of jazz. Fresh, invigorating, progressive – there are simply not enough positive adjectives to list here." Learn more, download now through iTunes, jam along with the new JamBandit app, or purchase through CD Baby. Follow him on Twitter at @Michael_Gallant or on Facebook.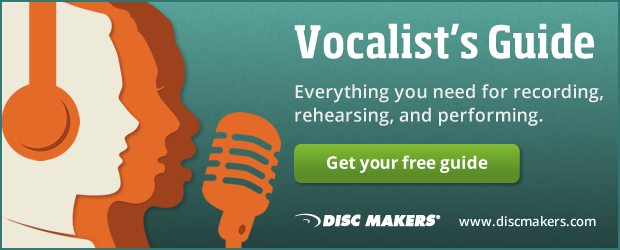 Related Posts
Falsetto, vibrato, and other natural vocal effects you should master
How to sing better right now: Singing tips from an expert vocal coach
Picking the perfect song for your voice
How to prepare for a vocal recording session
Singing tips for vocalists in any genre