We posted a list of the worst music gigs – and many of you added your own – but wait! There's more…
In "Tales of the worst music gigs ever," we shared a handful of on-the-gig horror stories and lessons learned from them. While those stories were all wrenching in their own rights, below is one from New York bassist Dmitry Ishenko that stands in a category of its own.
About five years, Ishenko received a call from a Russian saxophonist friend asking him to fill in for a show that same night, due to a last-minute cancellation. The gig was backing up a "somewhat famous Russian pop star" at the Millennium Theatre in Brighton Beach, Brooklyn, which was one of the main venues for touring Russian acts and variety shows at the time.
The catch, Ishenko explains, is that he was being asked to a) play guitar rather than bass and b) mime the guitar parts, as the entire show was pre-recorded.
"After a few attempts to decline, and given that my friend was truly in a bind, I reluctantly accepted," Ishenko says. "Borrowing my friend's black Gibson SG, I headed south to Brighton Beach."
As he arrived for "soundcheck," Ishenko saw that the rest of the band was already on stage — his sax player friend as well as a drummer, bass player, and keyboardist, "who was sporting one of those four-octave Casio keyboards that we all had as kids," he describes.
"I made my way to my designated spot, right next to a beautiful Fender Twin Reverb guitar amp that was already turned on for me," he continues. "The elderly soundman instructed me to plug in, but to remember to keep my master volume all the way down, while making sure to move my fingers along to the music. The pop star was nowhere to be seen, probably warming up in her dressing room for a show that she wasn't even going to sing in."
Show time arrived, strobe lights began bombarding the audience, and a deafening four-on-the-floor Euro techno beat poured from the speakers. "The pop star leapt on stage in a frantic dance, as if shot out by some circus canon," Ishenko says. "At this point, I need to tell you that, given the last minute circumstances of the gig, I was completely unfamiliar with her music, so all of my miming had to be a real-time reaction to what was being blasted through the speakers."
The first song, a techno pop number with no guitar in it, went off well. "I just pretended to be playing some sort of one note funk rhythm," he says. "No big deal! It got far more complicated after that, though. The next song presented a problem."
Halfway through the tune, Ishenko "played" a blazing metal guitar solo. "It wasn't too fast, and as I got into my Guitar Hero pose, I felt like I nailed it. Next song — quasi-metal riff over that same techno beat and another guitar solo, this one fast! I panicked. There was no way that people wouldn't notice that it wasn't me playing. I turned around, facing the muted guitar amp, so the audience couldn't see my fingers."
After that came a ballad, to which Ishenko faked some subtle acoustic guitar arpeggios. "I was thrown a surprise, though," he says, "a romantic nylon string guitar solo, which I did my best to fake on my black, mean-looking SG. And for the next song, I had to pretend that I was Slash playing with Michael Jackson. The pop star flew towards me from across the stage and engaged me in a hip-shaking dance as I was showering her with a barrage of fake notes."
The evening continued in a similar vein, with the singer regularly running up to dance with Ishenko and him trying to react as quickly as possible to the music, often turning his back to the audience when he felt that his guitar-syncing was too obvious. "The whole time, two thoughts were spinning in my head," he says. "One was me mentally cursing out my friend who got me into this mess and the other one was praying that no one in the audience would recognize me. Being of Russian background, I did my fair share of work in that scene, plus some of my relatives and family friends live in Brighton Beach."
As the gig finished, Ishenko packed and moved to exit as quickly as possible, resolving to forget everything that had happened. Before he reached the door, though, his phone rang. "My grandmother who lives in San Francisco was calling," he says. "'Dmitry, did you just play in the Millennium Theater?' she asked. My heart sank. How the hell did she know? Apparently a relative had been at the concert, recognized me on stage, and called her. The relative said that the band was great, but suspected that the singer wasn't really singing live. I got recognized after all!"
Lessons learned from the experience? "Never take a miming gig, even if it's with a pop star or your friend is begging you," Ishenko says. "You will look and feel ridiculous! Also — you never know who is watching you."
Do you have on-the-gig horror stories of your own? Share them below!
Image via ShutterStock.com.
Disc Makers' regular contributor Michael Gallant's debut trio album Completely received a four-star review from DownBeat magazine and a five-star review from Critical Jazz, which stated: "This, my friends, is the future of jazz. Fresh, invigorating, progressive – there are simply not enough positive adjectives to list here." Learn more, download now through iTunes, jam along with the new JamBandit app, or purchase through CD Baby. Follow him on Twitter at @Michael_Gallant or on Facebook.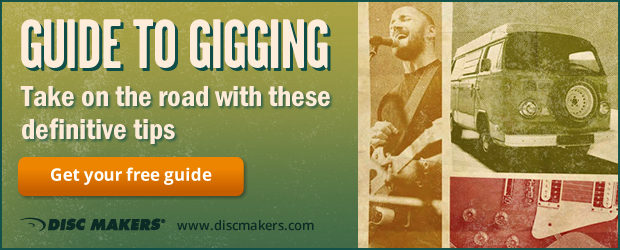 Read More
Tales of the worst music gigs ever
Gig Etiquette – Set-Up and Breakdown Habits To Live By
Help the soundman get you a great live music mix
Ditch the pre-show performance jitters
9 things you should never do on stage