There are times when gear explodes, drunks attack, and people vanish. But even the worst music gigs can be valuable learning experiences.
Every musician has stories of the best gig ever, that performance where the music clicked, the crowd roared, and the stars aligned to create a brilliant, uplifting, and transformational evening for everyone involved.
Then there are the other times when nothing goes right. Gear explodes, drunks attack, vehicles break down, and that's just the beginning. But even the worst music gigs can be valuable learning experiences for indie musicians of all stripes and genres.
Backline featuring a toy drumset
WHO: New York drummer Rob Mitzner
THE GIG: While living in Boston about eight years ago, Mitzner got called for a pop/rock date in Atlanta — or what he thought was Atlanta. "After flying all day, we were picked up in a van and driven two-and-a-half hours to a little town in northeast Georgia, somewhere way out in the woods," he says. "We discovered that we were playing at a summer camp in an outdoor amphitheater for about 1,000 teenage kids."
THE PROBLEM: While Mitzner and company weren't thrilled at the unexpected additional travel, the show still sounded fun — until the equipment arrived.
"Usually, these large outdoor gigs are backlined with gear from a sound company and a local pro sound engineer," Mitzner continues, "but for this, our sound man was, in reality, a thirteen-year-old 'sound boy' with no experience." Mitzner also noticed that there was not a drum anywhere on stage, when he'd been promised a full kit.
"I was assured by the well-intentioned but overwhelmed soundboy that drums were being brought soon. Apparently, I was to play the camp's drums and not a rented kit. Not encouraging, but I've played all sorts of drum sets touring over the years and have learned to make just about anything work. When these drums showed up, though, it became clear that that notion was about to be tested."
The bass drum was two inches deep and had no back head, the toms resembled small rubber drum pads, the cymbals were the consistency of tin foil, and the "throne" was in fact a tiny children's chair. "I'll never forget the look on the bass player's face when he saw those drums, which were basically a kid's toy, being set up on this gigantic outdoor stage," Mitzner continues.
HOW HE DEALT: "I managed to get through the show without completely breaking the kit or falling on my ass, but there was tons of screeching feedback from the drum mics, which wasn't a surprise, given how horrible the kit was," Mitzner says. "I certainly looked and felt ridiculous, but we got through it."
LESSONS LEARNED: "If someone says that they are providing drums and a sound man, don't have any expectations," he says. "Just smile, enjoy yourself, and make it work."
Major instrument trauma
WHO: Turtle Island Quartet founder, resident composer, and violinist David Balakrishnan.
THE GIG: A Quartet performance in Germany, in a beautiful castle, that was being filmed.
THE PROBLEM: "While we were taking our final bows, one of the film crew people was running behind us and tripped on a wire," says Balakrishnan. "We heard this whooshing sound, and a crash, and the audience, which had been giving us full-out applause and bravos, quickly fell into a murmuring hush."
The buzzkill responsible for the instant mood change was violist Danny Seidenber's instrument, which was lying on the stage, dashed to pieces. "The vibe was like someone had a heart attack or something!" Balakrishnan continues. "Later, we found that there was video taken of us from the audience vantage point as we were taking our bows. You can see, in the background, the viola flying up in the air, spinning like a top, and crashing to the ground, and then Danny getting this sick look on his face as he turned around."
HOW HE DEALT: "There wasn't much we could do other than leave the stage and quickly turn to literally pick up the pieces. Luckily, there was instrument insurance for such an accident and the viola was repaired nicely by our good friends and expert instrument makers Joe Grubaugh and Sigrun Siefert. So all turned out well in the end."
LESSONS LEARNED: Balakrishnan recommends that anyone with an instrument attached to an amp or sound system via wire set up on stage with a high-quality instrument holder, stand, or hanger — and that if anyone will be running around on the stage, that they are well aware of the dangers of getting snagged by a cord. "Other than that," he says, "pray to the almighty for grace!"
Unwanted attention
WHO: California vocalist Toni Jannotta
THE GIG: As part of a six-month tour with a top-forty group, Jannotta played a fateful gig with a show band at a Holiday Inn in Jackson, Mississippi.
THE PROBLEM: "A football player got handsy with one of the cocktail waitresses, which pissed off the bar manager, who was a fairly burly guy himself," she says. "That led to a seven minute fight in the club."
Jannotta and company were in the middle of a medley from Tommy and their performance was punctuated by the sounds of falling tables and breaking glass.
HOW SHE DEALT: "We just kept on singing, '. . . listening to you. . . .'" she says. "Finally, our medley ended and, blessedly, so did the fight. The police took the bad guy away and we took our set break. What a night!"
After that intense and exhausting tour concluded, Jannotta, took a twelve-year break from music. "When I came back, it was jazz or bust," she says — and she has been performing purely as a jazz singer ever since.
LESSONS LEARNED: Jannotta recommends two morals: Never stop singing when there's a fight in the club and sing what you love, always.
The vanishing tour manager
WHO: Portland guitarist Susan SurfTone
THE GIG: The first show of a European tour by Susan and the SurfTones. The venue was a small club in Brussels, Belgium. "As soon as we arrived, our Belgian tour manager, let's call him Arnold, hustled us upstairs to a large but bare loft with huge windows looking out into the Brussels night," SurfTone says. "It was beautiful." After Arnold left with a mysterious "I'll be back" and returned hours later, the band descended to the club level to set up.
THE PROBLEM: Though Arnold had provided a fairly respectable-looking backline, the stage lacked current adapters and half of the drum hardware, including the drummer's throne. "I'll be back," Arnold told the band again, and vanished out the door. Two hours later, the band was far beyond its scheduled 9:00 p.m. downbeat and he had not returned.
"The place was packed and we were nervous," SurfTone recalls. "Everyone spoke French. We did not. Our bass player decided to rig up the amps. The rest of us told him not to try anything, but he was the band member who never listened." The result? "A Wile E. Coyote moment when he blew up the bass amp," she continues. " After the smoke cleared and he went through denial that he did anything wrong, he then made us promise not to tell anyone. But now we had no bass amp."
Arnold finally returned and when the band in fact did tell him what happened, he again replied, "I'll be back" and vanished yet again. At this point, it was 11:00 p.m., two hour past scheduled showtime.
Somehow, while waiting, the band ended up at a nearby private party in an ornate ballroom. "Everyone spoke French and seemed amused by us," SurfTone recalls. "We were fed and shown to the open bar. We were happy that it gave us a place to hide out while Arnold did whatever he was doing." Finally, Arnold returned with a small bass amp and adapters, but no drum hardware, and the band prepared to play.
HOW SHE DEALT: "We took the stage at about 1:00 a.m. and the drummer soldiered on, playing standing up and with one cracked cymbal," she says. "Most of the crowd stayed and we all had a good time."
LESSONS LEARNED: "I guess the moral of the story is that we saw it through and it worked out fine. However, we had no choice. Had we been in the States, at least one of us would have bailed. We couldn't speak the language, so the club employees couldn't complain to us about the mess," she continues. "Belgians must be very patient people."
CODA: "After the gig, it was pouring rain and Arnold took us to a very cool dive bar where the club owner and his girlfriend were hanging out," SurfTone says. "As soon as we got drinks Arnold said 'I'll be back' and took off into the rainy night. Later, when the bar closed, he still wasn't back."
Playing with fire
WHO: New York pianist, composer, and producer (and writer of this article) Michael Gallant.
THE GIG: Playing "futuristic" background solo piano and keyboard for a dystopian-themed fantasy costume party in Brooklyn.
THE PROBLEM: When I arrived to set up, I noticed that the venue was essentially a large, old concrete garage that had been converted into some sort of probably-illegal residence, workshop, and event space. There was a leaking pipe on the roof and a portion of the ceiling, feet away from where I was to set up and play, had started to cave in. Not ideal, but it actually worked with the ambience of the event — so I decided to go with it and set up my keyboard far enough from the leak so the instrument, and I, would stay dry.
Things got hairier when several of us in the room smelled a strong chemical burning odor and couldn't figure out where it was coming from. I quickly noticed that a) there were no fire extinguishers anywhere to be found and b) that there were no fire exits or windows. In fact, the only way out of the concrete box was a small, single door about forty feet away, on the other side of which was another door, past the bar and a lounge area, eventually leading to the outside — and the place was starting to fill up with more people, props, and furniture. In other words, if there was indeed a chemical fire, we were all in trouble.
HOW I DEALT: Searching with the party organizers as the smell got worse and worse, we eventually discovered that the source was nothing more than a smoking lightbulb put into the wrong sort of socket. The toxic smell slowly dissipated, I kept my eyes on the door and adjusted my gear placement so I would have a clear path to it in case something else caught fire, and did my best to play the best dystopian cocktail music Brooklyn had ever heard.
LESSONS LEARNED: Always arrive early to scope out the venue. Stay aware of your surroundings — regardless of whether you're setting up, playing, breaking down, or hanging afterwards — and know where your exits are. Don't hesitate to bolt, even mid-song, if your personal safety is truly in question.
Do you have an on-the-gig stories of your own? Post it below!
Image by Oleg Golovnev via ShutterStock.com.
Disc Makers' regular contributor Michael Gallant's debut trio album Completely received a four-star review from DownBeat magazine and a five-star review from Critical Jazz, which stated: "This, my friends, is the future of jazz. Fresh, invigorating, progressive – there are simply not enough positive adjectives to list here." Learn more, download now through iTunes, jam along with the new JamBandit app, or purchase through CD Baby. Follow him on Twitter at @Michael_Gallant or on Facebook.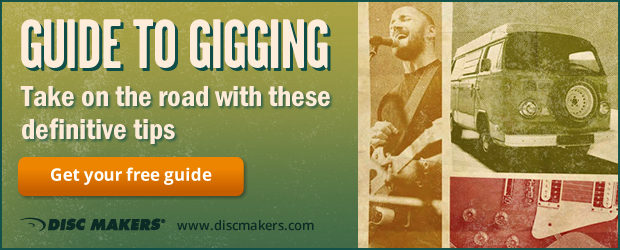 Read More
How music instrument insurance helped Triple Colossal Studios weather a hurricane
Gig Etiquette – Set-Up and Breakdown Habits To Live By
Help the soundman get you a great live music mix
Ditch the pre-show performance jitters
9 things you should never do on stage