The secret to reaching your music career goals is to define and achieve the smaller steps that will help you eventually achieve your long-term goals.
Many of us have been taking stock of our accomplishments from the past year and are now thinking about how to increase our productivity and success as the new year gets rolling. One of the most commonly ignored tools is learning to use goal-setting as a fundamental building block in one's own career development. No matter what you tackle in life, setting and achieving goals is key to becoming successful. And setting goals is really as simple as defining various long-term, mid-term, and short-term goals.
Dreams are not goals. A goal must be written down and have a date by which you intend to complete it. For example, pitching your original songs to four music supervisors within the next 30 days is an attainable goal, since you have complete control over whether or not you can achieve this goal. As your own career plans evolve, remember that although we all aim to fulfill our dreams, it's important to focus on the things you can control and attach realistic timelines to each objective.
As an example, let's say that your eventual goal is to transition to a songwriter who is able to support him or herself 100% from writing. Right now, you're working at a day gig outside of music. But your long-term goal (five-ten years) is to write top-10 pop songs. You also need a mid-term goal that's achievable in one and one-half to four years because it's unlikely one can go from being a barista or clerk to a hit songwriter overnight. So what might be a good mid-term goal?
Perhaps a mid-term goal is to be a published songwriter and have two to three songs recorded on an artist's album that's on the charts. That's an ambitious, but attainable, mid-term goal.
For short-term goals (the next twelve to eighteen months), it would be realistic to enroll in a songwriting class offered online and complete it. You may also decide to join a regional songwriter's organization and set the goal of having at least one new song ready every sixty days to present at their meetings. Other short-term goals may include joining a music collaboration website such as Music Gateway or Indaba Music to test out and develop a few co-writing relationships over the next year.
The craft of songwriting requires you to constantly be recording. At one point, you'll be ready to put together a demo. If you work with one good musician/arranger, you can do just about anything that's required at this point. This demo may be a short- or mid-term goal, depending on where you start your songwriting odyssey.
How about identifying and subscribing to key trade magazines right now, such as American Songwriter and Performing Songwriter? Those would be short-term goals. Another good one would be to locate a teacher/mentor. Say you will be attending a songwriting weekend workshop in a few months, and you keep in touch with one of the teachers via e-mail. Perhaps they would take on a student like yourself because you can learn so much in the right mentor or teacher relationship. Even if they're writing in a different genre than you are, the craft of songwriting is nearly identical across styles and genres. It's learning how to tell a story that connects on a gut level with the listener. And being exposed to those who are further along on your intended career path, no matter what it is, is essential to speeding up your learning process.
This is how developing your own short-, mid-, and long-term music career goals will help you to chart a path towards your ideal career. Let's say you identify four short-term goals and set a six-month window to complete them. Your mid-term goal mentioned above – getting songs onto a record – is your one-and-a-half- to four-year window. And your eventual goal of writing a song that goes up the charts is your five- to ten-year goal. Break it down into bite-size chunks, and you will have a clear roadmap to take you to your long-term goals. No matter what area of the music industry you want to join, this proven system will help you get there.
Establishing yourself as a self-supporting songwriter isn't easy. But you will significantly increase your odds of success if you use these techniques to help chart your course and measure your progress against a realistic timeline. Make your goals concrete with a chart. Once you get started, review the short-term activities in process now that are going to take you to your long-term goals.
The secret to reaching your music career goals is to define and achieve the smaller steps (short- and mid-term music career goals) that will help you eventually achieve your long-term goals. And pat yourself on the back each time another small milestone is achieved.
Review your goals weekly. Use your calendar planner (MS Outlook, iCal, etc.) to track your progress and to give you reminders of pending deadlines. If you don't write down due dates and check up on your progress, you won't achieve your goals! Update your goals as you move forward. Some will be completed and you can cross them off. New ones will become clear to you as you continue your career development. Make adjustments as you learn more, meet new mentors and decide what is most important to your career development.
Finally, remember to be patient. Be sure to keep your career goals visible in whatever way is most present in your daily life. For instance, prominently post them near your computer or in your personal rehearsal space, workspace, or other visible spot. Doing so reminds you daily of your goals, nudging you to gauge your progress toward achieving them. Share your goals with your significant other or a trusted family member so they can provide encouragement, especially if you hit a rough patch in your journey. If you are diligent in maintaining your music career goals, you have a much better chance of achieving long-term professional, financial, and personal success in the music biz – and any other biz you choose.
This is an excerpt from the newly published third edition of How to Get a Job in the Music Industry by Keith Hatschek with Breanne Beseda. Keith is a regular contributor to Echoes and directs the Music Management program at University of the Pacific in Stockton, CA. He has mentored hundreds of young music industry professionals during his 20-plus years as a teacher and coach.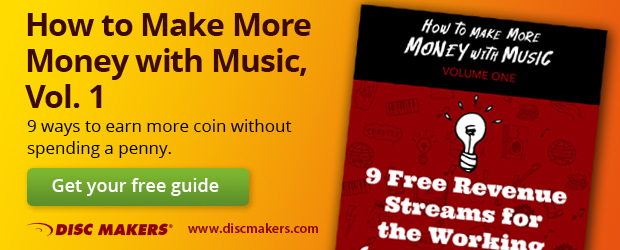 Read More
Setting your music career goals
Create content to achieve your music career goals
Get Clear On Your Music Career Goals
4 Steps to Convert Goals into Results
How to submit your songs to music blogs, record labels, radio, and press
The road to becoming a successful songwriter