Bassist Malcolm Gold's story about the benefits of MusicPro instrument insurance doesn't involve theft or damage. It was just a momentary lapse of focus on a long commute.
You're scrambling to get to your gig in New York, carrying your instrument on your back and an array of other bags and gear for the long trek. Lots of things are weighing on your mind, plenty of ideas and distractions, and then – time to switch trains. You grab your bags, jump on the next train, and realize, "Where's my bass?"
Can you tell me the story about losing your bass? I hear it was something of a heartbreaker.
It's an embarrassing story – I'm having doubts about admitting to it in print.
To make a long story short, it was a very stressful time in my life. I guess it was about six or seven months ago, I was traveling on a train with a beautiful 1966 ice-blue metallic Fender Jazz bass. It's a custom color, it's a very nice bass. It's an instrument that's worth a considerable amount of money, to say the least.
I had a bunch of different bags with me, and I put the bass on the overhead rack. There was a point when I had to transfer trains, at White Plains on Metro North, and basically with all the stress I was going through and all the stuff I was carrying, I just forgot the bass. I left it on the train in the overhead. I didn't see it when I was getting up and realized it as I was just getting on my second train.
So I took that train to the next station, which was the end of the line for the train I was originally on, the one with the bass on it, and I went on a wild goose chase carrying all this stuff I had with me, running as hard as I could up to the train depot, figuring out which train it was, convincing some guy to look… we couldn't find it. The bass was lost.
I called Laura Donelan at MusicPro, out of breath, right there from the train station, told her what had happened, and she said to call her back in 10-15 minutes. When I did, she had already called all of the music stores in the area informing them of the loss and a description of the bass and the serial number in case somebody should come in and try to sell it.
That really impressed me right off the bat. It wasn't like "Well, this is going to have to go through the proper channeling and paperwork first" – which, of course, it has to – but her concern, first and foremost, was doing what she could do to recover my instrument, which really impressed me.
Yeah, I guess you don't necessarily expect that from an insurance company.
No. She and the claim adjuster at Sterling were really great people to work with. And MusicPro would have settled the claim earlier, but I wanted to see if the bass would get turned in.
Needless to say, it was a very, very hard day. I got on a train to go back towards the city to see if a conductor had maybe found it and turned it in to lost and found, and then I had to take a train back home.
After that, I kept going to Metro North's lost and found, but it never got turned in. So, I would have gotten a check even quicker than I did, but they were happy to wait and see if it got turned in. Unfortunately it didn't.
This is reminding me of the story of Yo-Yo Ma leaving a cello in a taxi cab in New York, so you're not alone.
Yeah, I know. I heard Nile Rodgers did the same thing – he founded the band Chic and is a heavy-duty producer – he left a guitar, the guitar he played on all these hits over his career, on a train going to Connecticut. He did the same thing I did, except he had better luck and they found the guitar.
That's what insurance is for, and that's why I have no problem insuring all my gear. Obviously it was worth it. I mean, it would have been devastating for me – we were just moving when it happened, so for us to be in the middle of a move and have a loss like that, it would have been really, really heavy.
After that, the hardest thing was having to admit what happened. But having MusicPro step up, it made it way less – I don't want to say catastrophic, because in the end it's only money – but it would have been a lot worse.
Replacing an instrument like that, there's sentimental and emotional value in addition to the value of the instrument itself. Did you just replace it with a similar instrument?
As of right now, I haven't replaced it. I've looked around, trying to find one that has the same "thing" that one had, but I haven't found it yet. As far as having tools of the trade to work with, I have other basses. I can still work. But I haven't found a bass to take the place of that instrument. There's something about '66 Jazz basses – the electronic design from that year – that makes them kind of special, too. I've looked at a couple '66s, but I haven't found one yet that fills the void.
You obviously had insurance when this happened. What prompted you to have it to begin with?
I have a lot of gear, and I basically started insuring my instruments when I had enough to make it worthwhile. It's been a while that I've carried insurance on my instruments. And insurance in general, home insurance, auto insurance, I'm a firm believer in that. Because you never know what's going to happen. I do a lot of traveling, and there's so much room for error. There are so many distractions, day-to-day, as a traveling musician, and so many things you have to stay on point with. Flight details, getting everything you need to and from the gig, there's just a lot of room for error, so carrying insurance just makes sense.
So one of the takeaways here is it's not just about theft or damage when it comes to insurance. I mean, I get the embarrassment, but it's not hard to imagine running around with a ton of things on your mind and in your hands. This could happen to anyone. Nice to know insurance doesn't just cover an "act of God" but also an act of forgetfulness.
Yeah, and it was just a very personable experience, dealing with MusicPro. I mean, you hear stories of insurance companies, people who have to deal with cold claims officers who have their mission as a company about what they're going to pay or not going to pay, and it wasn't like that with MusicPro. They seem to get that things happen, and that's how insurance should be.
And the one thing that wasn't insured was this beautiful leather gig bag that had been all over the world with me. It was beautiful, and worn in. I had just had the zipper replaced and the shoulder strap replaced. And for whatever reason I had forgotten to insure it.
Did you have your information, markings on that bass, something in the case, a note saying, "If lost, call me?"
No. Isn't that stupid? There was nothing to indicate I owned it. I've changed that now, of course. Everything I own has my information inside it.
Well, it's situations like this that make you realize what you should have done.
Yes, and if I were to just put one quote on your blog, I think it would be "I can't recommend musicians get instrument insurance highly enough, and I can't recommend MusicPro highly enough."
Image of lost traveler via ShutterStock.com.
Malcolm Gold is a bassist, vocalist, and songwriter based in New York City. His credits include Sheryl Crow, India.Arie, Rob Thomas, Days of the New, The Waterboys, Morgan Heritage, The Weepies, Trans-Siberian Orchestra, G.E. Smith, Dan Zanes, and many others. Go to myspace.com/malcolmgold for more info. Photo: Charina Pitzel/KEXP
Learn more about MusicPro insurance at www.musicproinsurance.com.
---
A musician, writer, and marketer, Andre Calilhanna manages and edits the Disc Makers and BookBaby Blogs. Follow Andre on Twitter @dre_cal. Email him at andre@discmakers.com.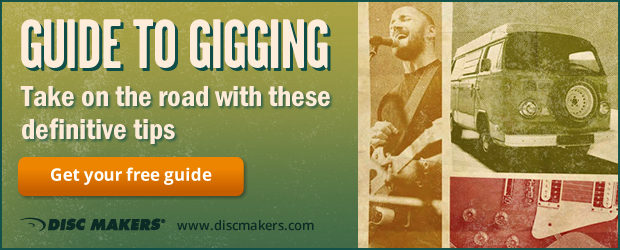 Read More
How music instrument insurance helped Triple Colossal Studios weather a hurricane
Recovery tips for your stolen instrument
Tips for Surviving and Thriving on Tour
Five easy ways to prevent music instrument theft
Indie touring posts – how to be a DIY tour pro