Ben Camp's road to becoming a successful songwriter was a winding one, and he advises that "today's music industry is very fragmented, so the more angles you can come at a project with, the more likely you are to be successful."

Ben Camp is a successful songwriter whose song "Gold" was a hit for Victoria Justice, tallying more than 14 million YouTube views. I met Ben when he joined the summer faculty of the Pacific Music Business Camp and demonstrated his teaching and songwriting savvy with high school age aspiring producers and songwriters. He'll be spending the next year teaching songwriting at his alma mater, Berklee College of Music, while continuing to write songs for and with a wide variety of artists.
How did you first get involved in music?
At the tender age of 16, I got my first pair of turntables, and by 18, a friend and I were gigging all over the Washington, D.C./tri-state area as DJs. We realized that if we wanted to get national or international exposure, we'd have to start releasing records, because that was the only way to get noticed. So we started releasing our productions on various independent labels, and it worked. Wherever our music struck a chord, we'd get an email asking if we'd like to perform. We went to London, Amsterdam, Mexico City, Hawaii…
What was the transition point for you and your partner and label?
About a year or two into DJ'ing, I went to Drexel University and ended up in their music industry program. I took one songwriting class, and that class was totally interesting and fun, so I started really getting interested in writing lyrics. I didn't quite have the whole idea of what a song was, how the structure worked, I just knew that I really liked putting vocals in. About six years after that, I ended up going to Berklee College of Music in Boston. When I walked in, I was an electronic music producer, but they had an entire songwriting department and several courses devoted to songwriting. I started taking those courses and it fed my curiosity and I started doing as much writing as I could.
Near the end of my time at Berklee, the chair of the department, Jack Perricone, had started to refer me to some people in the industry and I ended up having a song on hold for Britney Spears's Femme Fatale album. That ended up falling through because Max Martin had sent in a song of the exact same name, and Max has a long track record of writing number one records for her. So if the label is faced with the choice of picking a song from either Max Martin or an unknown, it's not a hard choice to make.
---
"Doubt is part of the creative process. Even people who are at the top of the songwriting game today struggle with the process. [Hit songwriter] Max Martin has said that he'll come up with 100 different melodies to find the one that sticks. So it's essential to not be afraid to throw out those hundred until you hit on one that lights you up on the inside."
---

What was great about that for me, what that instead of feeling, "Oh man, I lost this, I'm never gonna make it," my response was, first of all, I haven't even gotten out of Berklee and I already have a song on hold for Britney Spears. Second, my competition is Max Martin, so that's a pretty good sign. That whole experience led me to say, "I could really do this!" So me and two other talented writers and friends all moved to New York and formed a writing team.
We were incredibly hungry so we just dove in and took every opportunity that came along. Our first really strong business contact was a song plugger who worked in Korea and Japan. There is a whole market of K-pop (Korean pop) and J-pop (Japanese pop). Psy ("Gangnam Style") is just the tip of the iceberg.
We spent the first six months in New York, really cultivating our contacts and learning the ins and outs, not only of Korean and Japanese pop, but also honing our skills on all the tools we would be using every day, such as Melodyne, a vocal tuning program, and our mixing and vocal arrangement skills. These are very valuable skills for what's called a "top liner" today.
What's a top liner?
A label will have an instrumental track that they like, without melody or lyrics, and they will send it out to ten or twenty top line writers and have them all come up with a melody. So they will get ten or twenty songs submitted for consideration over the exact same beat. And that was something that doing those Korean and Japanese pop pitches really taught us. That was our only job, we had to come up with a full song, a complete vocal arrangement, and send it all back over the top of the [provided] beat. For us it was like a Triple A league, really getting our skills honed. Looking back, that first year of full-time songwriting was an extension of my study at Berklee, sort of like a year-long lab practicum.
Did the songwriting team hang together?
We were together for three years, by the end of which each of us had had some cuts. Our very first cut was by a Korean girl group that was produced by Teddy Riley, who had produced one of Michael Jackson's albums, and invented the style of new jack swing. Our next cut was due to my co-writer, Joren, who is Dutch, having a relationship with some producers back home who were developing a new boy band who picked it up and had great success with it as their first single, "Mind is Blown." It went Top 10 in Holland and stayed up there eight or nine weeks, getting more than four million plays on YouTube.
We also had four or five songs written together placed in movies and TV shows. Eventually, Sam (my other partner) and I moved to LA and Joren moved back to Holland. Whenever Joren comes to town from Holland, half of his days are booked for a co-writing session with us. I reach out to Sam whenever a project fits his musical skills as a co-writer or co-producer on a number of projects. So we have definitely built a very strong bond, while at the same time, venturing off and doing things independently.
What pulled you from New York to LA?
I came out in part because I had this single with Victoria Justice. I co-wrote the track, "Gold" with some friends and it was my first major label US single, which was a pretty big deal, because after that, publishers start to respond to your emails and phone calls.
I thought, "now I have the ability to get in some doors, so it's time to go to LA." Since then I've had a single recently with Project 46 on Ultra Records called "Eyes," which features Morgan Karr on vocals, and another one, "Calling Out," with Dyro, who is one of the top 100 DJs in the world, that features an artist named Ryder who has a wonderfully unique writing and vocal style.
Mostly what I've been doing in LA has been seeking out new talent and nurturing them. Maybe I'll find someone that has a really unique style of playing guitar and singing, but they don't have the songs to show off their abilities; or perhaps I find a really talented songwriter who needs a producer. Basically, I'm building a network of people who I really respect. I think it's important to surround yourself with people you respect.
Why is this so important?
Today's music industry is very fragmented, so the more angles you can come at a project with, the more likely you are to be successful. If you have five guys coming together, you have five times the number of industry contacts to utilize. If a mix needs to get re-tweaked because a publisher says, "Hey, we need to get this to sound a little bit more urban," and you're in a writing session every day this week, you can respond, "Let me send it over to my writing partner and he'll be able to make those changes and send it back to you tomorrow." So you don't lose out because it may be that the songs are going to be selected within 48 hours for that particular project.
So, how do you find the collaborators you are working with? Some of the younger artists probably need some mentoring.
I seek out talent that really lights me up. Vocal producers, singers, songwriters, artists – people who I hear and say, "Wow, that person is amazing, I need to write with them. Let's get into the studio and make something happen."
A lot of what I am doing when I'm working with an emerging artist or a singer is letting them know that it's OK to trust their instinct when they feel that they've hit on a great idea or melody. I can't remember the amount of sessions that I've had when someone throws out a brilliant melody that instantly sounds like a number one record and then they follow that melody by saying, "Yeah, I don't know if you like it or we can just throw it out and start over."
And I say, "No, that's amazing!" Trust yourself because you are coming up with genius material right now. As someone who is working with developing artists and young songwriters in the classroom, my job is as much to teach them all the tips and tricks and songwriting guidelines that I know, as well as to teach them to really listen to their own musical judgment, to trust it, and to follow their own musical tastes.
Often time creative people may hold themselves back if they feel self-conscious. It can be hard to get over that hill and put your ideas out there with confidence.
It absolutely is, and I don't think that anybody gets all the way over that hill. I think that doubt is part of the creative process. Even people who are at the top of the songwriting game today struggle with the process. Max Martin has said that he'll come up with 100 different melodies to find the one that sticks. So it's essential to not be afraid to throw out those hundred until you hit on one that lights you up on the inside and you know, "Wow, that's it!" That is a tremendous skill and one I hope to impart to any artist that I'm working with or student that I'm teaching.
Read Part 2 of the Ben Camp interview, "Avoiding common songwriting obstacles."
Keith Hatschek is a regular contributor to Disc Makers Echoes blog and directs the Music Management Program at University of the Pacific. He's also written two music industry books, How to Get a Job in the Music Industry and The Golden Moment: Recording Secrets from the Pros.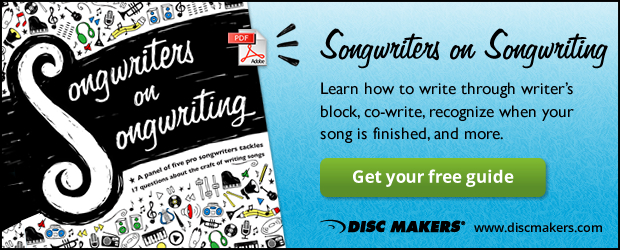 Read More
Ask a songwriter: 5 questions for Byron Hill
Ask a songwriter: 5 questions for Five For Fighting's John Ondrasik
A DIY Songwriting Workshop Idea
Songwriting and writer's block: 11 tips to help the songwriter get unstuck
Sustain your music career – nine insights to help you do it