Traveling can bring excitement to your life, and it can bring stress and upheaval, as well. Here are four simple travel tips to help you endure life on the road without feeling like roadkill.
I've been wanting to write this article for a while… but I've been traveling.
I am all too familiar with picking up and being on the move, non-stop, for one to seven weeks at a time. There are certain things I've learned over the years, and not just from being a touring musician. I do a good bit of touring as a performer, but I have always been a restless soul and was in a long-term, long-distance relationship that spanned from New York City to New Hampshire, Alaska, and Wyoming. That was the same relationship, by the way, and yes, I married the bloke – and we're still on the road a lot.
Traveling can bring lots of excitement to your life, and it can bring some stress and upheaval, as well. Here are four simple travel tips to help you endure your life on the road without feeling like roadkill.
1) Bring only what you need. Even when I'm not touring for my music, when I head to the hills for a month, I know how to make all systems go with as little as possible. That means knowing that my Logic sessions will open and work without any outboard gear. It means having three extremely versatile pairs of shoes. An added bonus: this tip keeps things simple and clutter-free at home, as well.
2) Make transitions fast! Lingering between two locations is just not a good idea, it can add to the sense that you're not quite settled where you are at the moment. This goes for transitioning between being at home and being on the road. My advice: pack and unpack within one day of leaving or returning. That includes setting up and putting away gear, doing laundry, and connecting with the people closest to you. You will feel more grounded and in control of the chaos that naturally comes when traveling if you tansition quickly back to "normal" life.
3) Have a master packing list. I have one that includes the things I need to take – no matter what kind of trip it is: a weekend with the girls, a local tour, a summer in Europe, or a month-long festival run. These things include chargers and adaptors, toothbrushes, tickets and IDs, makeup, etc. You can continue to tweak your master packing list and add sublists depending on what kind of journey you're embarking on. After a few trips, it'll be your most valuable travel tool!
4) Communicate. Have systems set up before you leave so you can stay in touch and feel connected to your home. Skype, Facetime, WhattsApp, and email are great if you're traveling internationally and you know you'll have WiFi access. Just make sure to take the time to connect – set aside a few minutes every day or throughout your trip as possible. I also like to send postcards. You know how you feel when you unexpectedly hear from a traveling buddy – do the same for someone else. You don't need to go nuts; in fact, traveling is often a great way to disconnect from the hubbub of the modern world of constant connectivity. But staying in touch with a few key people will make traveling start to feel more like normal life and a little bit like a shared experience.
Ultimately, your travels are usually not about leaving one life to experience another, they are contributing to you who you are. Give yourself the gift of ease, connection, and workability, and look back on your days away with fondness.
Image via ShutterStock.com.
Cheryl B. Engelhardt (@CBE on Twitter) is spending the summer in Chamonix, France with her mountain guide husband. You can follow her travel and music adventures on Instagram. Cheryl is a film and commercial composer and singer/songwriter with multiple tours, records, and TV placements under her belt. If you liked this article, sign up for her email list, purchase her eCourse "In The Key Of Success: The 5 Week Jump- Start Strategy," and check out her other awesome recourses at www.InTheKeyOfSuccess.com.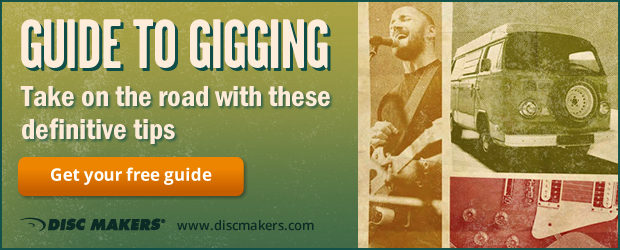 Read More
Saving Money While Touring
Touring Tips For International Music Gigs
International Music Gigs, Pt. 2 – Managing Your Gear
Crossing the border to the Great White North: a musician's guide
Five traits you need to make a living in the music business