This excerpt from our guide Planning Your Album From Beginning To End covers some of the legal steps you need to consider for your next album release
If you're sitting down to tackle making an album, there's a lot to think about; from clearing the rights for your cover songs to converting the cover art to the right format. These issues can trip you up, or cause the album to take a lot longer than you'd expect. Randy Chertkow and Jason Feehan, authors of The Indie Band Survival Guide, have revised our popular Planning Your Album From Beginning To End guide. The guide delivers on its title, providing a road map to help new musicians and seasoned veterans navigate the process of rehearsing, recording, and manufacturing an album; preparing and producing an album release event; and handling the post-release activities you'll be engaging in to fully promote your new album. Here's an excerpt from the revised guide, which you can download for free right now!
Before Disc Makers can mass produce copies of your disc, there are a few legal issues to clear first. You are required to sign a release form declaring that all the music on your album is original and "owned" by you. If all your music is original, you'll check that box and move on. However, if you record any cover songs or incorporate any copyrighted samples or loops, you have to provide proof that you received the proper permissions. That's where the next steps come in.
1. Document who owns the songs and sound recordings
If you're in a band or collaborating, co-writing, and co-recording your music with another person, you should document who wrote what while you're making it.
Items you should document include:
Who owns the copyright in the song and/or how writing is split among the songwriters.
Who owns the sound recording(s).
2. Get permission to record any cover songs or use samples or loops
Cover songs are any songs that you or your band members did not write. For instance, if you decide to record your own version of "Freebird," you need to get permission from the copyright owner and pay a license fee to duplicate it. All CD manufacturers will ask you to guarantee that you've done this before printing any copies of your disc. This is true even if you have no intention of selling your version of the cover song. It's the duplication of it that makes it a "copy" under the law, not selling it.
For help and for all the forms you'll need, including an IPR (Intellectual Property Rights) form and design forms, check out Disc Makers website.
Additionally, any samples and loops you incorporate into your music need to be cleared as well. One way around this is to use samples and loops that are already pre-cleared and royalty-free. Most sample libraries or discs sold at music retail stores and sites are royalty-free. Also, some musicians create and release their own pre-cleared and royalty-free samples and loops licensed under Creative Commons. For example, ccmixter is one such resource.
3. Clear the legal status of all the artwork
Just like you need permission to use cover songs, you'll need permission to use any graphics, fonts, or photographs you don't own. One way around this is to use pre-cleared and royalty-free artwork or artwork and photos you've taken or commissioned. There are numerous "open source" and "free graphics" resources you can use by searching on these keywords.
4. Clear the legal status of all the text
If you intend to print the lyrics to a cover song you got permission to record, this needs a separate license. It's one thing to get permission to record the cover song, it's another to type out the lyrics. Under the law, there are actually two different things that you're copying. As a result, you'll need to get permission to copy the lyrics to the liner notes of your album. If you don't, it's best to leave them off. And, yes, technically you need permission from yourself to print the lyrics to your original songs!
5. Get permission for guest musicians
Ever see a sentence in a CD's liner notes that reads: "So-and-so guest musician appears courtesy of so-and-so label?" This is usually due to exclusivity clauses in the label's contract that bind the musician to the label. To the extent you collaborate or work with a musician signed to a label, you'll need the label's permission for them to participate. You'll want to ask the guest musician if this is something that needs to be done.
Go to the Disc Makers YouTube Channel for more "Indie Music Minutes" and other helpful videos.
Billboard magazine called Randy Chertkow and Jason Feehan "the ideal mentors for aspiring indie musicians who want to navigate an ever-changing music industry." They've written three books with major publishers (Macmillan, Random House), teach music business (including a 15-hour online course called "Making Money with Music"), and are regular contributors to Electronic Musician magazine.
For more details on publishers and more information on recording cover songs, loops, and music copyrights, see the chapter on "Your Rights" in The Indie Band Survival Guide, which covers rights, ownership, and licensing. You can also download Chertkow and Feehan's "Song and Sound Recording Split Agreement" document and use it as a template to keep track of who owns what of your original songs and sound recordings.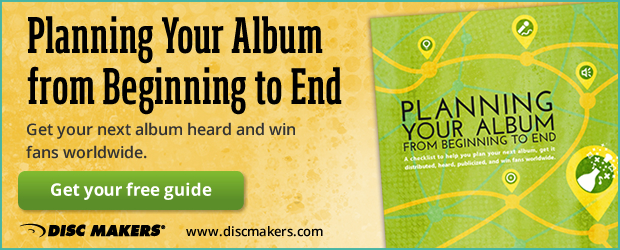 Read More
The Mantra of a Successful Recording Studio
Indie Music Marketing Strategies
Singing Tips – A Vocal Warm Up Is Key To A Great Vocal Performance
Is Your Project Ready For CD Manufacturing? A DIY Album Release Checklist
ISRC, Gracenote, and CD-Text explained (and provided) here!