When Hurricane Irene battered the New York area in August 2011, Dylan Wissing lost his entire studio. MusicPro music instrument insurance helped him recover.
Let's start with what happened with Hurricane Irene. You sustained a lot of damage from that storm.
I had a recording studio in Hoboken, NJ. They built the town in a swamp and every once in a while it reverts back to its former self. My studio was in an old factory building, I knew the hurricane was coming and we had to get out of town, I had a bunch of stuff in my studio and a bunch of stuff in the basement of my apartment. I had seen two feet of water in my apartment basement before, so I had basically enough time to make a bet on which location was more likely to flood. I bet on the wrong place. Our apartment was high and dry.
But we prepped the studio. I had gotten everything three feet off the ground that I could, and there was a bunch of other stuff that I put in these water-tight, molded plastic drum cases. They were stacked in the center of the room holding a bunch of instruments: snare drums, toms, cymbals. Then I kind of stacked stuff on top of that. My thinking was, if three feet of water came in, it would be a mess, but at least my gear would survive. If more than three feet came in, that's it, there's nothing I could do.
About three feet of water did come in, and what I didn't anticipate was that these molded plastic cases would become little boats. They floated off and tipped over. So just a ton of stuff was sitting in this water. I couldn't even get in there for three or four days, and by the time I did the walls were turning black. The factory was an old wallpaper factory for a century, it was probably a pretty toxic place on a good day. I tried to see what I could salvage out of there. I bought a bunch of expensive rubber boots and some friends came over and we basically tried to haul anything we thought might have a chance of surviving out, and then we just laid everything in the courtyard of my apartment building — the weather was beautiful for five days after the hurricane. But so much stuff was totally destroyed. I would take the head off a snare drum and the shell would just open up. All these beautiful, vintage old drums. I pretty much had a 20-year collection destroyed or that needed a major overhaul to bring it back to life.
I would assume as a drummer, or anyone in music, that a collection of items you'd accumulated over 20 years would amount to a lot of gear.
I've been a full-time musician since 1990, and I've been collecting stuff since I was in high school, back in the '80s — so it was a lot of gear. I will say that the whole experience taught me that, in the end, all the people were fine and it is just stuff at the end of the day. It helped me to be able to let go a little. It was well-used while it lasted, but now it's gone. I was able to pull some small stuff, I think I took all my microphones out. But, I was down for the count for several months just trying to deal with the old gear, and yeah, it was depressing.
Of course, I've seen the pictures from Katrina and Irene — but when you're living this, it's got to be a whole other experience that's hard to even describe.
Yeah, and maybe the worst part — some of the stuff looked OK, but the wood had absorbed this unbelievable stench. There was this one wooden shaker that was in the corner of the basement I had forgotten about. I found it a few weeks ago. The stench is still in there, and it immediately took me right back to the ordeal. It went directly into the garbage.
You couldn't have rebuilt in the old location?
No way. And, I would never want to. I learned my lesson. Especially in a town that's what, three feet above sea level? No way. I'll never go back to a basement or ground level apartment in Hoboken ever again. I take hurricanes a lot more seriously than I used to.
Was your studio a large home studio or a true pro studio?
The old studio was somewhere in the middle. The current one now is officially a pro studio called Triple Colossal. I was able to find a location in a much better place, a better room. The old Triple Colossal was a project studio. I mean, some records did well — there was a Grammy nomination from a recording done in the old space — but it was definitely not the kind of place you'd want to have your clients come and visit. The new space is absolutely public.
Leading up to Irene, did you already have music instrument insurance through MusicPro?
Absolutely. I've been using MusicPro for probably close to 10 years. I learned my lesson back in the '90s. I had been on tour with a band for fifteen years, Johnny Socko, based in Indiana. Back in 1993 we were playing the East Coast for the first time. We had all our equipment in a trailer, and all our cash from the tour was in our van. We went to D.C. for one hour of sightseeing one afternoon, and when we got back, the van was gone. It was found the next day, but they had cleaned everything out. We had no insurance. Of course after that, somebody's father said, "You idiots, why didn't you have insurance? What's more important than securing the tools of your trade?"
It was a catastrophic theft. I was just out of college, I had to deplete my college fund to replace the entire drum set that I lost.
In terms of the items you had in your studio in Hoboken, did you already have a list of all your equipment including serial numbers?
Yeah, and I'm relentless about saving every receipt, and I'm really glad I did. I recently set up a Dropbox folder where I have all my receipts for every big item and every item I have insured just in case my house and my studio both burn down at the same time. And in terms of setting up the policy, you need to have serial numbers and info like that, so it forces you to pull all that information together.
How was the process of receiving the money back from Music Pro to get yourself back on your feet?
A check came from Music Pro pretty soon after — I think it was settled within 45 days. So that gave me the funds to paint the new place and replace everything, essentially. There were a couple of drums, some of the metal drums we could keep the shells and gut everything else. So I had funds to get back up and running. But let's just say the clock was ticking, there was a lot I needed to purchase and a lot I needed to do to get the new place up and running to where I could get back to work. It was a pretty stressful period.
There must have also been a lot of electronics, the board and outboard gear. Did any of that survive?
The electronics weren't touched by water, but the humidity in that space was unbearable. I turned on the amp rack with all the recording gear. Nothing had touched it, there was no water damage, I had raised it up, but I guess from all that humidity, some things would kinda work, others would sort of sizzle, some would make this hissing noise, and it was like, "nope, this stuff didn't make it either."
So clearly, at this point you are fully insured.
Oh yes. In fact, if anyone I work with in any way shape or form — if their stuff is not insured — I basically smack them across the forehead. Most of my friends are musicians, they make their living playing guitar or bass or whatever, and I think the starting rate for Music Pro is $150 or something for the first $10,000. Whatever it is, basically, it's one gig's pay for the year to completely insure your equipment. And I get so pissed off at friends who say, "Oh, you know, it's probably too hard or too complicated." Every excuse you can imagine to not pay $150 to insure the tools you need to earn your living.
Are you amazed that you're starting to sound like that father who insisted you get insurance all those years ago?
Damn it! I knew that would happen. Yeah, I feel exactly like that father. "You idiot — insure your gear! Don't be stupid!"
Because you can be as prepared as possible and you can still have a trailer open up on the highway. You can prep for a hurricane, raise your gear off the ground, and you can still be faced with a catastrophe.
Or someone could just say, "Oh look, a trailer full of gear. I think I'll take it."
Photos by Kristie Andreula for Frontkick Productions.
MusicPro Insurance was formed with a single charter: to provide convenient, affordable insurance to meet the needs of working music professionals. If you make a living or earn money from playing, teaching, composing, studying, or recording music, what could be more important than protecting the tools of your trade? Visit MusicPro's website: MusicProInsurance.com. Connect with the MusicPro community on Facebook.
Dylan Wissing has been recording and performing for decades — his first recording experience was with session legend Kenny Aronoff in the early '80. Since then, over 3,000 live performances worldwide, hundreds of recorded tracks, and appearances in Modern Drummer magazine have cemented Wissing's reputation as a tasteful, creative, and rock-solid live and session drummer. Learn more at indiestudiodrummer.com and check out Triple Colossal Studios. Watch "The Making of Alicia Keys' 'Girl on Fire'" video with Dylan.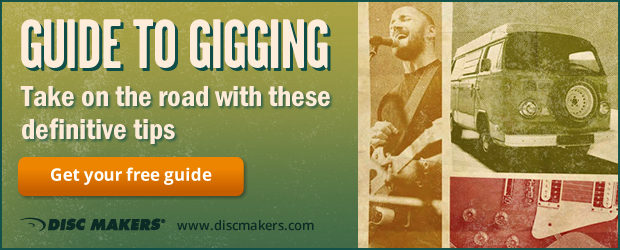 Read More
Tips from a cop to help prevent music instrument theft
Producing great hip hop vocals
Indie Touring Posts — How to Be a DIY Tour Pro
SNL Drummer Shawn Pelton Shares Recording Session Performance Tips
Pre-production tips for recording drums