It's good to know what you should be doing to advance your music career, but it's also important to be aware of the things you should avoid. Don't do these things during a music performance.
This post on music performance tips was adapted from an article on Music Industry How To. Reprinted with permission.
I'm sure you've read guides and posts and advice about how to move your music career forward. While it's good to know what you should be doing to advance your music career, it's also important to be aware of the things you should avoid. Unfortunately, doing the wrong things can kill your career a lot quicker than doing the right things can push it forward.
With that in mind, I want to share with you nine mistakes I've seen musicians make during a music performance. I've tried to leave personal opinion out of it, instead focusing on what will make for a poor show for your audience. After all, it's them you're there to entertain, right?
Here are nine things you should never do on stage!
1. Tune your guitar to start the show
Play guitar? Don't go on stage and spend the first few minutes of your set tuning your guitar. It's not fun for the crowd, and it just shows how unprepared you are. Practice tuning regularly so you can get it sounding right fast, and plan for time backstage to prepare yourself and your instrument so you're ready to play when you're on
2. Argue with the venue staff
Things don't always go to plan. The show might start later than advertised, there might be a smaller audience than expected, or the sound engineer might not get your levels right. Despite all of this, don't go on stage and vent your frustration over these issues – or worse, directly argue with staff during your show time.
Believe it or not, I've seen this happen multiple times. It's easy to feel entitled and like you want to get it off your chest, but there's a time and a place. When you are on stage, you're there to entertain the crowd and have fun, so be professional and perform to the best of your ability – whatever the circumstances.
3. Make it obvious when you make a mistake
Mistakes happen. What should you do when they do? Simple: carry on with the show! Unless it's something major, like a part of the stage has fallen down, chances are the audience won't even notice. And even if they do, if you carry on as normal, it probably won't bother them. Don't make a big deal out of mistakes or highlight them, just keep on with your set.
4. Do more talking than performing
Ok, so it's important that you let people know where they can catch you next or that they can buy your merch during or after your set. That said, no one wants to hear you talking about it for ages between each song. This gets boring and breaks up your show.
Be sure to incorporate short busts of promo across your gig, but keep it entertaining. Mention things in intros while the music is still playing, at the end of songs, and to backing music briefly between tracks. This lets you get out what you have to say without killing the vibe.
5. Disparage other musicians
The last thing you want to do is call out another band. Don't criticize, mock, or laugh at another artist while you're on stage. If you're touring and have been invited to gig at somewhere outside your usual circles, treat the local musicians there with respect. There are so many "scenes" out there currently that are known for bands who just bash each other for no good reason. Chill out and enjoy the music.
6. Let your ego get in the way
On a related note, it's important to never boast about your act or music while you're on stage. Keep your ego in check. In fact, get rid of your ego. Keep that all to yourself. As a crowd member, it's so laughable to see band hype themselves up on stage. If you think you're great, be great. No one likes musicians who are too full of themselves.
7. Shout into a microphone at close range
As a musician myself, I'm fully aware that it's easy to get excited by a crowd that is really into your show. If you're going to raise your voice and interact with your audience, it's important to be conscious of the volume. Never shout in to a microphone at close range. It's not always a scream that gets a crowd going.
8. Split up
Never quit your band while you're on stage! I remember waiting to see a local band for the longest time when I was younger. I finally got an opportunity to see them, and in a really great venue. We got to the show just as the guitarists we're setting up and tuning.
After catching a late bus, I recall feeling so lucky that we hadn't missed any of the set. Just as the guitarist on stage had finished tuning, there was a loud banging noise from the other end of the room. As I glanced back, the drummer had left the stage and the guitarists began to pull out the cables. By now the crowd, who had been waiting patiently for a little over twenty minutes, started to panic.
Noise and confusion circulated around the room very quickly. A moment later, the vocalist took to the mic. "Eh, we've actually just broken up. Sorry." And that was it. To this day, I have no idea why. There was no explanation, and from an audience perspective, it has to be one of the worst things I've ever witnessed. Leave band differences for after the show your paying audience has come to see.
9. Forget why you're there
Probably the most important part of your attitude on stage is to never forget why you're there in the first place. The stage is the number one way to showcase your music and increase your fan base. If you have ambition and goals as a band, then never forget why you're there when you're on stage.
Bonus! Don't leave your ears unprotected
As a musician, your ears are one of your most important assets (they're pretty useful in day-to-day life too). While it may not affect your relationship to your audience, what many musicians don't realize is loud music can damage your ear drums and cause tinnitus; a constant ringing in the ear. Unfortunately, I've got this. It's not fun. While I've learned to live with it, for over a year it caused me serious sleeping problems and other issues.
Don't make the same mistake I did, protect your ears. Don't have music unnecessarily loud, and when you're gigging and rehearsing, wear ear plugs. You need your ears, so take good care of them.
Conclusion
Gigging is a top form of promotion and one of the truly fun things about being a musician. If you want more advice on effectively promoting your music, have a look at my free marketing eBook for musicians. It's one that's already helped thousands start doing the right things in their music career. Hopefully it'll help you too.
Any other mistakes you see musicians making when gigging? Let us know in the comments!
Image via ShutterStock.com.
This post was written by Shaun Letang of Music Industry How To. If you want more advice for forwarding your music career, you'll probably want to start with his free music promotion eBook.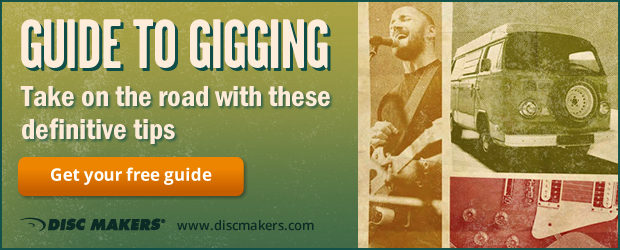 Read More
Music career killers!
Stage Banter and Your Live Show
Three Keys to a Compelling Music Performance
Creating Magical Moments In Your Live Music Performance
Working the Crowd… Offstage