Getting your music available on iTunes is one thing — knowing how to sell music on iTunes takes a plan. Here are six details you don't want to overlook when preparing to sell music on iTunes.
Selling music is hard. Thousands of albums are released every year, which means that in a given week, your competition is likely to include dozens, if not hundreds of other albums also being released. And to top it off, digital music sales declined in 2013 for the first time (while streaming music increased). But no matter the competition or the state of the industry, educating yourself to be one step ahead and taking precise action is a great recipe for success. This applies to all aspects of your career, including a plan for digital music sales to new and current fans.
There are many platforms for you to sell digital downloads, including CD Baby, Amazon, Topspin, and of course, iTunes. In most cases, you will have the opportunity for digital distribution of your albums to most, if not all, of the above platforms in a single click using a digital distributor like CD Baby.
As an independent artist, your plan should be to seek out social and digital distribution platforms that will cater best to you and your audience, but there is one platform that still dominates as the go-to for mass music purchasing. This platform is iTunes. As of 2013, iTunes accounted for 66% of all digital music sales.
While distributing your music through iTunes is now extraordinarily easy, it is really just the tip of the iceberg-sized endeavor that is selling music on iTunes. A plan of attack can help you organize, strategize, and optimize your iTunes digital music sales. Here are six tenets of marketing and sales to keep in mind when forming a sales plan to sell music on iTunes.
Exclusivity sells
Let's start this discussion by covering the actual content within your album. If you're reading this, it's likely you're following existing trends within the music industry. One of the most prevalent trends today is streaming music, with Spotify, Rdio, Beats Music, Sony Unlimited, Google Music, Rhapsody and more all offering tens of millions of songs, on-demand.
When you distribute your music for purchase, it's likely you'll also allow people to stream it via one (or all) of the platforms above.
What this means is that your album will already be available to millions without the need to be purchased. Sure, you could keep your album off of these services, but unless you are Radiohead or The Black Keys, this could ultimately do more harm than good, given that so many people now go directly to their favorite streaming service when new music is released.
One way to provide value is by offering something unique in the version of your album that is for sale. Try incorporating one (or all) of the following into your next album release so that you have something to leverage when you announce to your fans that your new album is for sale.
1. Cover songs.
2. Unreleased, acoustic, or alternate versions of songs.
3. Remixes.
4. Videos of one, or all, of your songs — or exclusive videos of you in action live or behind the scenes.
5. Be creative! Come up with something unique that you know your fans will love and make it exclusive to those who are willing to support you enough to invest in your success.
Optimize metadata for search optimization
Once you've established what will be included in your digital album package, the next step is to encode all of the files correctly. This is absolutely critical as doing it wrong or missing a step could land your album in the wrong category or bury it below other songs or albums.
Make sure you consider the following when encoding your files — and be sure to stay consistent when you submit these tracks for digital distribution.
1. Punctuation and spelling. If you include any special characters or spell something a bit differently, be very mindful.
2. Spacing. Make SURE you don't have a space before your song or album title. It's a very costly mistake!
3. Artwork. All music files can be encoded with the album artwork, and visuals always help with sales and customer experience.
4. Genre. Be very thoughtful here to consider your overall genre, and not just the niche sub-genre, as iTunes focuses on the broad genres only.
Get your pricing right
Now that your album is ready for digital distribution, what are you going charge? Your music is meaningful, it holds a very significant value to you, and some folks will argue you should give it away. Others will tell you to put a premium on your work. It might help to use the industry standards as a guide.
The industry standard price for the digital download of an album is $9.99. The standard for a music download single is either $.99 or $1.29 (both are widely accepted). Pricing your music above this is not recommended, particularly as an indie artist looking to get a foothold in the market. The last thing you want to do is price yourself out of any possible opportunity you have to sell your music.
Now, you may be tempted to increase the price of your album because of the exclusives being offered as outlined above. Big mistake. Remember, you only included those exclusives to make your album a purchase-worthy product in the first place.
Make your music easy to find
Ok — your album has now been distributed to iTunes and you are ready to start seeing the money from your digital music sales come pouring in.
If it were only that simple.
You're really just getting started. The next step is to announce that your album is for sale, and to set yourself up so fans (both new and existing) can continuously be made aware of your new album and can follow and engage with you online, wherever they go. How do you do this?
1. Include a link on your artist website. The best place for a link to your iTunes and digital music sales is in the sidebar of your artist website template. This ensures that no matter where your fans enter your website — via the home page, tour page, music page, about page, or a blog post) — they will be able to link to the album being sold.
2. Include a link in you social network bios. Every social network, including your Facebook fan page, Twitter account, YouTube channel, Instagram account, Tumblr blog, etc. has a section for you to list some form of bio information. Be sure to include a link to the album and to everything released in support of the album, including YouTube videos and other online artifacts.
3. Solicit features and reviews. When you release an album, you'll likely be doing marketing and PR, and if you are invested in the digital space, this might include blog features and reviews. Great publicity can help create a buzz surrounding your release, and it should also help to establish a stronger sales funnel. Don't be afraid to ask all of the bloggers who agree to feature your album to include a link to your iTunes page.
Focus on your fans, let them focus on your sales
Now that you've ensured your album is easily found by anyone and everything, the next step, believe it or not, is to back off on the sales' pitch. Instead, focus on your fans: thank those who purchased already for their continued support via blog posts or YouTube video, and continue to work on establishing stronger relationships with your fans.
Ultimately it will be these strong relationships that will turn into a purchase. An example that I've used many times, as have many others, is Macklemore. He spent seven years developing a diehard fan base and when his album The Heist was released in 2013, it skyrocketed to the top of the iTunes and Billboard charts. Why? Because his existing relationships with his fans were so strong that they went out and bought his album just to support him. Was the album great? Sure! But that wasn't why most of his fans initially bought the album. They did it because they felt connected.
Provide calls to action
Focusing on your fans and backing off the sales' pitch is not to say that you don't provide the proper calls to action needed for strong sales. Your overall success and the success of your digital music sales efforts requires that you ask fans — through your website, newsletters, social media content, and shows — to:
1. Buy the album. Don't be afraid to ask your fans to buy the album. Tell them about all the exclusive goodies you've included.
2. Review the album. Reviews are critical part of how iTunes determines the overall visibility of an album. The more reviews you have, the more likely your album will be to be found in a search, be suggested to others who are listening to something similar, or even be featured on the landing page for your genre.
3. Share the album. Referrals are a beautiful thing and are one of the most powerful sales generating tools you have.
Whatever you do, stay patient and keep refining your approach. Remember that selling music, especially in the current industry climate, is a long-term task. Keep your sales goals realistic relative to your overall level of establishment within your local, regional, and national scenes. Every sale is a positive step and should be treated as such.
Image by 360b via ShutterStock.com.
Jon Ostrow is a regular contributor to Disc Makers Echoes blog. Follow him on Twitter @jon_ostrow.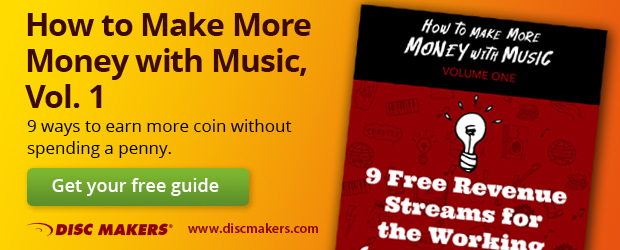 Read More
Building your online presence
An independent musician needs to make CDs
Thom Yorke's Music Streaming Rebellion
iTunes Success in 12 Steps
Facebook Marketing Tips for Your Music Promotion