The Nadas have built a 20-year career in music playing shows, catering to their fans, and treating the business end of their band like a business
It's been twenty years since Mike Butterworth and Jason Walsmith met in college and forged a partnership that has withstood many tests. Since then, their Des Moines, Iowa-based band, The Nadas, have felt the exhilaration of performing for 15,000 people at a sold out arena shows to playing hole-in-wall bars for a handful of folks. Through playing hundreds of shows and releasing 11 records of (mostly) original material, the duo has learned what works when building a sustained career in music and an audience that spans one-third of the country. They recorded and produced their 2013 album, Lovejoy Revival, in a local warehouse. I spoke with Nadas co-founder Mike Butterworth (guitar/vocals) and dug up nine nuggets of wisdom that have helped the band not only survive, but thrive for two decades.
1) Organic growth is long-term growth
How did the band come together?
I was a year behind Jason in college but had been playing in rock bands in high school, so when I got to college at Iowa State University, the first thing I wanted to figure out wasn't my class schedule but who I was going to play music with. A mutual friend introduced me to Jason, who at that time was in a campus band. I auditioned and was asked to join, but before I could go to my first rehearsal, the rest of the guys in the band left school, so only Jason and I were left.


We picked up our acoustics and started doing an acoustic duo thing. We started getting gigs right away at coffee shops and frat parties around the campus, and that started us on the path of growing our audience organically, one or two fans at a time. That's been the cornerstone of our success throughout the years. Fast forward a few years and we found that we were able to build our whole career on focusing on the current student, having them become fans, graduate, and then go out in the world.
We discovered that, almost anywhere we toured, there were between 10 and 100 people who knew us from college and brought their friends to that show in the new town. It was 100% organic growth. The only market we had any help in was Chicago. There was an indie radio station in the northwest suburbs there called "The Bear" and they found out about our music and started playing it, so the first time we showed up to play in Chicago, there was a crowd of people to see us.
2) Steady communication with a call-to-action is key
You were a top draw in your college town. After each class graduated, how did you keep in touch as they spread across the Midwest?


We had a website, but before we put together our first email list, we had an actual paper mailing list and every month we'd create a newsletter and we would write articles about what we were doing, we would snap pictures of each other and then put it all together and print it up, We'd print and fold them up, hand-write the addresses, put a stamp on, and then drive them over to the post office. It grew to the point where that mailing list was so large that it cost us a couple of thousand dollars every time we wanted to print and send out the newsletter. Soon the band had a computer database and mailing labels to save time. After a while, we also started to put a little order form inside asking fans, "Do you want a record?" and that really ended up paying for itself, because quite often people would send the order form back to us with a check enclosed.
People really looked forward to getting these newsletters and kept them around. For instance, we'd head out of town to play a show and after the show someone would invite us over to their house for an after hours get together and there would be that newsletter hanging on a magnet on the fridge. So we knew it was working.
3) If something works, repeat the formula
How else did you grow your audience?
We decided to go to the next college town over from Ames and start all over again, just playing a club, but we weren't starting out with zero fans, because a few people had heard of us and our existing fans would tell their buddies in that new town about us. Eventually, we built a circuit through the Midwest of these towns that all had colleges and we would hit each city every month, over and over, and in time, that built up a loyal audience that would come out to support us.
Now the circuit stretches from Colorado to Chicago, and from Minneapolis to Kansas City. There's probably a total of 30 markets in that region, so we would make that circuit, but we'd also make time to take a week and do a swing down into Texas, or down to Arizona, or we'd set up a trip to go all the way out to California, and then return through Arizona. We even made a trip to Florida and another one to Maine. All of this we did driving, and all from our home base here in Iowa. We saved up enough to purchase a 40-foot tour bus, a 1985 Eagle. We named her "Meatloaf" because evidently he rented it when it was new and the marquee sign on the front still had his name on it.
4) Build relationships with bookers and other bands
As your fans spread out across this region, did you develop relationships with club bookers so you weren't just picking up the phone cold each time?
We were eventually able to say to a club owner with confidence that we had so many people in that area and many of them would come out to a show, so that helped us establish ourselves with the venues. Around that time we also started to work with booking agent Eric Roberts at Hello Booking in Minneapolis to help us out with making the calls to club bookers and in managing our calendar. He's been with us now for more than fifteen years.
We also learned to work closely with other bands and really, we wouldn't have had the success we have had without the help of a number of other bands. For example, in the Colorado area, which is still one of our strongest regions, we had been going out there for a couple of years and beating it down, and it just wasn't going that well. Maybe there'd be 10 at one show and 25 at the next one, and it was costing us money to be there. So we got to the point where we said, let's give it one more try and see if we can't do better, and if we can't, we'll have to write off Colorado and head east to build Ohio, which is the same distance away.

So we went to Colorado and we played with a friend's band called Hello Dave from Chicago, they already had a couple hundred fans that they drew. Well, the very next time we came back to Colorado, we had a couple hundred people who showed up for our gig there. It took sharing a show for us to be exposed to enough new people to get our base started there. Now, when we go out there, we play theaters to audiences of around 500.
5) Treat the business like a business
Are the live shows the primary way you guys support yourselves?
Yes, we decided from the start to run the band as close to a regular business as we could. We decided to pay the players a set amount for each show. We set aside money for expenses and agreed we weren't going to use credit cards to finance the band or get any loans. We take the money we make and cover all of our costs and if there's anything left over, Jason and I split that. While it's not enough to completely support ourselves, we've gotten to the point where we have a salary and we supplement that income with other things we each do.
6) Understand your fans
As you enter your 20th year as a band, have you retained some of the fans from your early days?
It's great, because we kept hitting the same circuit, and a lot of it was college towns, we did that circuit the four years we were in college, then repeated it over the following eight years, so we had triple the time to build our audience throughout the region we were touring. This ended up giving us a roughly 10- to 15-year age range between our younger and older fans. Then, about five years ago we started noticing that some of the audience who used to come to shows and maybe have quite a few drinks dance on the table, they were now showing up to our daytime outdoor summer shows with children. And then the other wave of people who started coming to shows were the parents of some of our original college-age fans. So now, the age range at one of our summer shows is one to sixty five-plus!
7) Be willing to supplement your income
You've built your business model around touring the circuit you created while in college. What other revenue streams have you developed?
Jason and I also do a number of acoustic shows, just the two of us and our acoustic guitars, which brings in a little money without any overhead. He's developed a clientele for high-end photography in addition to our music and I have a home remodeling business that I run, which has the unique feature of employing a bunch of working musicians who all need some supplemental income. I have seven musicians who work either full or part time with me. I have an open-door policy, so any time any of them have a gig or a record to make, they can get the time off.
8) Plug into social media with a plan
How have your fan engagement efforts evolved from the kitchen table and hand addressing newsletters?

We're plugged into social media, but our philosophy is that it's not enough to just be active on those platforms. You need to do something to really engage your "friends," so we like to have contests and giveaways regularly. In 2009, we decided to release a new song each month of the year, which ended up becoming Almanac, an album that was a sort of musical snapshot of that year. Our most recent fan engagement effort, which is also our most successful one to date, is we are making a 20-year greatest hits recording and we're putting the word "hits" in quotes because they're not actual chart hits, and we are re recording fan favorites the way we play them now.
We're shooting for releasing it this spring. We did a Facebook campaign and asked our fans the simple question, "What songs do you want to hear on this upcoming CD?" And we got 18,000 views and nearly 300 comments, so we went through and tallied up all the votes and that's exactly what the record will be. So the fans really curated our greatest hits release. 300 people took the time to pick their favorite song and one super fan even went so far as to suggest all 20, to come up with a playlist of their favorites.
9) Nurture your fan base if you want to succeed long-term
Looking back over your career, what advice would you give to an up and coming band about building their career from the business perspective?
Your fans are what's going to allow you to have any longevity in your music career. So take care of your fans, respect your fans, give the fans what they want as long as it's not selling out your artistic vision.
Put yourself out there and never stop working. Play your heart out at every show even if there is only a drunk guy passed out at the bar and a bartender that wants to go home. That scenario actually happened to us in Oklahoma but someone remembered the band because a few years later, we got a booking to return there and earned five grand for playing a private show. Every time you play, no matter how many people are there, you make an impact and you don't know what the ripple effect may be down the road. So honor your fans and listen to what they say as you build your career. Go and play everywhere they invite you to play.
Visit The Nadas online.
Check out The Nadas video channel on YouTube.
Indie-Music.com review of Lovejoy Revival
Keith Hatschek is a regular contributor to Disc Makers Echoes blog and directs the Music Management Program at University of the Pacific. He's also written two music industry books, How to Get a Job in the Music Industry and The Golden Moment: Recording Secrets from the Pros.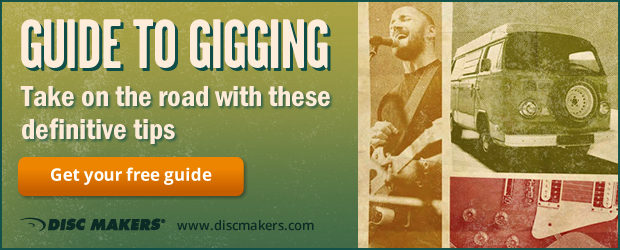 Read More
Make a living in the music business — myths and methods
Artist Development in the New Age
Are You Ready to Work With a Music Publicist?
Finding and nurturing your musical niche
Building your online presence