Engaging with your fans involves "check moves" – opportunities for positive interaction – and online videos are one way to build an audience on YouTube and beyond
This lesson comes from Ben Sword, founder of Music Marketing Classroom, with an excerpt from the "Superfan Building" module of their training. Click here for the whole shebang.
If you've done any research about music marketing, you've probably heard a lot of people telling you you need to be on social media "engaging" with your fans. Sounds good, but what does that mean? Good question! The mission of this lesson is explain what engaging means, give you practical steps you can do each day, and help you build an audience on YouTube and beyond in the ultimate quest to take your music promotion to new heights.
The "check move" theory
I'll admit, I wasn't sure why I needed to bother engaging with fans until I discovered the "check move" theory. This concept tells us that the more positive interactions (or check moves) fans take with an artist, the closer the connection will be, and that will ultimately lead to more support – whether that be financial or with promotion bringing in new fans by word of mouth.
I think this is an especially powerful idea for musicians because it means we don't have to hammer the fan base with slightly cheesy sales messages all the time, and can just focus on putting out super-duper stuff that they WANT to interact with.
It all starts with "capture"
In other words, get a smart phone and press record a lot, because often you can entertain your gang by just bringing them into your world and making content based around what you're already doing.
The way this might look for a band on the road is that each member would be documenting the wild ride from their own point of view and posting it to Dropbox, and then your social media dude edits all the best bits for posting. (Of course, if you're on a budget, the "social media dude" could simply be Bob the crazy drummer who likes playing with the computers).
But for some even that might seem like a little bit too much like hard work, so why not run a competition to have one of your die-hard fans come on the road with you to capture all the cool behind-the-scenes happenings? For an amazing example of this check out Ozzy Osbourne's Facebook Page.
Seeing your journey from a fan's point of view will mean they're in a great position to know what's going to be interesting and relevant. BOOYARR! You've just created a world class digital content strategy and it did not hurt one bit.
So how on earth do you set up a check move?
The mission here is to remove all the head-scratching from your social media marketing by giving you a set of tried and tested posts ready to go, and video is a great way to tell a story through more than just words. And you don't need to just make a music video every week, there are dozens of ways to create video content that can help you engage with your fans. Don't believe me? Here are 23 ideas to start with.
Behind the music
Let people in on your wild ride in the biz. Your first band, first song, first guitar, first love (or maybe not), challenges and setbacks, magic moments, and plans for the future. To do this, get a piece of paper and draw a picture of yourself as a just born baby on the left hand side, then draw a picture of yourself last week on the right. Now fill up the space in the middle with all the epic stuff that's happened to you during that time. BTW, you don't have to make a whole movie in one go. Bite-sized pieces will actually work better for holding interest.

Interviews
Interview every cool person you meet along the way – producers, managers, your crazy bassist, other bands, family, friends, fans, the sound man, tour manager and the driver who never seems to sleep. Here's a good example to get you started. WARNING: There is a 93% chance this video will make you laugh, so if you're at work maybe watch it later!

Cribs
Make a video to show folks around your home town and even your house if that doesn't feel weird. Travel to important landmarks in your career like where the band got together, or where you performed your first successful stage dive. If you can't be bothered to actually leave your house, you could do this using Google street view.

Backstage
Post dressing room shenanigans, the after-show party, and even that particularly tasty treat you got on the rider. And if Jimmy Page shows up and wants to play with you, film yourself getting ready for the gig!

In the studio
Video yourself during recording sessions. This is an awesome method of keeping fans in touch while you would normally be off the radar.

Live footage from your latest gig
There is a cool tool called Switch Cam which will turn your whole crowd into one big massive film crew and then you can come back later and make a wicked movie using all those different viewpoints. It's the future baby!

Tour diary
Video diary updates when you're on tour that include where you're playing, how the shows are going, which band member is starting to make you crazy, what it's like inside the van, and reviews of the accommodations.

Sound check videos
You might think this seems a little boring (and honestly I would agree), but folks outside of the biz love learning how things work from your perspective, and these kinds of music videos seem to get a ton of views. There could be interested people who will appreciate the look inside.

Gear heads
Show people around your gear and how you get your EPIC sounds. "This one goes to 11."

Music from your past
Dust off those demos you made when you were a kid or in an early band. I think it's cool to show people how you got to where you are now musically. Don't be bashful about it!

Merch!
Live from the merch booth meeting the fans and the people who run your table.

Song-meanings and inspirations
Share what you were thinking and feeling when you wrote a song, if that doesn't feel too personal.

Alternate versions
Record yourself playing acoustic versions of your more popular songs.

Covers
Record yourself playing interesting arrangements of music you love. (Don't forget to get a sync license if you're doing this!)

Covers by fans
Post a little "guitar lesson" for one of your most popular songs and then challenge fans to come up with the best cover version on video and post it.

Say thanks
Make a real personal video to thank fans when you reach important milestones in your career. Jackie Chan did this when he got 50 million Facebook fans. Just look at the way he pops up. Classic!

Making of
The "making of" your video with director's commentary, like the extras on a DVD. This would basically be a couple of key players talking about how the whole thing came together.

Answer questions
Host an "ask me anything event," online open mic session, or do what Noah Guthrie did and answer Twitter questions on video. It's a multi-media bonanza!

Outtakes
Compile outtakes and bloopers from your recording sessions and video shoots.

Shopping
Go thrift shopping for stage clothes or props and document the whole adventure on video.
Here is your action step
OK so now we're at the end of this lesson you've got two options.
1. Close this page and think, "Hmmm, ain't that Ben Sword a cool and sexy mofo, he gave me a ton of ideas that I really should use one day and I must buy him lots of beer next time he's in town. But then, ha ha ha! Look at those funny talking cats dancing on YouTube … what was I doing again?"
Apart from the thing about buying me beers, that ain't going to do anyone any good, so the only option you should really consider is:
2. Pick one thing from this list, do it right now, and give yourself an hour to complete it. Often work will swell to the amount of time you allocate, so setting a short deadline means you'll be really action focused and proactive.
Then if you're feeling brave, do the same thing tomorrow, and the next day, and for the next 30 days, until you got the habit locked in for the rest of your career. Being that consistent will pretty much guarantee you'll find an audience at some point. It's like a law of nature or something.
Sure, what you produce at first might be crappy, and that's totally cool – in fact that's what's supposed to happen. But after a while, making great stuff will be just like eating maple syrup and bacon pancakes with a thick Oreo cookie milkshake (i.e. EASY!)
Good luck, I'm rootin for ya' and please contact me if you got questions because I'll be making follow-up lessons.
Ben Sword is the founder of the Music Marketing Classroom, on a mission to help musicians create sustainable careers with a simple four level marketing philosophy. Learn more at MusicMarketingClassroom.com.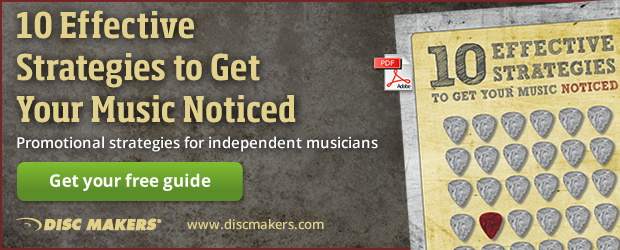 Read More
Use YouTube for more than music videos
Wait! Don't post that music video on YouTube without a sync license!
Five facts about your favorite social media platform: Part 1
Music career killers!
Make a living in the music business – myths and methods