Music instrument theft happens to musicians from all walks of life – these simple tips can help prevent it from happening to you
If you've never been the victim of music instrument theft, chances are you know someone who has or you've seen at least one Facebook post about someone's stolen music instrument. As this is our chosen mission in life, we're sharing five simple things you can do to prevent theft and set yourself up for recovery in case it happens to you!
Never leave a man behind (in the car)

Not only can extreme temperatures play havoc on your musical setup; car, van, and trailer break-ins are the most common music instrument theft stories we hear. Bring your gear inside!

Duck and cover

Your garage may be a great place to get loud, but anyone with the proper motivation and inclination can guess that your gear is vulnerable when the place is quiet. Put things away after practicing, cover windows when possible, and lock it up.

Insure it already

If you make money with your rig, it probably won't be covered by your homeowner's or renter's insurance policy. Check the fine print and look into music instrument insurance. It's actually not too expensive and can get you back on the road quickly if disaster strikes.

Take stock

Take a moment and record the serial numbers from all your music gear. Take photos of everything, including identifying marks. These important details can mean getting your instrument back should theft occur. Store these details in a safe place, away from gear. We know a good place…

Make your mark

Place a sneaky hidden ID in your instrument (especially if it doesn't have a serial number) in a place thieves wouldn't think to look. Do the same with your case.
Image of car thief via ShutterStock.com.
GearTrack is an online registry that aims to deter music instrument theft and aid in recovery. Instrument owners can itemize their collections and victims of theft can send stolen alerts to the WatchDog network and access tools for search and recovery. Buyers and sellers can easily search serial numbers before trading and selling their gear. Learn more and register your instruments at Gear-Track.com.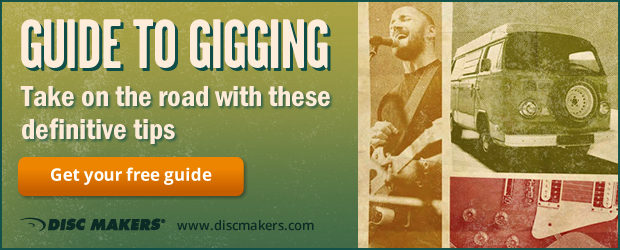 Read More
Touring Tips For International Music Gigs
International Music Gigs, Pt. 2 – Managing Your Gear
Tips for Surviving and Thriving on Tour
Indie Touring Posts – How to Be a DIY Tour Pro