Excerpted from our new guide, Songwriters on Songwriting, here are a few insights from indie pioneer and innovative songwriter Rachael Sage
A soulful vocalist, innovative keyboardist, and prolific songwriter, Rachael Sage has become one of the busiest touring artists in independent music, performing 150+ dates a year with her band The Sequins throughout the US, UK, Europe, and Asia. Sage's own MPress Records released her 10th album, Haunted By You in May 2012. Featuring The Sequins as well as guest appearances by Dar Williams, Mike Visceglia (Suzanne Vega), David Immergluck (Counting Crows), Doug Yowell (Duncan Sheik) and more, it was self-produced by Sage and mixed by Kevin Killen (U2, Elvis Costello).
When you write a song, how much focus do you put on your intended audience?
Early in my career, I worked in the jingle business as a composer and lyricist, so I do think I have the ability to target specific listeners in an intentional way, and I am grateful for that skill-set because it has helped me as a hired composer for TV and film. But I don't approach my own songwriting relying on those impulses… at least not consciously! I believe I'm composing songs in equal parts as a means of creative self-expression and a way of communicating things I am either afraid, or simply unable, to convey through more conventional language. When I'm initially composing, summoning ideas for melodies and lyrics, I'm rarely focusing on anything other than crystallizing an idea and letting it evolve. When I'm refining the song, that's where "craft" comes into play, in terms of repetition, song-length, clarity of language, imagery, etc. Some of that relates to the audience, but mainly I write with the presumption that if I'm satisfied with the completed song, it will hopefully connect with my audience.
Are there songs you've written that you were in love with that others didn't respond to? Songs you thought weren't your best that have sparked big reactions? What's your takeaway?
You hear a lot from big mainstream acts that their "throwaway" song is the one that became their biggest hit. I think the reason that happens is because sometimes the simplest songs we write are the most universal. It's very easy to navel-gaze and get overly consumed in our own personal experience to the point where others might not find a key into your work. But sometimes those simple, three-chord, poppy numbers can get a crowd engaged and feel included, and yes, I've definitely had a handful of those sort of lighter fare tunes garner a big reaction. I think different songs are meant to reach people in different ways, and I try not to be overly critical of something I write with less effort, just because I didn't feel a big catharsis from creating it. I actually try to include a few of those tunes in every set, because it's all about dynamics for me; if I can get everyone singing along to a poppy tune, then maybe they'll be more able to listen intently to a very personal love song. It's a balance.
What is it that makes you get out your instrument and pad/paper and write a song?
I usually write after some kind of overwhelming experience, whether personal or vicarious. It could range from seeing a powerful film, to going to a museum exhibit by an inspiring painter, to feeling inspired in the afterglow of someone else's musical performance. I might also be sparked by hearing a couple have a heated discussion in a coffeehouse about a political issue or having a stranger confide something very unusual and personal to me on an airplane or a train. All it really takes for me to summon the muse is some degree of human vulnerability being exposed in a surprising way. We are all transmitters and receivers, but artists have somehow learned how to amplify self-expression to a different level. I don't ever recall there being a time when I wouldn't find some comfort in sitting down to play piano, or painting. These days, the biggest obstacle is simply lack of time; I have to really protect my down days while off tour, or not working with my record label, to allow creativity to flow.
Do you ever hear a song and think, "I need to write something like that!"
When I was first writing songs as a child, my mom played a lot of Broadway soundtracks and classical music while my dad shared his doo wop and Beatles collections. My sister was listening to hip alternative rock, so all of it kind of blended for me into a sense of how melody can impact the listener and how repetition and variations of melody and lyrics can expand one image into a three- or four-minute story. So yes, I've heard innumerable pieces of music, both classical and contemporary, that have prompted me to take a crack at composing my version of whatever had inspired me. However, usually that was undetectable to other people. For example, if I heard "American Pie," my version of that might be to write a long story-song with imagery about the experience of being bullied at school. I was connecting dots in my own way.
What advice would you give regarding songwriting?
Once you're ready to really pursue songwriting professionally and commit to it as a lifelong pursuit, have a regular way to present your work, whether in a performance setting or a local writers' salon/group. I think some people fall into the trap of keeping everything very private/close to their chest until it's absolutely perfect. I think that can become an excuse or cultivate an unhealthy fear of feedback, which we all need to grow and evolve. In short: don't create in a vacuum. Become part of a "scene," and find a supportive network of peers, friends, or a genuine recurring gig where you can experiment and present ideas without feeling like it will make or break your career. Be generous with your gift and share it however/whenever you can! If I hadn't played so many school assemblies and brought in demos to play for my friends, I might never have received the positive reinforcement — and sometimes, critical input — to have recognized this was what I truly wanted to do for the rest of my life.
Follow Rachael on Facebook and Twitter, learn more at RachaelSage.com, and buy her music at her online store.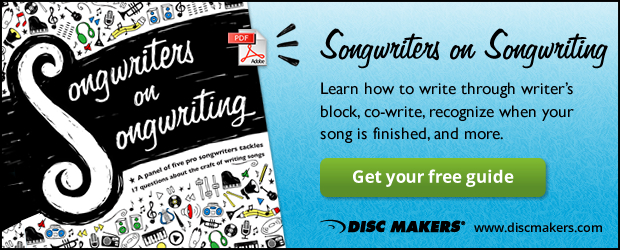 Read More
Ask a songwriter: 5 questions for Kent Blazy
A DIY Songwriting Workshop Idea
Thoughts on Writer's Block From One Songwriter to Another
Songwriting and Writer's Block: 11 tips to help the songwriter get unstuck
Creative Resources and Tips for Aspiring Songwriters