Seven tips for choosing the best DAW and recording software from seasoned music producers and recording musicians
You've polished your lyrics, tuned your guitar, stuffed your computer with RAM, and are ready to nail the perfect take of your new song. But the question remains: Of the many recording software options available, which is the best DAW to help you get the job done in your home studio?
While there are many options that can move you from first riff to final track, it can be confusing choosing the right digital audio workstation (DAW) for your creative process and musical output. Here are some tips from seasoned music producers and recording musicians to help you along the way.
Try starting simple
If you're just getting your feet wet with digital recording, there may be no need to jump to the most decked out, feature rich program. In fact, for many projects, free applications like Apple GarageBand may give you all the firepower you need.
"You open it and you go," says New York songwriter, composer, and producer Cheryl B. Engelhardt. "It's as simple as can be, doesn't suck up all of your CPU power like bigger programs do, and is super great for mobile use. I brought a laptop on tour once, tried GarageBand, and found that it worked well and was very easy to use."
If you're crafting more complex composing or mixing projects, Engelhardt warns, GarageBand may not be the tool for you — though it is possible to open GarageBand files in Apple Logic, a popular program that provides a much deeper well of tweaking options.
"Anything that enables you to do recording whenever, wherever, at whatever budget you have is great," says San Francisco producer and recording engineer Michael Winger. "Making more music is a good thing, and GarageBand is terrific as an entry-level DAW. It's also fantastic on the iPad."
As a longtime recording professional, Winger agrees that GarageBand doesn't do everything, and he finds the program frustrating at times — but there's another side to that story as well. "Every software has some limitations," he says, "but limitations are also where you find creativity."
Check out this article for a list of some of the best free DAWs to get you started.
Keep hardware and software requirements in mind
To run effectively, recording programs need different things, so spend some time getting familiar with your computer's specs: processer type and speed, operating system, available hard drive space, types and numbers of ports, and amount of RAM, for starters. The last thing you want to do is buy recording software and discover your computer isn't fast or current enough to make it work.
Another concern to keep in mind is copy protection. Some programs simply require registration codes or serial numbers to unlock; others are unusable unless you have a special USB dongle, often an iLok, plugged in to your computer. Whatever the situation may be, make sure that your system, and workflow, can comfortably accommodate whatever security measures the manufacturer built into the program.
Though many programs play nicely with a wide variety of hardware and software, compatibility with audio interfaces and other peripherals can be an important component of your decision-making process. "A downside to Pro Tools 11 is that it is unstable on the PC platform and not very many plug-ins work because of a different standard, AAX instead of the older RTAS," says producer and musician David Sands. "Older versions are more stable, but if it's before version 10, then you have to use Avid hardware."
Along the same lines, if the new Push hardware instrument from Ableton inspires your creativity, for example, you'll most likely want to check out the company's popular Live DAW, as the two were specifically designed to work together. The easy solution to compatibility concerns? Ask around and do your research before you buy, so you don't end up with an unwelcome surprise once you hit the "install" button.
Plug in to a community
If you plan to compose, record, mix, and bounce your music completely by yourself, you can skip this tip — but if you expect to collaborate with other DAW-users on your recording project, it's well worth asking, "what are you using?"
"Pro Tools has one huge advantage, but it's a marketing one, not a technical one," says singer-songwriter and film composer Grant Maloy Smith. "It's the standard. The reason that I switched [to using Pro Tools from Cakewalk SONAR] is that everyone that I was working with in New York or Los Angeles was using it, or the Avid editing system that was natively compatible with it. It made my life a lot easier when I switched in terms of doing business with clients. Also, if you are going to bring your recordings into a real studio for mix down or recording vocals, Pro Tools is the industry standard."
When musical teammates work with the same DAW, deep collaborations can indeed happen. Producers Ariel Rechstaid and Rostam Batmanglij had identical Pro Tools setups loaded on their laptops when they were crafting the newest Vampire Weekend album Modern Vampires of the City; they would work on tracks individually, swap external hard drives, and instantly see each others' work. (For more details, check out my interview with the team.)
If you happen to be producing a track in Steinberg Cubase and you're dying to work with an engineer who only mixes in Pro Tools, don't despair, as cross-platform collaborations happen all the time. Bouncing all of your tracks as individual audio files can be a time-consuming process, but it does allow your colleague to import the files into his or her DAW of choice and get cracking.
Test it out, ask around, and exercise due diligence
In some ways, finding the right recording program is like finding the right band mate — so auditioning a variety of candidates can be important. To that end, don't hesitate to take advantage of manufacturers' free demo downloads, which let you test out a program on your home machine for a trial period before you decide whether or not to buy. Here are a few demo download links for Pro Tools, Live, Sonar X2, and Cubase.
Also, remember that the vast majority of DAWs out there have been meticulously reviewed by magazines, blogs, and beyond. Sound On Sound, Electronic Musician, Keyboard, and Tape Op are just a few good publications to check out. Here's one interesting article to get you started.
Finally, don't hesitate to activate your musical network and get advice from other artists, engineers, and producers that you trust. If your five favorite artists in your sub-genre of choice all use the same software option, chances are it's worth checking out.
Trust your gut
Regardless of functionality, reputation, or price tag, remember that what you're buying is a tool to help you get a job done. You're going to be spending hours interfacing with the program you choose in an intense and focused way — so make sure that your DAW of choice is something that just feels good.
"Vibe plays a really important part," says Winger. "The user interface is critical in determining how you do your work. It's important to work with a program that feels inspiring to you, not just one that has all of the biggest features or the biggest name."
Speaking to that point, Engelhardt remarks that one of her favorite aspects of working with Logic is the ability to make the background of her workspace lavender. "It might sound silly, but it's important! It sets the stage for me to work creatively, kind of like dimming the lights and lighting candles if you're tracking a certain sort of vocals in the studio."
Don't pirate
Winger says it simply: "If you're serious at all about making music and making money, using pirated software is stupid. Aside being morally uncool for the people who work hard to make that software, it can really be a liability."
How so? "In the early days of DAWs, almost everything was pirated," he explains, "and almost none of the sessions I did back then can be opened now. That's part of the reason I say that it's not just bad, but stupid. If you're using cracked software, you don't really know if or when your program is just going to break or corrupt your files."
"If you're looking more than five minutes down the road, you're screwing yourself by using cracked software," he continues. "You never know if the project you're working on is going to be the next classic, and if you created it on pirated software, that will definitely bite you in the ass."
Another concern worth noting: When you buy software, part of what you're paying for is the support of the manufacturer, whether that manifests as program updates or tech advice from the people who built it. If you work with cracked software, it's all on you when something breaks, and the risk of losing projects you've spent hours crafting is entirely your own.
"If you're desperate to get your hands on DAW software, there are some great open-source options and 'lite' versions of other programs," says Winger. "If you really need all of the extra features that something like Pro Tools or Logic can offer, you should be willing to pay for them."
Tailor to your music and workflow
Just like certain electric guitars are better suited for metal or blues, old-school jazz or straight-up rock, so too can DAWs be better suited for certain sorts of production projects than others. Opinions on the topic may vary, but our experts had a few thoughts to share.
"Pro Tools just makes so much sense when you're recording live audio," says Engelhardt. "From a composer's point of view, I find it to be very friendly when you're using external sounds, rather than composing with MIDI sounds and loops inside the box."
Smith also advocates for Pro Tools use for a number of reasons. "Pro Tools has amazing plug-ins that add all kinds of effects," he says. "The bus routing is also very robust and flexible. The implementation of virtual instruments is really rich, and they can be played in real time or rendered to audio tracks at your option."
"For heavy MIDI work, I would prefer to use Cakewalk SONAR," he adds. "For everything else, I would go to Pro Tools."
While Pro Tools is indeed an industry standard DAW, less ubiquitous programs also have strong followings. "A lot of my audiophile friends like Steinberg Cubase because of the sound and mix engine in it," says Winger. "Pyramix is another one that's lesser known, but also has a reputation for great sound and better math and mix algorithms."
Winger points to Logic as a prime choice for those working in pop recording and production. "It's got lots of good synths and loops, straight out of the box, and you can get working quickly," he says.
Engelhardt agrees, citing Logic's built-in goodies as a major perk. "I like a lot of the program's loops and channel settings," she says. "I always tweak their defaults, but they're great starting places, whether it's a MIDI drum loop or a vocal effect that's already built in. You can make stuff sound good quickly, and when you're writing jingles that were due yesterday, that's a very good thing."
The list goes on: Digital Performer is widely regarded as a strong choice for film composition, for example, while the aforementioned Ableton Live has built a cult following amongst those who love creating loop-based music.
Independent of all recommendations, when choosing the best DAW for you and your music, remember that there are no hard and fast rules. Just because Live has gained a reputation as a go-to electronica DAW, it doesn't mean that your music will be any less brilliant if you use the program to track a reggae film score, record an intimate acoustic folk song, or mix a live jazz concert. As Winger says, "Do what feels good and buy what works for you."
Image via ShutterStock.com.
Disc Makers' regular contributor Michael Gallant's debut trio album Completely received a four-star review from DownBeat magazine and a five-star review from Critical Jazz, which stated: "This, my friends, is the future of jazz. Fresh, invigorating, progressive – there are simply not enough positive adjectives to list here." Learn more, download now through iTunes, jam along with the new JamBandit app, or purchase through CD Baby. Follow him on Twitter at @Michael_Gallant or on Facebook.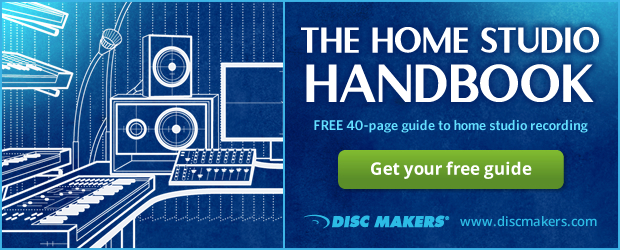 Read More
Balancing songwriting, your music career, and a business plan – and how to have productive patience
12 Tips for Writing, and Selling, Great Jingles
How to Stay Productive as a Music Composer
Using virtual instruments: Eight home recording tips to make your tracks sing
10 Mixdown Tips For the Aspiring Audio Engineer