Being creative means sometimes using your music in unexpected ways, like this music marketing advice for the holidays and any time of the year
This is guest blogging and music marketing in action by our friend Ben Sword (AKA Chris Rockett), head coach at Music Marketing Classroom.
Stoke the fire and sit back in a comfy chair with a warm mug of cocoa, because now my friends, I have a wonderfully festive story to tell you. It's a lovely story about Christmas, music promotion, and the power of music — your music — all wrapped up into one big sugar plum.
It all started many years ago when I gradually became greedy for all kinds of food, which in later life led me to become what's commonly known as a "foodie." Turns out my wife has been afflicted with the same yummy disease, so a couple of times a year we treat ourselves to dinner at a top Michelin Star restaurant and spend far too much money on wonderful plates that have been messed with in all kinds of incredible ways.
Well, there is this one very famous restaurant in London (with a celebrity TV chef) that we've had our eye on for years, but every time I try to book for our anniversary or some other special occasion they are totally full up and we are disappointed. This Christmas we thought we would try one more time, so once again I found myself typing in those all important numbers into my weary looking iPhone only to be told that "the earliest opening is in the middle of January!"
So, rather downhearted, I once again had to tell wifey that her husband had failed her. But clever wifey had an idea. She said, "Why don't you write them a song, and beg!" So that's what I did, and to my total amazement and delight, the manager called me for a chat the next morning and in a beautiful French accent said it was a "wonderful effort" and that they "all had a good laugh and enjoyed the video very much." More importantly, he told me that he could fit us in on Wednesday the 19th of December at 7:00 pm!
Just thought I would share my excitement and let you hear the tune before I try and whip this up into some kind of music marketing lesson. Press "Play" below to hear my Christmas tune.
This is obviously a little bit of fun, but the lesson you can take away is that there is awesome power in your music and you can use your creative skills to do all sorts of cool and exciting things. For instance:
– There might be a local club you want to play, so write the promoter some catchy theme music she can play at the start of every show and in her promotions. Now don't you think the person who wrote the theme music will probably be booked at some point?
– Write a song for a successful musician and then email it personally to their manager or producer to pitch.
– If there is a popular blog you follow, why not pick one of their most viral posts and write a musical response?
I call this "laying a music marketing seed," because you might hear nothing for months and then some really cool opportunity will blossom in the summer. And like every successful farmer, there will be that glorious day when you harvest hundreds of new fans into your gang all in one go.
Your music is your secret weapon, your special ability, and your "death-move," so make use of it to stand out from the crowd whenever you can.
That's about all I have to say on this one but here are a few action points for you:
1) Pick something really cool you want to make happen that will motivate you to take action.
2) Write a song related to it somehow.
3) Post it up to YouTube with a Google-friendly title.
4) Email your song to the decision maker. You want to get their direct email… if in doubt, pick up the phone and just ask for it.
5) Tweet them and send a link to their Facebook page.
6) Wait for a reply.
7) If you hear nothing in a week, follow up by phone. If it's a "NO," then just move on with your life and be happy that you put one more cool thing out in the world.
8) Repeat this process once in a while for the rest of your career.
Hope that inspires you to do something cool this Christmas and into the new year. Whatever you have going on this holiday season, I wish you and your family a Very Merry Time!
Gingerbread Heart image via ShutterStock.com.

Ben Sword is a frequent contributor to Disc Makers Echoes blog and is the founder of the Music Marketing Classroom, whose mission is to empower musicians to create a sustainable income, even with a modest music career, and teaches a simple four-step marketing philosophy to achieve that goal. Learn more at MusicMarketingClassroom.com.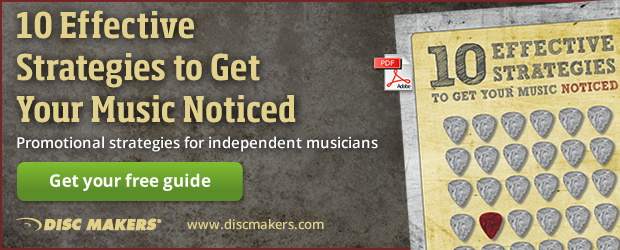 Read More
Holiday Gigs – Christmas music and holiday songs make for unique opportunities
Is guest blogging your ticket to better music promotion?
Don't Be Afraid of Your Own Crazy Ideas
Stage Banter and Your Live Show
Set List Tips – getting your song order together for your next live show