A Nashville music industry veteran lets us in on some unwritten rules to etiquette and successful networking in the music business.
When you get invited to a party in the music business, a conference/workshop, a #1 party, or any other music industry function, you want to act appropriately, meet the right people, and do the right things – but what are they? There are many ways to make great connections and be successful at networking in the music business, but there are also many pitfalls that can make a terrible (and damaging) first impression.
Here are some basic rules to successfully navigate the events and folks you'll might meet when you're networking in the music business.
Do your homework.
Research the people who will be at the event in advance. If it is a #1 party, find out who the songwriters are and research the writers and publishers to learn a little about them before you go.
Arrive on time.
Arrive on time for the event and make the most of the music networking opportunity.
Be positive.
Before going into the event, whatever happened earlier in your day, let It go. You want to be positive and smiling at the event. We have all had our songs rejected or had a tough day for one reason or another. Leave that at the door. This is the time to be a positive energy person.
Get a napkin.
They usually serve beverages at networking events. TIP: always get a napkin and wrap it around your drink as the cups and glasses sweat. You do not want wet hands when meeting someone you want to make a good impression on when you're shaking hands and networking in the music business (or any other business).
It's not about you.
When meeting someone, always ask about THEM. The who, what, where, when questions to get them talking. Where are you from? How long have you been in town? What do you do in the business?
Don't be a wallflower.
If you are shy, find someone else who looks shy and go talk to them. They are probably like you, looking for someone to talk with but perhaps do not know many people at the event. They will be glad you reached out to them and it will help you loosen up and gain some confidence.
Have your business cards with you.
When you have met someone and have decided to exchange business cards – be prepared! I always carry my business cards in my left pocket and everyone else's cards in my right pocket. That prevents the mix up, pulling out someone else's card to give away. Your card should have your name, phone number, email address and website. Make sure the print is big enough to be easy to read, and have your business cards with you at all times!
Get involved in the community.
Find something you like to do outside of the music business and get involved. Or volunteer and find events in the music business such as benefits, visit writer rounds, and meet other songwriters and like-minded people to network and build relationships.
Create events.
Invite songwriters and music people to your home for cookouts and play songs. If you live in an apartment or house is too small, find a community center or other location and host writer rounds at the locations. Hosting the events gets your name out in the community, you make new friends, and gain notoriety for providing a service to people in the music industry.
Things you should NOT do when networking in the music business
Me me me.
Do not start a conversation telling someone everything about you! We have two ears and one mouth for a reason. Do not walk up to a hit songwriter, give them your CD, and tell them you should co-write a song together.
Photo op.
Do not ask for photos with the pros or autographs. This makes you look like a fan instead of someone in the music industry. Be a songwriter – or whatever you do. When meeting hit songwriters, perhaps tell them you enjoyed their songs. If a couple were inspiring to you, mention that fact, thank them for writing the song, and tell them you'll see them again around town. If they ask about you, give them your 15-second elevator pitch.
The best way to network is to build friendships and business relationships over time in the music business with your peers and work with each other to improve your craft. Have FUN on your journey! Learn every day!
Doak Turner is a songwriter living in Nashville, TN since 2002. He's the founder of The Nashville Muse, a weekly newsletter sent to 3,500 songwriters, musicians, publishers, and music pros every week. He also is co-owner of Music Starts Here, which features more than 300 video interviews with pros in the music industry – it's your GPS for the music industry! Listen to Doak's songs at DoakMusic.com.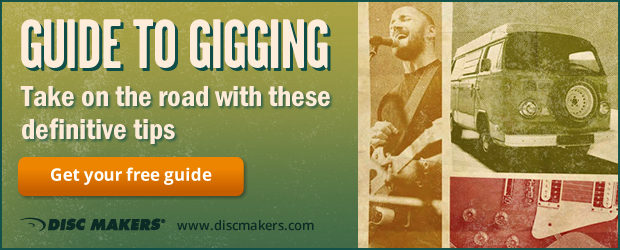 Related Posts
Networking is key to success in the music business
Musician networking tips: Grow your revenue and audience
Collaborating and communicating with non-musicians
To make money with music, make sure you're easy to find
5 music promotion lessons we learned from (our song about) Star Wars