How do you navigate the demands of social media and modern music promotion if you're not an extroverted self promoter?
With six words, "Not everyone wants to be an entrepreneur," former recording artist Alina Simone gives voice to a nagging feeling many musicians and songwriters have playing at the edges of their minds. Sure, the social media platforms and music promotion tools available to any musician today form an impressive array of conduits to share your music, reach out to new audiences, and establish your "brand." This blog alone has posted countless articles about using YouTube, social media, Google Analytics, and other methods to attract, measure, and build an audience.
But it wasn't until I read Alina Simone's insightful commentary titled "The End of Quiet Music" that I actually slowed down to ask myself, "What about the shy, somewhat reclusive artist who has a lot to say musically, but is not comfortable displaying her entire life to the world via Google Plus or Facebook?" What future does such an artist have in the 24/7 wired world that DIY music promotion has become?
It would be easy to dismiss the reclusive artist and give them an ultimatum: "That's the way it goes, man up or be overlooked." Some pundits, Ms. Simone included, have even suggested that a form of musical Darwinism is at play, with only the most entrepreneurial musicians developing the critical mass necessary to become commercially viable. Evidence abounds with artists such as Drake, Imogen Heap, and Amanda Palmer (to name just a few) who have shared music, videos, journals, diaries, and personal anecdotes to build their own loyal and substantial fan bases that have propelled each of them to a significant level of commercial success.
Focus on your music, not your music promotion
Not every musician has the drive and determination to conceive, establish, and maintain an integrated and comprehensive online presence to rise above the cacophony of the online music world. Rest assured, there can be a middle road forward that does not require ceaseless devotion to growing your online profile. To help understand how to establish a sustainable online music promotion game plan, I spoke with social media consultant and artist manager, Jorge Barriere, who divides his time between LA and San Francisco, advising and coaching a number of artists and businesses on how to best use online media tools and techniques.
Over the course of his career Jorge's worked with acts such as Ryan Adams, the Section Quartet, Jon Brion, Linda Perry, Dr. Dre, the Jonas Brothers, Jason Mraz, and Alejandra Guzman. On the corporate side of things, he's been involved in projects with Coachella Music Festival, JamBase, ONE Coconut Water, Hollywood Records, Custard Records, and Flavorpill.
Jorge acknowledged that the time commitment can be daunting for many musicians and offered some common sense tips so that you need not face an "either/or" decision when you approach how to begin or enhance your efforts to build your audience via any of the tools available today.
"Spending a significant part of my day working with artists and projects that utilize social media, I'm biased toward believing you can accomplish almost anything with social media," explains Jorge. "But I believe the focus needs to remain on the music, not on the music marketing, as the prime directive for an emerging artist today. Instead of social media being the driver to an artist's music career strategy, he or she should concentrate on the music first, and then as they define themselves as an artist, engage in or get some help to use some of the social media platforms to share their music.
"Above all, your music has to be real and connect with people. I agree with music industry blogger Bob Lefsetz who has said over and over that without music of a quality that gets people buzzing, ultimately nothing else really matters."
One example would be singer/songwriter Ed Sheeran, who took a grass roots route in the UK to build his fan base, pushing himself to play 312 gigs in 2009 and posting many of his songs to YouTube. He kept putting out his own music and eventually built up a large enough audience to support himself solely through music. Bob Lefsetz championed Ed Sheeran early in 2012 to US audiences, citing the fact that the sheer quality of Sheeran's music was bound to make him a hit in the US once people heard his music. It did, with 2012 being Sheeran's breakout year in the US with his song "The A Team" being nominated for a 2013 Grammy as Song of the Year and then landing a coveted opening slot on Taylor Swifts' Red tour.
Find your balance between musical craft and music promotion
Music artists can make the mistake of focusing too much on the marketing at the expense of their music. That said, the balance between the two varies for every artist, and you have to recognize that you don't have to do it all yourself.
"There are some successful artists who don't tweet a lot," Jorge points out. "Fiona Apple, for instance. But when she releases her music, people know about it and want to get their hands on it. So you can end up having your music fans be your social media presence. Another example would be SF-based NOFX and their subsidiary label, Fat Wreck Chords. They don't spend a lot of time on social media, but their fans keep the buzz going about their new releases, tours and what they are up to.
"For young artists, there are a number of roads to take with social media. If you aren't the person to have the social 'sixth sense' to know how to tweet and when to use a hashtag, you can enlist friends who are good at this stuff to help get your voice and music out there. You never know when a tune can catch fire. Luck has been described as the intersection of preparedness and opportunity. So that means it all starts with having your music available. All it takes is one influential person, for instance an Ashton Kutcher, tweeting about your song, which can turn the tide and have people coming to you to hear your music – music fans trying to find you instead of you trying to find fans. But it does take having your music online and the quality has to be there.
"Next," says Jorge, "I would advise you to tailor what you do to what you are comfortable with. A good example would be an artist that I have been working with for quite a while, Jason "Shyboy" Arnold. When I first met Jason, fronting the band Hypnogaja, he was probably one of the shiest people you would ever meet. He didn't set up a MySpace profile back in the day, but someone else in the band was willing to do that to get the band online with a profile. Jason developed recognition as an artist because other people were pointing to his talent and mentioning him online, and that snowballed as more and more people responded to the band's music. I was helping to manage Hypnogaja, and we ended up with five or six people having admin access for MySpace, and eventually Facebook. So it was a team working together that helped maintain the successful online presence for the band.
"Jason's music career has evolved since I first met him in 2005. He has embraced Instagram as his primary way of sharing what he's doing and thinking about and seeing, and a small team and I help keep other social media buzzing about gigs, recordings, and various projects. An artist does not have to do it all themselves, it can be a collaborative team, and at some point if you reach a certain level of success, it has to be.
"Face it, not everyone can summarize all they have to say in 140 characters. Every artist will find their balance between who they are as a business person and who they are as a creative person – there is no one formula for success. But I believe every artist can find that equilibrium between those two aspects, and the key is to find the people to help balance the load, be it a family member, super fan, or manager.
"It is a reality that the industry has evolved to where a presence online is necessary to help sustain a music career. But there are many options for how to do that and not have it take over your entire life. Remember, if the marketing distracts you from making your art, then stay focused on the art until its quality starts to create a buzz, then get help as you need it. If you have people listening to your music and enjoying it, then you are already on the way," Jorge concluded.
While it's clear Alina Simone is correct in asserting the music industry has shifted, requiring artists to maintain some type of consistent online presence, it need not be a career stopper for the numerous artists who would rather perform, compose, or record than tweet or blog. Concentrate on the quality of your music, and as your voice draws in more listeners, ask them to help you grow your following. In time, if you do so, you'll likely be known for the quality of your music, not how fast you got to 10,000 "likes" on any particular social media platform.
Image of shy violinist via ShutterStock.com.
Keith Hatschek is a regular contributor to Disc Makers Echoes blog and directs the Music Management Program at University of the Pacific. He's also written two music industry books, How to Get a Job in the Music Industry and The Golden Moment: Recording Secrets from the Pros.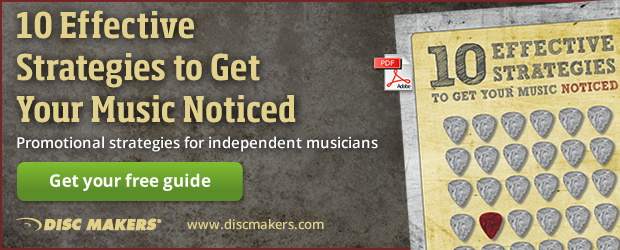 Read More
How To Leverage Your YouTube Music Channel
Social Media Marketing – Redefining "Return on Investment"
Younger Music Fans Demand Constant Access