Disc Makers new Home Studio Handbook details home recording studio setup, your equipment needs, and home recording tips from the pros
Disc Makers has just released its most comprehensive, hands-on guide to home audio recording. The Home Studio Handbook: Get Great Acoustics and Killer Mixes From Your Home Studio, includes material from our previous five popular home recording studio guides – plus we've added a wealth of additional recording tips, techniques, and a glossary of music recording terms. The 40-page Home Studio Handbook is free and available for download now!
"If you're into home audio recording, whether you're experienced or just testing the waters, you need this guide," says Disc Makers President Tony van Veen. "Our new Home Studio Handbook gives you vital information on how to build your own home recording studio, whether it's a professional A-room or a budget-conscious home recording studio setup. Plus we've gone to some studio experts to get their advice and learn some studio tricks."
You'll find a wealth of information packed in this free 40-page guide, including:
Building a home recording studio on a budget
How to optimize your recording chain
Finding the right microphone for every situation and every budget.
The basics of using signal processing gear
Using and choosing monitors, preamps, and more
How to record guitar, bass, piano, drums, and brass and reed instruments
Recording vocals
How to get a great home studio mix
From information on how to build your own home studio to tweaking your final mix, The Home Studio Handbook has got it covered, and it's available free for download now.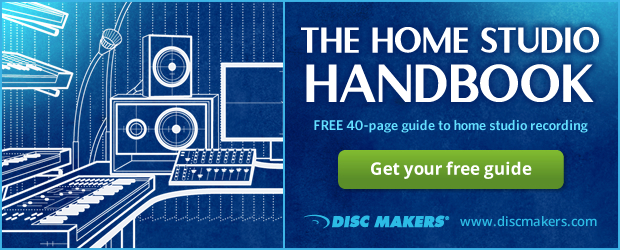 Read More
Recording Tips For Producers, Engineers, and Musicians
Audio Mastering – The Mysterious Post-Production Art Form
Using a MIDI Controller In Your Home Studio
Quincy Jones: Tools For Success