Maintaining personal/business relationships is critical to effective digital PR in the music business.
An important aspect of digital PR is developing and maintaining relationships. From the smallest local music blog to the biggest global music review sites, most content and support comes from nurturing relationships, because, plain and simple, people are willing to support the people they like.
A key to effective relationship management in your digital PR efforts within the music business includes creating new content for your fan base while nurturing the relationships that are developing with your biggest supporters at the same time. This can be done by focusing on three priority areas:
Social monitoring

Social media content strategy

Creating a VIP experience
1. Social monitoring
In order to develop a relationship, you must be aware of what's going on around you. Knowing what people are talking about and joining in the conversation to share your own thoughts is absolutely vital.
Facebook/Twitter lists
As the two biggest social networks around today, it can be easy to get overwhelmed by the amount of posts or tweets that appear on your feed. One of the more common concerns about social media is how to weed through the clutter to find what you are looking for. This is particularly the case with Twitter, since there is no algorithm showing you what you'd be most likely to engage with (as is the case with Facebook's EdgeRank algorithm).
Thankfully, both Facebook and Twitter offer the opportunity to create lists of people to help you organize your news feed on Facebook, or your tweet feed on Twitter, in a way where only content by people you specifically designate is displayed. Be it people just in your area, certain music bloggers you want to get to know better, or fans you have designated as super fans, using lists can help you to view ONLY the content that matters to you.
RSS reader
Ever wonder how it could be possible to check the tens or hundreds of blogs you are interested in without spending your entire day? The RSS reader is the solution, as it allows you to subscribe to the feed of any blog and display all of the blog feeds in one place.
Again, just like the Twitter lists above, this will allow you to create a list of media makers (bloggers, podcasters, etc.) who you have deemed as important, so that you are ONLY focusing on their content, allowing you more opportunities to engage with those who could become a meaningful relationship.
Google Alerts
Google Alerts can be a fantastic way of monitoring your brand, your band, your fans, and even your friends. Whatever you decide you want the keyword to be, Google will put a constant search out for it and send an alert to your email when something pops up that is deemed relevant. This is a great way to track any topic of conversation you feel is important, so that every alert becomes an opportunity to further define your voice, your brand, and your relationships with others who may share a similar passion.
Hootsuite
While the above options are fantastic for social monitoring, Hootsuite is a service that really goes a long way to save you even further time as it incorporate many of these services into one platform.
Hootsuite allows you to add your Facebook, Twitter, and blog feeds into one account, and then allows you to create your own "window" for each of the lists you've created. Social monitoring really couldn't be easier with Hootsuite and is a great way to keep track of everything important going on in your social network.
2. Social media content strategy
Once you have streamlined your social monitoring, your next priority is incorporating these conversations, articles, videos, tweets, and pins into your own content strategy. There are three different ways that you can do this, so each time you create a new piece of content, you are effectively working towards building stronger relationships.
Share other people's content from their own platform
The best way to get other people to notice and appreciate you (the catalyst for a good online relationship) is to share their content with your own followers. Do so genuinely and without asking for reciprocation, but be sure to tag the media maker directly so that he/she can see (and get notified) of your activity.
The important part of this process is making sure you do this directly from the original platform (music blog, website, podcast) so that he/she not only benefits from you sharing the content, but the content itself benefits: by increasing a blog post by just one single like, you are doing a great service to increase the validity of that content.
This is an easy way to find content to tweet about, post to Facebook, or pin on Pinterest every day, and each one of these posts becomes a new opportunity to get a conversation started. As you repeat this process for the same bloggers time and again, they will take notice and the conversations will begin.
Republish content
This is a slightly different approach, but similar to sharing people's content. The difference here is that instead of sharing content directly from the media maker's platform, you are finding the social post that already exists about the content (on Twitter, Facebook, etc.) and re-publishing that content.
On Facebook, this would be a share; on Twitter, a retweet; on Pinterest, a re-pin; and on Tumblr, a re-blog. This type of sharing is integral to social media and is a great way to publicly and outwardly show people that they – and what they are saying – matter to you.
Create your own content shining the spotlight on others
Of course, you can create your own content that shines a spotlight on others and what they are doing, essentially giving PR to those who you wish to receive PR from. This is a key relationship-building strategy and is something that you should try to do on a regular basis. This could be an interview series, a case study, a simple list of important people to you.
Create strategic sharing partnerships
A good strategy also includes partnerships. And why shouldn't it? If you are trying to accomplish something, and others are working towards a similar goal, or have their own vision that involves the same type of audience, it only benefits you both to form a partnership.
This strategy is really something that will have to come AFTER you've established a relationship, but the overall idea is very simple. Find people with whom you share a common interest, establish a relationship, and then work with them in a sort of partnership where they share your content if you share theirs in return. This is always a great way of ensuring that any new content that you create – a blog post, a music video, or new song – gets pushed out to a larger audience.
3. Create a VIP experience
Once you've established the basis for new, key relationships with bloggers and fans, the third pillar of digital relationship management comes into play. The focus here should be to create a unique, VIP experience for these new relationships so that you can nurture them into the strengthened, loyal, long-lasting relationships that you are ultimately looking for.
This won't happen overnight, but with consistent efforts spanning both online and off, you will start to see the tie between you and your key relationships strengthen. In effect, this is the pampering part of your new relationship.
Industry newsletter
I know, the last thing you want to think about is creating another piece of collateral that needs to be planned and executed consistently, but regular communication is always the key to a strong relationship. If you are building relationships with the intention of creating a digital support system for your music, an industry newsletter is the best way to connect directly with those who matter.
You may be asking, "Isn't that the point of my fan newsletter? Couldn't I just add these media makers to my original newsletter?"
Well, yes you can. But you'll lose some pretty critical opportunities to communicate with these new contacts directly, as your fan newsletter is focused on communicating with and marketing directly to your fans. These new key blog relationships may be fans, this isn't always the case – they may have connected with you over a different passion entirely.
Having a different newsletter here is important so that you can communicate in a manner that is effectively building these relationships, by making regular offers to exclusive content and opportunities, without the need to change the tone and direction of your newsletter that caters to your fans.
Pre/post-show networking events
Creating a pre- or post-show networking event (AKA meetups) is an opportunity to network face-to-face with people who matter and offer them an opportunity to witness first hand what it is that makes you unique.
Of course, pre-show and post-show networking is critical to building a strong fan base as well, so be sure to schedule enough time to cater to your new blog relationships – music bloggers or otherwise – without sacrificing the relationships you've already built with your fans.
Exclusive events unrelated to your show
Every good relationship includes it's share of variety. Don't be afraid to step away from your music and create an event to which you can invite your new key blog relationships.
Be it something revolving around your passion – green initiatives, vegetarian cooking, yoga, urban gardening – or a fun night out bowling or a sponsored night at a bar, getting to better know these contacts is critical to establishing a real connection.
Create reciprocal opportunities
Here is the piece that most people miss: building a relationship doesn't mean just being friendly and expecting it to become a one-way street of take, take, take.
The idea here is to create a relationship that thrives with back and forth support – this is the only way to establish a relationship that lasts. Unless both sides get something out of it, what keeps them both around?
Finding any sort of opportunities to create reciprocal opportunities (similar to the strategic content partnership above) allows you the opportunity to get support you need for events such as album or video releases while giving you the opportunity to show support back by spotlighting the other party. Instead of saying "come see my video" or "buy tickets for my show" it becomes "Thank you to @XBLOGGER for the amazing support for my new video" or "A HUGE thanks to @XBLOGGER for sponsoring last night's show in Chicago, can't wait to do it again soon! Killer time!"
See how the tone changes from "look at me" to "look at them?" They will be doing the same sort of support on their end. A win-win for both parties and a great opportunity to create a unique, supportive VIP experience for your new key relationships.
Handshake image via ShutterStock.com.
Jon Ostrow is the Campaigns Director for Cyber PR. Follow him on Twitter @jon_ostrow.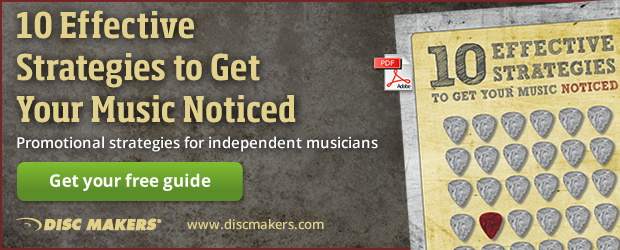 Read More
Realistic Music Publicity Goals for Your PR Campaign
Press Kit Posts – Press Releases, Band Bios, Publicity, and More
Seven Strategies for Local Music Promotion
Hosting Music Networking Events