Start a songwriting music networking group and build your community of songwriters
Are you a songwriter who needs to co-write, but don't take the time to do it on a regular basis? Is there a group of songwriters in your community facing the same songwriting dilemma?
Songfinishers, started in 2001 by the Charlotte, NC regional chapter of the NSAI (Nashville Songwriters Association International), is a songwriting workshop idea that may be right for you and your community of writers to help build friendships, encourage one another, and co-write songs.
Location
Find a location with several rooms, perhaps your home or a local community building that has rooms for your group.
The Plan
Suppose 12 people attend your songwriting workshop. Divide into groups of three songwriters – make sure at least one in each group plays guitar or keyboard. Adjust accordingly to how many songwriters attend the event. Everyone should bring song ideas and a recorder – I use the iPhone app Voice Memos, but you can use handheld recorders or whatever works for the writers.
Co-writing the Songs
Once inside your room, you have TWO HOURS to write a song. At the end of two hours, everyone comes back to a central location and plays their songs. Some groups of co-writers may only have a verse or verse and chorus, some groups may have written an entire song and play it.
After a group plays a song, other songwriters are encouraged to express their comments and suggestions for the song. ONLY the three songwriters in the group get the writing credit, though they can take other suggestions to finish the song within the next month.
Performing the Songs
Once every quarter, have a Songfinishers Night in a local venue, and have each of the co-writers on stage when the song is sung. Invite your friends and family and make it a fun event! Perhaps make it a cookout or covered dish get-together and make it a recurring event at a regular time to encourage you to finish those songs you started in the Songfinishers meeting/co-write.
Developing a workshop event on the Songfinishers model can help build a local songwriting community in your town. It's bound to happen if you are in a location for three hours getting to know other songwriters in your community, co-writing songs, and performing regularly!
Image of Trio Zamfirescu by salajean via ShutterStock.com.
Doak Turner is a songwriter; a co-owner of MusicStartsHere, a site with more than 300 video segments featuring music industry pros giving music industry advice; operator of DoakTurner.com, a music resource site; and a rep for OTTO Print, selling tour laminates and tour passes.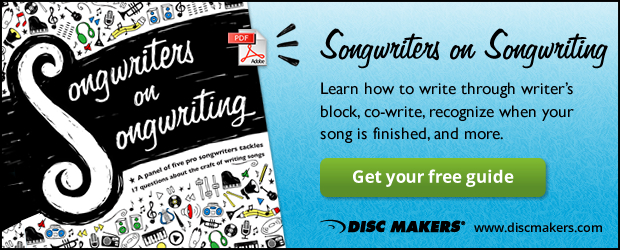 Read More
Hosting Music Networking Events
Ask a songwriter: 5 questions for Five For Fighting's John Ondrasik
Using Google Plus To Build A Global Music Audience and Community
A Christmas Music Marketing Miracle – The Power of Music
Music Career Killers!