In our third post on music licensing, we explore the diversity of buyers and important connections you need to develop to earn money from your original music

To develop an adequate understanding of the path to earning money through music licensing, four essential areas make up the key foundational knowledge, and we cover them in three posts. In part one, "Copyrights and Revenue," we look at the different copyrights and the basic blueprint for how revenue is generated by licensing your original music. Part two, "Creating Value and Income," addresses how to create value and earn income through music licensing. In this third and final post, we explore the diversity of buyers for original music, and the all-important connections you will need to develop to begin to make money from your original music.
Buyers
Who are the buyers for your original music? The short answer is they are incredibly diverse, and include everything from video game production companies to late night TV variety shows. And while the enormous range of buyers is encouraging, they mainly operate in a closed loop of industry contacts, so gaining access can be difficult. That's why knowing the ground rules and how value is perceived by the buyers is crucial before attempting to break in to the loop.
Buyers are often referred to as "licensees," since other than buy out deals, they don't actually own your song, but you or your rep sell them permission to use it in a narrowly defined way and usually for a limited time — a music license.
Here's a list of some of the types of buyers that use music as part of their product or service.
• Broadcast, cable, and Internet television programming
• Television, radio, and Internet advertisers
• Public performance income from radio (terrestrial, Internet, satellite and cable)
• Public performance from TV music use (broadcast, cable, satellite, and Internet streaming)
• Live event music use — sports arenas, corporate meetings, political rallies, etc.
• Motion pictures (first-run, cable, direct to DVD or Netflix)
• Mechanical licenses (artist recording your song on album or download)
• Special Products releases — CD or DVD for car companies, clothing companies, demos for audio/video systems, gift items, singing greeting cards (Hallmark, Acura, Victoria's Secret, etc.)
• Broadway musical or dramatic use (e.g. Green Day's American Idiot)
• Video games
• Production music libraries
• Background music services
• Print music publishers (sheet music, folios, online)
• Clothing that incorporates song lyrics (yes, really — check it out)
Seeing the range of opportunities presented can be exciting but also a bit overwhelming. That's why eventually many songwriters and composers will choose to partner with a music publisher or other representative who will actively pitch their songs to prospective buyers. While it's beyond the scope of this article to look closely at music publishers, they play a key role as intermediaries between buyers and songwriters, often helping seal a deal with just one well-timed phone call or email. It's your music publisher's job to know who is seeking new music and what types and get your music into their playlist for consideration.
For the moment, it's enough to understand that the opportunities to license your music are substantial, assuming it has market value as determined by buyers. Furthermore, a whole other set of parallel opportunities exists in foreign markets, which will generate additional income beyond your US license fees. Remember Feist's iPod spot mentioned in Part 1 of this series? It was used in the UK as well as the US and Canada, so Apple paid additional fees for each non-US territory.
Faster is better
Sometimes the realities of a looming production deadline will play a significant role in what music is actually licensed. For instance, for weekly episodic TV shows, from the time a particular show is shot and edited, there may be only a few days to identify, negotiate, and secure licenses for a particular piece of music.
In this case, the fewer people who must be involved to grant a music license the better. Demand from buyers for quicker approvals has led to the rise of so-called "one-stop" music sources, that is a rights holder that controls both "sides" of the music: the song copyright and the master copyright. [Ed. note: Having your music signed up and ready to license in a pre-cleared sync catalog, such as CD Baby's Sync Licensing program, can be a bonus when a music supervisor is looking for the right song and needs it right away.]
Some artists are now making efforts to hold on to both song and master rights to issue nearly instantaneous one stop music licenses — a benefit to both the buyer and the seller. Likewise, legacy artists from the 1960s-90s are investigating their options to buy back their master rights, or in some cases recording new masters of their original hits that they will then control to provide one stop licensing options.
Connections
Armed with your growing knowledge of the world of music licensing, how do you now start to build the network of connections to eventually secure income from your original music? By devoting a pre-determined amount of time each week to identify the persons that work as music publishers, music supervisors, sound and music editors, recording engineers, record producers, radio and TV staff and creatives, sports teams, cable TV producers, and many others that choose what music to recommend to buyers on a daily basis. As you learn more about the music licensing business, you'll start recognizing the names of key music influencers who are trusted to help determine music selections. These are ultimately the persons that have to learn about and endorse your music.
Unfortunately, you can't simply send them an email with your music attached and expect overnight success. Instead, here is a three-step strategy that will help you start to make inroads with your original music into this business sector, not only to confirm your music has licensing potential, but to also build relationships with industry players that can help you grow, learn and ultimately profit from your music.
Three steps toward earning music licensing revenues
STEP ONE: Join a national and a regional songwriting organization.
This will exponentially increase your opportunities for networking and professional development. On the national level, both the Nashville Songwriters Association International (NSAI) and Songwriters Guild of America (SGA) are well respected organizations that have members all around the country. Both offer educational, networking and development opportunities on a regular basis for their songwriter members. Joining and participating in conferences, webinars, workshops, one on one mentoring, legislative advocacy, developing co-writer relationships all will benefit your career and help build your network.
There are also approximately eighteen regional songwriters organizations, which provide a more localized network of like-minded musicians that promote member events, co-writing workshops, songwriter contests, showcases and interactions with leading music publishers. One example would be the West Coast Songwriters Association, headquartered in the SF Bay Area and sponsor of many localized open mics and songwriter events. Their annual fall conference brings together a who's who of industry music licensing heavyweights to meet and review members' best songs. Having attended this conference in the past, I can attest to the quality of interactions that occur over its two day run.
STEP TWO — Affiliate with a Performing Rights Organization (PRO)
BMI, ASCAP and SESAC offer invaluable advice, guidance and assistance to their respective member songwriters and composers. Together, they collect roughly $2 billion in public performance monies for their affiliates annually. Your PRO will be your partner in helping to collect public performance royalties for you whenever your songs are performed publicly. They each offer their members outstanding professional development, mentoring, workshop and learning opportunities. Visit their respective web sites to learn more. If you own your own master rights, then also join SoundExchange, to insure that digital performances of your masters will result in licensing income being paid to you. They distribute an estimated $400 million in digital performance royalties to their members and are free to join for master rights owners.
STEP THREE – Research Music Publishers
Music publishers provide a vital link in the music licensing community. As mentioned, many successful songwriters have attracted the attention of a music publisher and chosen to forego a portion of their future royalty earnings to partner with a publisher that has solid industry connections. Such publishing agreements are usually a 50-50 split, which is what drives publishers to secure as many licensing deals as possible for their writer's songs.
Music publishers come in various sizes and each has its own strengths. Becoming a student of the music publishing world will help you understand which music publishers might be the best fit for your music. If you write straight ahead pop songs, then a mainstream publisher with strong connections to record, film, and television producers might be best. If you compose contemporary orchestral or band music, then a print music publisher with strong ties to the symphonic and academic world would be best. As you network with your national and regional songwriting organization colleagues, you'll find that in a matter of a few months you'll start to learn the names and roles of some of the key personnel at music publishers that are actively seeking new writers (nearly all are) and how best to present your music to them.
Final Thoughts
As with so much in the music industry, there isn't a golden ticket to ensure that your future path to financial success through music licensing will be realized. But thousands of other start up songwriters have made the transition to income-earning writers by following some variation of the path outlined in these posts — after first developing a basic understanding of the business itself.
Investing time in improving your craft as a writer while simultaneously building relationships with songwriting professionals and the music licensing taste makers who recommend one piece of music over another will give you the most realistic chance to break in to this market. Remember, it takes time, patience, and the desire to continually improve yourself as a writer, but it can be done.
Music Buyer image via ShutterStock.com.
Read Part 1, "Making Money With Music Licensing: Copyrights and Revenue"
Read Part 2, "Making Money With Music Licensing: Creating Value and Income"
Keith Hatschek is a contributor writer for Echoes. He worked for seven years at San Francisco's first digital audio post production facility, Music Annex. During that time he was part of a team that provided original music, sound design, and editorial services for a wide range of clients in the film, television, advertising and game industries. He now directs the Music Management program at University of the Pacific in Stockton, CA.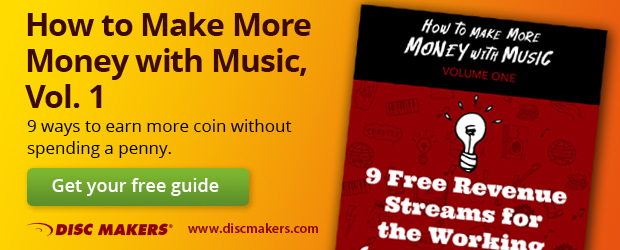 Read More
Stop Playing My Song! Music, Licensing, and the Loss of Control.
Music Licensing and Leveraging Your Songs
Get Paid When You Get Played
Wait! Don't post that music video on YouTube without a sync license!
Practice Safe Sampling — Copyright, Licensing, and Your Music