In part two of our series on music licensing, we explore ways you can create value and earn income licensing your original music
To develop an adequate understanding of the path to earning money licensing music, four essential areas make up the key foundational knowledge, and we cover them in three posts. In part one, "Copyrights and Revenue," we look at the different copyrights and the basic blueprint for how revenue is generated by licensing your original music. This post addresses how to create value and earn income through music licensing. In part three, "Who's Buying and How to Connect," we explore the diversity of buyers for original music, and the all-important connections you will need to develop to begin to make money from your original music.
Perception of Value
When striving to understand how the music licensing business operates, one key fact is that the music licensing marketplace determines value on a daily basis. What this means is that to make any money licensing your music, your songs must have value in the eyes of the marketplace. The following qualities will help determine a piece of music's relative licensing value.
Recognition
Motown's classic Marvin Gaye/Tammi Terrell hit, "Ain't Nothin' Like the Real Thing" was licensed by Burger King for its flame broiled Whopper. The use of this instantly recognizable pop hit appealed to baby boomers and tied into BK's claim that flame cooked burgers taste better. Using pop hits associated with well known artists brings immediate attention to your product or message and resonates with that artist's fans.
Originality or freshness
Sometimes finding music that is not in the mainstream will fit the needs of a production. Tunes by then lesser-known indie bands such as the La's, Sam Phillips, and Black Box Recorder brought a sense of newness and discovery to the audience of the first season of The Gilmore Girls (2002). This furthered audience identification with the characters and helped turn the series into a runaway hit. The same technique was used again effectively on series such as The OC, Smallville, and One Tree Hill.
Similarly, some feature film makers want instantly recognizable hits for their music track when looking for music for film, whereas others attempt to build a unique sonic DNA, such as 2006's Garden State. Director Zach Braff choose to license obscure bands such as Iron & Wine, Thievery Corporation, Frou Frou, and Remy Zero, separating the film and its vibe from the mainstream. He remarked he actually made playlists with his favorite indie tracks to listen to while he was writing the script for the film.
A third example of a perfect match between a relatively unknown song and a buyer is Volkswagen's arty choice as the soundtrack for their TV spot, "Milky Way." They used the Nick Drake song "Pink Moon" to promote the cool camaraderie that blossoms on a moonlit night out between four friends in their Cabrio convertible. Like the Feist example earlier, Drake's records enjoyed a nice sales boost as a direct result of this licensing use. Clearly, songwriters and artists that have not had mainstream success actually have an edge for projects such as these, since their music has yet to become well known and can be introduced to the public as an integral part of a new TV or film project.
Branding
Hiring Adele to co-write and perform the Skyfall theme song for the recent James Bond film was in part, a branding decision. Associating the biggest-selling artist in the world with what the film's producers hoped would become the most successful movie of the year. Other examples of branding music choices would be Chevy's long running use of Bob Seger's "Like a Rock" as the creative and musical foundation for Chevy truck ads. Seger's music is American to the core and he hails from the Detroit area, plus the song itself aired hundreds of times daily on classic rock stations around the world. Similarly, Cadillac's use of the opening guitar riff from Led Zeppelin's "Rock and Roll" tied that iconic rock act to the edgier brand image that the car manufacturer was trying to sell to baby boomers in an attempt to wipe out the image of a Cadillac being your grandparents' car.
Affordability
Since a business transaction of some sort is required for music to be used, the issue of the budget is always a significant part of the discussion. While the major national advertisers mentioned above may have annual production budgets in the millions, there are many smaller projects that require just the right music, but for a much smaller license fee or as a buy out. For songwriters on the way up, this is often where the path to music licensing income first becomes real. A local advertiser or a documentary film maker can often benefit from the addition of well matched music for their production. That said, your music must be good enough to appeal to buyers in some meaningful way to be able to attract their attention. At that point, the courtship process will start that will hopefully lead to a successful license agreement.
Does your music fill a need?
Your music has to be recognized as potentially filling some need that the producer has for their project. Is it good? Priced appropriately? Is it a branding "win" for the advertiser? Does the music help weave a spell that will help define the musical DNA of the project? Will it resonate with a certain audience segment? Will you write new music under a buy out deal? Each opportunity may have slightly different conditions. In the end, the only way to know for certain whether your original music may be salable is to test it on those who serve as middle men for the buyers.
A sampling of real-world music licensing fees
Here is a sampling of the range of values for actual deals that have involved newly composed or existing music license fees in the past few years. This data will give you an idea of just how wide the ranges can be for using your music, especially if it first has gained some level of mass appeal. If you are new to licensing and able to attract the interest of buyers, your initial fees will likely be quite a bit less. As you'll see, the size of the audience, the numbers of different media used and the length of the license all influence the fees.
– Classic rock song used by major retail chain for TV and radio spots. Song use for one year: $400,000
– Theme song for a local cable TV talk show. Buy out deal, plus composer credit on each episode: $300
– Well-known jazz standard, master license use only by a retail chain. Internet, national TV, cable, in store for US and Canada for 1 year: $50,000
– Video game (action game), gratis license (free) of song and master right in exchange for on screen credit with song title of artist name and band URL: $0
Bumpers on a late night live variety show (the music played going to and coming back from ad breaks) on a major network. Song use: $400 per use to play short excerpt live on TV show
– Parenthood TV show, use of a lesser-known single by a classic rock artist: $20,000 for song use, $20,000 for master use
– The Voice, pop song performed by a contestant. Song use: $2,100
– Disney motion picture, classic rock song used in film: $50,000 per side
– Indie film project, one-year license for Canada, song use: $500
So while your music may not command the five and six figure sums noted above, once you establish your music has some value to potential buyers, you can start to broaden your buyer contacts and the all important connections it takes to reach them.
Keith Hatschek is a contributor writer for Echoes. He worked for seven years at San Francisco's first digital audio post production facility, Music Annex. During that time he was part of a team that provided original music, sound design, and editorial services for a wide range of clients in the film, television, advertising and game industries. He now directs the Music Management program at University of the Pacific in Stockton, CA.
Read Part 1, "Making Money With Music Licensing: Copyrights and Revenue"
Read Part 3, "Making Money With Music Licensing: Who's Buying and How to Connect"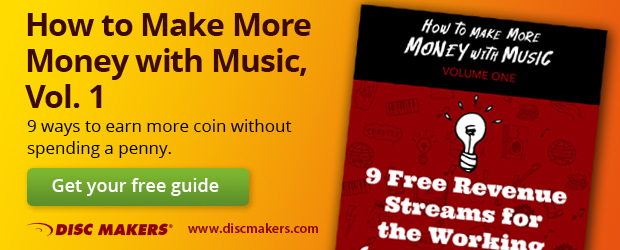 Read More
Music Licensing and Leveraging Your Songs
Get Paid When You Get Played
Wait! Don't post that music video on YouTube without a sync license!
Practice Safe Sampling – Copyright, Licensing, and Your Music