Writing jingles sounds like a great way to put your music composition skills to work – but how do you get started?
When I hear the word "jingle," I think of Folger's "the best part of waking up," Alka-Seltzer's "plop plop, fizz fizz, oh what a relief it is," Campbell Soup's "mmm mmm good, possibilities," and "the joy of Pepsi." I rarely think of the music in commercials, like that ukulele underscore in the Cheerio's ad, or one of Verizon's instrumental tracks, or the rocking GMC spot. But I do recognize them when they come on my TV over and over again. So are they jingles? And what's the process of creating commercial jingles anyway?
I've had many years experience working as a music supervisor, tech, and composer at advertising companies, in addition to harvesting my own artist/songwriting/performance career. I currently am a freelance composer, songwriter, and music biz gal, and have finally gotten a chance to take a step back from my career of creating music and sharing my process to reflect on how this all works, and answer the questions I just asked.
So, let's get down to what a jingle actually is. Your typical jingles are mini songs in commercials (which is why jingle writing can come easily to many songwriters) with a memorable tag line, or hook, usually using the company's slogan. It's a way to sonically etch a product, company, or brand into people's memories, creating a familiarity that often results in brand loyalty among consumers.
Today, a typical jingle is only part of advertising music content. You will also hear underscores, or music created specifically for the video. You may also recognize a favorite song, or discover a new band to like in the thirty seconds that an iPod ad plays, or hear a cool rendition of a favorite old tune, like Cat Power's cover of David Bowie's "Space Oddity" for the Lincoln MKS ad. As long as it's memorable, musical, and arcs the same way the story of the ad arcs, you've got yourself some ad music. In this article, I am going to focus on the process of creating new music (either an underscore or a jingle) for an ad.
Typically, this is how it goes: A company or brand, like Pepsi, Lysol, MasterCard, etc, will hire an ad agency to create and produce the commercial, or a series of commercials to create an advertising campaign. The ad agency is then in charge of coming up with the idea, the graphics, the copy (the words) of the ad or campaign and hiring the production team, videographers, actors, directors, etc to shoot the ad. Then they hire the post production team: the video editors, music houses, sound mixers, and the color correction companies to put the ad together and get it ready for broadcast. Oftentimes, the agency will hire several music houses to compete for the job. Sometimes the brands will pit agencies against each other as well, which increases the competition on the music level.
Many music houses have in-house composers, which means they have bought or rented studio space for the composers to work in. To cut back on space costs, some music houses have a short-list of freelance composers they call to demo (write on spec with the small possibility of getting on air) on any jobs that come in. The freelancers work from their own studios and are usually competing against other composers for a small "demo fee" (usually between $250-500 for the job). As a freelance composer, the odds of winning an ad job are fairly tough, my ratio is one out of every 10 demos I do I win the spot. After you get the gig and have written something decent, it becomes a numbers game. Plus a little luck. Sometimes, a late-night creative session with a friend and some beers can turn into a winning campaign (just ask songwriter Joey Auch who wrote and sang McDonald's famous Filet-o-fish ad).
The creative process of actually providing music for the ad usually looks like this: the composers are sent the most recent cut, or edit of the video, without music, and sometimes with music that the client found that they sort of like, called "temp" music. (And when you hear the term "temp love," that means that the client likes the temp music so much that anything else you try to write gets rejected and you have to come as close as legally possible to the original temp track. Temp love is usually not a good thing for composers!) We will get a "brief" – a paragraph or two about what the client is looking for from an emotional point of view, pointing out if there are any particular spots in the ad that we should highlight musically, like a logo or close-up on the product.
As a freelance composer, I find myself acting as a translator. Many directors and music producers are not musical but feel they should be to talk to composers. This is simply not the case. The best briefs are ones that don't "speak music" at all, they are merely saying what they want the viewer to feel. For example, I can translate "the viewer should feel sympathetic to the character and then grow to being energized and excited about the product" into an appropriate music track much more than "you should use strings and then more drums."
Once I am clear on the clients' desires, I write a few different tracks, hitting all of the notes, and send them off to the jingle house that hired me. I will do any revisions they think necessary before they choose which tracks to present to the client. After the client hears the tracks, if they like one and want edits on it, I do the edits and then send in the final high quality track along with a lead sheet, which is basically a stripped down chart or sheet music that the agency submits to the network so I can get royalties (if it's a union job). It also goes on file for copyright purposes.
My favorite part about writing for commercials is that the fast turnaround (usually the whole process goes down in less than two weeks) caters to my need for diversity. I also love creating a whole musical story in :30, I love that the process is very fined tuned, and I love that you never know when you're about to create a jingle that will go down in advertising history.
Composer image via ShutterStock.com.
Cheryl B. Engelhardt is a singer/songwriter and composer. Her website is cbemusic.com and you can follow her on Twitter @CBE. She authored the killer eCourse, "In The Key Of Success: The 5 Week Jump Start Strategy," which will get your career moving in the direction you want (go get it now). Check out her composing reels and her new epic music video, complete with rock climbing and helicopter shots!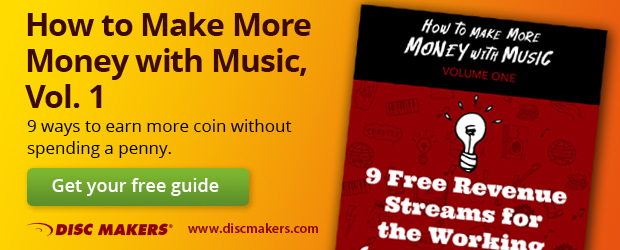 Read More:
How to Stay Productive as a Music Composer
Making Money With Music Licensing – Part 2: Creating Value and Income
How To Submit Your Songs to Music Blogs, Record Labels, Radio, and Press