Music success doesn't come easy, but the truth is we often get in our own way – don't fall prey to these music career killers!
Every hour of every day, there's a talented musician somewhere on the planet who makes the decision to put his or her artistic side on the back burner in favor of a more stable career. Although they vow they will pursue music in their spare time, just this simple mindset shift could mean that writing songs and playing gigs will always take a back seat to almost everything else in life.
In a way, it hurts too much to do music when you make this decision because it reminds you of all the dreams you had and gives you the feeling of being a failure. Even the most committed indie artists can be ground down to nothing after years of playing empty shows and sending out hundreds of demos with no reply. But once you start to recognize the common mistakes you're making, you will be able to avoid them and get on with the real work of consistently creating music that your fans will appreciate.
Music Career Killer #1: Not working on your music every day
You can spend your whole life learning music marketing and still fail if you don't have great music to promote, but you can suck at marketing and still do well if your music is on point. The ideal, though, is to find that perfect balance between marketing and music creation. Commit to working on your music skills for at least one hour a day and commit to one marketing a day as well. It can help to make this into a little game, so every once in a while go back a year in time on your YouTube channel and see the kinds of songs you were writing then. Over that time period, you can really start to notice an improvement if you work on your music and songwriting daily.
Music Career Killer #2: Not selling anything
So many musicians drop the ball when it comes to monetizing their music and brand: they produce great music, but don't feel confident and don't ask people to take the next step to purchase something. Or they do try and sell, but because they don't feel comfortable, they get nervous and do a poor job of it. So if you don't currently have anything for sale on your website, then stop everything else you're doing until that's remedied. It can be as simple as a $1 per month subscription to get a song of the week delivered to your inbox.
Music Career Killer #3: Not taking at least one marketing action everyday
I've mentioned the importance of daily progress with your music, but just as important is the power of doing one thing per day that will get your music out into the world and in front of a targeted, interested fan. See, music marketing is like trying to push a car with your bare hands. At first it seems like it won't budge, but then you start to get a little momentum and before you know it, you're going at a steady and predictable pace. Once in a while, you'll come across a hill where you can sit back and let things roll, all you have to do is steer. But if you just start to push for five seconds then stop for a few days, then come back and try again for five minutes, you will never build up enough momentum and it will never get easy.
One of the biggest challenges that faces the modern DIY musician is consistency, because things will come up in your life that seem more fun or more important than working on your marketing.
But a little bit of focus on one really cool project can work like magic – all you need to do is remember why it's important and why you decided to start learning music marketing in the first place. For me, it's being able to work for myself and staying out of the rat race. I find that idea always allows me to refocus on what's important.
Music Career Killer #4: Boring your fans and playing it safe
I can't tell you how many times I have seen this happen. You go to a show and see a band rocking out some amazing tunes, but each time you see them, they just continue to play the same old set over and over again. The bottom line is that one set of good songs does not make a music career. Make sure you write something new everyday, and the gems will come by default. You'll be showing people considering an investment into your music (a fan, a record company) that you are making a commitment to being consistently productive now and in the future.
Music Career Killer #5: Playing every crap gig you get offered
When you first start out, you might as well play every show that comes along because this is valuable experience. This becomes a music career killer, though, when you continue to play every bad show that comes along in the hopes that it might just convert one new fan. Playing to empty rooms with no pay not only sucks, but it's also like a cancer to your career because it will destroy your enthusiasm. Next time you get offered a bad show, turn it down and spend the evening working toward getting a killer show. One really good gig is worth 50 empty venues.
Music Career Killers #6: Getting jealous of other musicians
Nobody feels great about getting jealous, but it's natural right? You work your tail off for months to try and get hits to your site, and then you see another musician getting featured in the press and you know that in one day they are going to get more hits than you got in the last three months. I'm sure you may have felt something like this at some point.
But if you just make a little mindset shift, you can get a new perspective on the success of others. When you see another musician doing something cool like getting played on the radio, getting signed, or getting press, think to yourself, "Cool, that means I have the opportunity to do the same thing, because this guy has just uncovered another opportunity for me to market my own music." If you go as far as to track other musicians who have a similar fan base to your own, you can find new opportunities for you to connect with people who will be open to what you do because they just featured something similar. This follow up approach is something I call the "slip stream," because you get to ride on the wave of the work done by other musicians and PR companies and it can take a lot of the guess work out of your marketing.
---
Ben Sword is the founder of the Music Marketing Classroom, whose mission is to empower musicians to create a sustainable income, even with a modest music career, and teaches a simple four-step marketing philosophy to achieve that goal. Learn more at MusicMarketingClassroom.com. This post is excerpted from Music Career Killers! 20 Things That May Be Holding You Back In Your Music Career and How To Fight Back! Reprinted with permission.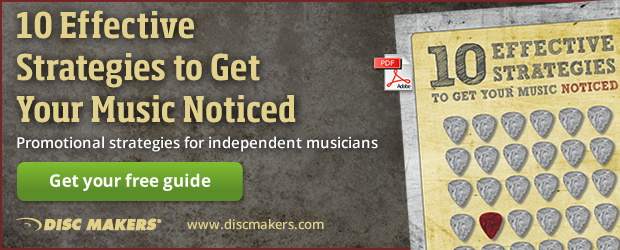 Related Posts
Five mistakes keeping you from becoming a great musician
Deliberate practice helps you become a better musician
Want to make more money with music? Here's How (Part 1).
Six (more) ways to make more money with your music
To make money with music, make sure you're easy to find