Before you go microphone shopping for your home recording set up, your first consideration – besides budget – should be, "What will you be recording?" For a budding heavy metal band, the number and type of microphones will be dramatically different from the needs of a singer/songwriter, jazz musician, or classical instrumentalist.
Whatever your intentions or budget, assembling an arsenal of quality mics can be one element of your studio that defines your work. Microphones are not always a one-size-fits-all deal, and some pro audio dealers will let you try out a mic in your studio if you provide security or purchase it with a 7-day return option. There's really no better way of knowing how a microphone will work for you than hearing it used in its home environment.
And while assembling the world's greatest mic collection is not something that's done overnight – even if you DID just hit the lottery – here are some recommendations for where to begin. We've gone to three industry veterans and asked them for their picks for mics they couldn't do without in a variety of price ranges: $0-500, $500-$1,000, and "lottery day." Here's what they came up with.
Under $500
Shure SM57 & SM58
When looking to outfit your studio with some meat-and-potato, multi-purpose mics that are easy on the wallet, Shure's SM57 and SM58 mics still top the list. Jeff Briss, sales engineer at San Francisco-based Cutting Edge Audio Group, says "The Shure SM57 and 58 are the fundamental place to start for any home recording setup. These mics work on so many different instruments and applications; their versatility is a big plus. They're also very rugged and dependable, and with a retail price of $99, they're incredibly affordable, too."
Shure Beta 57A & Beta 58A
"The SM57 and 58 are a bit like a Swiss Army knife," echoes David Dow of Modesto, CA-based Aurora Music Productions. Dow, who has been performing, recording, composing, and producing music for more than thirty years, adds that these mics "deliver all-purpose functionality for all types of recording situations. Shure also offers the Beta 57A and Beta 58A for a slightly higher price ($139 and $159), but delivering a slightly brighter sound and higher output level. So it makes sense to have a few of those Shures handy, too."
Shure KSM141
For $399, you can step up to the more detailed and accurate sound reproduction of Shure's KSM141. The KSM141 is a classy-sounding, dual pattern, small diaphragm condenser microphone perfect for any acoustic instrument. If your budget allows, buying condenser mics such as the 141s in "matched pairs" (consecutive serial numbers with identical response) ensures accurate sound capture if you decide to do stereo recording.
Sennheiser MD 421 II
Among dynamic mics, Dow's first choice is the legendary Sennheiser MD 421 II studio microphone. It's a single pattern, cardioid mic with a five-position roll off switch allowing you to fine tune its response to enhance or reduce the proximity effect. "I like the 421s because they are warm and responsive," says Dow. "They're great for both a saxophone and a kick drum. That's real versatility. The 421s have also earned a sterling reputation as both the ideal tom mic, as well as delivering exceptional quality for voice narration." They also perform beautifully on brass instruments such as trumpet, trombone, French horn, etc, and you can stick it in front of a guitar cabinet as an alternative to the SM57. They retail for $380, offer greater flexibility than a 57, and are exceptionally durable.
Under $1,000
Shure KSM44A
Another excellent multi-purpose mic is the Shure KSM44A large diaphragm multi-pattern condenser mic. The KSM44A sells for $999 and works well on just about any sound source. "While there are dozens of options in the under $1,000 price range," says Briss, "the KSM44 offers great value for the money. Plus, it's made by a company with decades of experience and it's built like a tank."
At our campus studio at University of the Pacific, we had the use of a pair of KSM44s for a few months. When it came to recording acoustic instruments such as grand piano, acoustic guitar, and strings, the 44's broad frequency range delivered exquisite clarity and brilliance. The tracks we recorded were almost indistinguishable from the original sound.
AKG C414 XLII
Dow also recommends a classic, high-quality, multi-pattern condenser mic from AKG, the AKG C414 XLII, which also retails for $999. "The 414s are an excellent mic for acoustic instruments, but I also like using it to carefully mic amplifiers, since it gives you a bright sound that really cuts through the mix. The C414 can take high pressure levels (152dB, louder than a jet flying overhead) and features five pickup patterns: cardioid, hypercardioid, wide cardioid, figure 8, and omni; plus the ability to set four more intermediate pickup patterns, say between wide cardioid and omni for an 'even wider' cardioid." The XLII version of this mic has a presence boost to emulate the sound of the legendary AKG C12 mic, one of the most storied mics in the history of recording (which retails for $5,000). In contrast, the C414 XLS variant offers totally linear (flat) response, adding no coloration of any kind. For that reason, the XLS is favored for orchestral or instrument recording where the microphone should sound invisible.
The C414 provides additional features, such as an attenuator with -6, -12 or -18 dB cut; as well as various bass roll off options. The 414s are equally at home on vocals or instrument recordings and add a nice airy presence to just about any sound source. All in all, this mic has become a studio standard because, like the 421, it offers a great deal of flexibility. For instance, Dow mentioned that he likes to use it to record background vocal tracks, as it really distinguishes the sound of the background singers, allowing them to be present, without having to boost their volume as you tailor your final mix.
Shooting the Moon
Neumann U 87 Ai
"For someone ready to reach a little higher in the mic universe," says Briss, "the Neumann U 87 is a classic, professional-studio, multi-pattern condenser mic that delivers unparalleled detail and dynamic sound. The U 87's sonic signature can be heard on many hit records." Amazingly, since its introduction in 1967, the 87 has only undergone one update in its design, proving the genius of its original form and function.
Today's current model, the U 87 Ai, offers three pickup patterns: cardioid, figure 8, and omnidirectional, which gives it a great deal of flexibility in any recording environment. Doing a vocal duet? Try the figure 8 pattern so the singers can stand face to face to communicate better while harmonizing; need to capture a lot of room tone with a handclap track? Try the omni setting and move the mic up and away from the sound source to capture all the reflections and decay patterns.
The U 87 is so widely known and respected that a recent poll of Sound on Sound magazine readers resulted in the U 87 being selected as "the best microphone" period. This singular distinction results largely from the fact that no matter what you use the 87 to record, it will sound accurate, natural, and present. That's why you'll see them used to record everything from orchestras to rap moguls. The large, gold sputtered diaphragm is built for a lifetime of studio usage.
If you're ready to lay down the $3,200 to invest in the U 87, be sure to also purchase a shockmount, a good quality pop filter, and a guard dog to keep your new investment safe. OK, the guard dog may be overkill, but a case to protect this mic is a must. Just as there's a difference in the total ownership cost between a Honda and a Mercedes-Benz, the Neumann is a more expensive investment up front – and will also be more costly if you need repair service or replacement parts. This mic won't suffer the abuse that a stage mic can take, so careful handling, use, and storage are required if you expect to receive the years of service the U 87 is designed to deliver.
Royer R-121 & R-101
"One mic company you may want to check out is Royer," says Paul Klingberg, an LA-based Grammy-winning engineer with credits that range from Earth, Wind, and Fire, to Jonathan Butler, Loreena McKennitt, and The Simpsons. "The Royer R-121 is a really great ribbon mic that many professionals in the LA studio scene use every day. They are so clean and warm and can take a huge amount of SPL. I've used them on everything from vocals to drums to horns. You have to take care of them (don't expose them to wind), but I would highly recommend giving this mic a listen."
The Royer R-121 has earned its reputation as one of the finest recording mics in the world, and for those home studio owners that can afford its $1,295 price, it represents an excellent investment in making high-quality recordings. The Royer product page has a number of sound clips, allowing you to hear the 121 and the R-101 (a less expensive ribbon mic at $799 that delivers similarly jaw-dropping results) in action. Using a ribbon mic, which features a figure-8 pickup pattern, requires adjusting your ideas about mic placement a bit, but once you get the hang of it, they can deliver a warm "you are there" sound that dynamics or condensers just can't match.
---
Keith Hatschek is a regular contributor to Echoes, author of two books on the music industry and directs the Music Management program at University of the Pacific. Jeff Crawford is a recording engineer and producer with more than 30 years industry experience. He also teaches music technology at Pacific.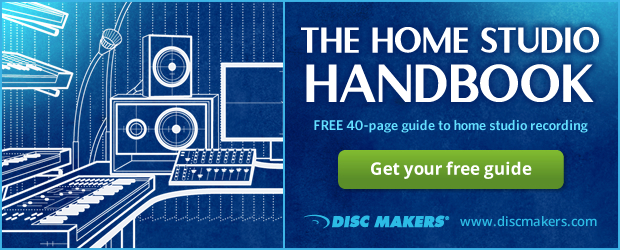 Related Posts
Recording vocals in a home studio
Choosing a signature vocal mic for your studio
Acoustic treatment and your home studio
Building a home studio: Focus on acoustics and get the most of your home recordings
How to get a great vocal sound in your home studio