Being healthy on tour is one of the most integral parts to a successful, fun outing on the road.
Being healthy is not just about what you eat, it's about how you live. Making a commitment to eating better and living a healthier life while on the road with your band can provide you with more energy, better moods, and greater self-esteem – all of which can positively affect your songwriting, performances, and relationships.
It's not about being perfect – it's about making small, gradual changes that become habits over time. It's about implementing what is feasible. Find a reason to be healthy that's bigger than you! Do it for the band, the music, the songs, your performance, your future, your grandmother, your livelihood, your soul. Find a reason that won't let you back down.
1. Before you head out
Get the band down with the plan. It's a lot easier to make healthy choices when those around you are making the same decisions. But if the band decides not to go along, maintain your strength and do it by yourself.
Stock up on water. Make a decision to only drink water in the van. Just this one thing can make a huge difference in how you feel. Most people are unknowingly dehydrated, and most beverages are loaded with sugar and chemicals that tax your body's resources. Drinking water will help keep you adequately hydrated while continually flushing your system. Stock up at a distributor before you go, pack a personal water bottle/canteen, and get the venue to provide you with a case or two of water at each show and take the leftovers with you. Spending a lot on bottled water can be avoided if you plan in advance.
Bring a camping stove and some pots and pans. You can grill burgers, organic veggie burgers, fish, and veggies like peppers, onions, squash, zucchini, or sweet potatoes for practically the same price you would spend for lower-quality food at a restaurant or fast food place.
Pack a cooler. Some of your healthy foods need to be kept cold.
Note: It always helps to bring spices. Sea salt, fresh ground pepper, cinnamon, paprika, curry, basil, parsley, or whatever your favorite is. Also, bring as many good knives as you can. You'll at least need a small one and a big one.
2. Things to avoid on Tour
Fast food restaurants. This is an obvious point but a difficult option to avoid when touring from gig to gig.
Hydrogenated oil. This stuff is poison. If you can avoid it completely, you've done another huge service to your health. Because hydrogenated oil is an inexpensive preservative that enables food to sit on the shelf for months, it's hard to find packaged snacks that don't contain this pernicious ingredient. Basically, it's an oil that's turned into a solid through a process that uses heat over 350 degrees. In order to break down again, it needs to be heated to the same temperature. Your body is not capable of reaching these temps, so it remains totally unprocessed in your system and gets stuck to your insides and arteries causing all kinds of damage.
Sugar/high fructose corn syrup. While your body needs sugar to function properly, you'd be shocked at how much sugar goes into common foods and the health hazards it causes. It's in most breads, crackers, snacks, cereals, granola bars, salad dressings, pasta sauces… you name it. It's worth it to check the ingredient list and see if you can find a version of what you want that doesn't contain added sugar.
3. Stocking The Tour Van With Healthy Snacks
Fruit. Always a good choice.
Cereal Try to find granola or other cereal that doesn't contain sugar. You can get milk, or soy or rice milk, and keep it in the cooler. Keep in mind that the flavored versions of these are often full of added sugar.
Instant Oats. You can heat up water to add to the oats. Again, try to find a healthy version of this convenient instant breakfast.
Bread. Go with whole grain, or better yet, "sprouted" bread in the freezer section of most every supermarket.
Vegetables. Celery, carrots, cucumbers, peppers, onions, and cherry tomatoes stay crisp in a cooler.
Breakfast/granola bars. Make sure you check the label. You'd be surprised at the ingredients in those granola bars you ate as a kid. Luckily, they make a lot of healthier alternatives these days.
Other healthy tour options include, nuts, seeds, raisins, dried fruit, veggie chips, corn chips (baked), and sesame sticks. You can stock natural peanut or almond butter, yogurt, jam, pickles, olives, or hummus in the cooler.
4. Healthy Eating on Tour
There are going to be plenty of times when you can't eat as well as you'd like and many venues that give you a choice of pizza and burgers. Don't sweat it. There are many things that you don't have the power to change. But there are things you can do to make the best of a less-than-healthy situation.
Eat slowly! Eating slowly will help you realize when you're full so that you don't overeat and regret it through the entire show. Stop when you're full, not necessarily when the plate's empty.
Chew, chew, chew. Chewing your food thoroughly helps your body start the digestion process.
Any veggies will do. If the only option is pizza, order it with spinach and peppers, or olives and onions, whatever works for you. And always order a side salad. Even iceberg lettuce is better than nothing. Use oil and vinegar instead of the creamy ranch, blue cheese, or Italian dressing options. These options very often contain added sugar and a whole host of chemicals to increase their shelf life.
Take a little extra time. It's always easy to pull in to the first place that you see when you're hungry, but if you spend a little extra time looking, you will probably find a much healthier and more delicious option.
5. Healthy Living on Tour
Meditate and/or Stretch for 5-15 minutes every morning. Start your day in a relaxing and revitalizing way. When you meditate, your mind calms and you're able to focus on what's really important. You can do the same mental cleaning while you're stretching. Both provide vitality and help activate your mind and body for the coming day. They also help reduce stress and find calm within yourself, which goes a long way toward making sure relationships stay stable on tour.
Maintain good relationships. It's crucial that the band gets along on the road. When you're frustrated, annoyed, or fed up, it shows and it affects every interaction you have. Eating well and activating your mind and body can help you maintain a much more positive outlook.
Exercise. Walking is an exercise that you need no equipment for and no gym membership. You can do it anywhere at any time. Try and incorporate walking into your daily routine. If you're in a new city, exploring it by walking is the way to go.
Get as much sleep as you can. You can't stay healthy over the long haul without adequate sleep. Make sure you're giving yourself enough time to sleep while you're traveling. Everything else suffers when you don't get enough.
Being healthy while your band is on tour is easier than it seems. You just need the desire, some ideas, and a little motivation. Check out some other touring tips here.
Carolyn Stanish shares time between being a mom of two and professional photographer. Her work ranges from moms, to models, to music. Check it out at Facebook.com/CarolynStanishPhotography.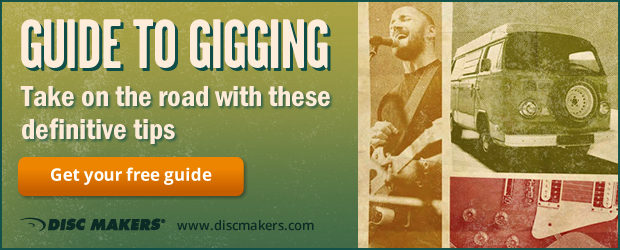 Related Posts
Live streaming your show: A Facebook Live case study
Facebook marketing from A to Z
Setting up a call to action on your Facebook artist page
10 tips for creating persuasive music marketing content
The independent musician's guide to social media marketing
Your live show is the best music marketing tool – just follow the numbers
The Super Bowl halftime show is the weirdest gig on Earth