Jingle writing – AKA commercial ad music – can be lucrative and challenging. Here are 12 tips to help put your music in commercials by writing great jingles.
Updated July 2017.
Estimated reading time: 11 minutes
Everyone has experienced it before — you see an advertisement on TV and three weeks later, you're still humming the same catchy melody that playfully urges you to buy a soft drink, bring your car in for a new muffler, or change insurance companies. Such is the mysterious art of jingle writing.
Crafting words and music for the sole purpose of selling a product can be lucrative, creatively challenging, and fun — but how do you make the jump from indie songwriter, musician, artist, or producer to trusted messenger of a company's brand? What do you do once you've actually landed your first gig writing commercial ad music? Here are some tips on how to write a jingle from established pros to help you get your own jingle writing career off the ground.
Research other jingles
"Listen to everything," says Richard Leiter, a California-based composer who has created jingles for Walmart, Tropicana, the American Red Cross, and Microsoft, among others. "When it comes to the quality of your work, you need to match what's on TV."
Lloyd Landesman, a New York-based musician and jingle writer who has worked with Budweiser, Capital One, Dr. Pepper, Ford, and many others, agrees. "Pay attention to commercials and watch channels that are more youth-oriented, like MTV and Fuse," he says. "What kinds of music are being used in those commercials? Are they dance tracks and electronica, or more quirky, acoustic songs from artists like Ingrid Michaelson? Watching and listening to what's out there can give you an idea of what the industry is looking for."
Understand the landscape
While Leiter does most of his jingle writing directly with the advertising agency, Landesman points out that specialized music production companies — a.k.a. jingle houses — employ or contract with composers. When such companies are approached by jingle-hungry ad agencies, the production houses often generate multiple musical options and the agencies choose which they like best.
Leiter points out that the jingle market has shrunk "tremendously" in the last five years, so whether you're seeking to network with ad agencies or production houses, be sure to set your expectations accordingly. "People are using existing tracks like crazy," he says. "Writing custom jingles used to be a much larger world, but now people are licensing tracks from bands, or having their kids whip something up in GarageBand."
There are still opportunities out there, affirms Landesman. "Everybody's interested in finding new talent. When I was a staff writer for a production company, the owner would keep bringing on new and aspiring jingle writers, both to bring new ideas to the company, and to keep the existing composers on their toes. You do need to maintain a sense of persistence as you're going to get a high rate of rejection early on," he continues. "But it's just like starting a band and building a following, getting people out to shows. You're going to do a lot of research and legwork before anything catches on."
Understand your role
"Jingles are custom-written works for specific companies that have both words and music," says Leiter. "Your goal as a jingle writer is to understand what a company's message is and to translate that into a song. In other words, it's their message, but your illumination of it."
Landesman echoes the point, emphasizing that aspiring jingle writers need to be open to suggestions and compromise. "You're providing a service," he says. "You want the client to be happy with what you've done, so if within the 30 seconds of music you're writing there are 10 seconds that the client isn't thrilled with, it's your job to find out what's wrong and correct it. Don't be married to anything you've done and be very careful about picking your creative battles. Will changing this guitar part to make your client happy ruin your spot? Probably not — and sometimes listening to your client's ideas can actually make your work that much better."
Shamelessly self-promote
"One way to get into commercial jingle writing is to start a dialog with somebody at an ad agency – a writer, creative director, or producer," says Leiter. "If you can figure out what their specific needs are at the time, then you can offer to help. They may have focused messages that they need to convey that you'd never be able to guess otherwise."
Getting access to such people can be tricky, Leiter says, so he advises taking every possible route. "Call them, figure out their email addresses and write to them, send them homemade chocolate chip cookies," he says. "Tell everybody you know that you can write a memorable jingle, and see who knows a creative director at an ad agency. Then go in and try to meet with them, tell them you'll work for free for the first one. You want to open doors, so do what's necessary to get there, even if it means putting together a free demo."
If you're looking to get involved with production companies, Landesman recommends starting with an Internet search for "music production," "jingles," and "advertising music" in whatever city you're closest to and approaching whoever comes up.
"When you're trying to get in the door, be appropriately persistent," he says. "If you call them every day, that's a turnoff, but if you contact somebody every three to six weeks and try to be calm with it, you can stay on top of things without the feel of desperation. Be persistent and consistent, and don't take it too personally if you get a rejection," he continues. "But do take it personally if you get an acceptance!"
Have demo materials ready
Landesman recommends putting together a reel of the best six or seven pieces you've composed and editing together roughly 45 seconds of each one into a single audio file. "Either email it to music production companies or send a CD or press package," he says. "Inquire with them first, though, as to what they prefer when it comes to finding new composer talent."
When it comes to impressing potential clients, Leiter recommends being as creative as possible. "Show them the best thing you can do, whatever it is," he says. "If you see a piece of film anywhere that inspires you, lift it and write a spot to it, so you can show what you do in the context of the video. Whatever you do, be original," he continues." Any advertising agency generally does not want anything clichéd and hate looking or sounding 'ad-y.'"
Build your toolkit with a long-term view
Landesman puts it simply: "The more DIY you are, the more attention you can garner," he says. "It helps to be able to really play an instrument, or multiple instruments, though there are ways for cut-and-pasters to make money doing this, too. Also, the better a mixing engineer you are, the more you can enhance your recordings and give them the best shot of being picked."
All of that said, don't be discouraged if you're not quite a virtuosic instrumentalist or studio expert. "It takes a long time to build those skills and it's really your ears that you're developing as you go," says Landesman. "With each demo you record, you're honing your craft. You're getting better with software, learning how to produce vocals, figuring out how to better perform on your instrument. And the next demo you record will be that much stronger."
Ask questions
Once a client asks you to put something together for him or her, remember that creating an effective jingle is a collaborative process, says Leiter. "Get inside and figure out their needs. Do they have a particular song in mind that they want you to emulate? Is there a particular style or message they're going for?"
If you're lucky, says Landesman, sometimes your client already has a melody in mind, and will send you a rough MP3 for you to start with. "You'll likely have to make slight changes to make up for a client's probable lack of melodic skill," he says, laughing. "But on the bright side, you'll get exactly what the client is hearing."
Recreate a vibe, not a song
If a client does ask you to give him or her "something like [popular radio song ABC]," pay attention, but proceed with caution. "Go with something of a similar flavor, but do not copy the music," says Landesman. "For years, musicologists have been employed to make sure that original music in commercials doesn't step into lawsuit territory, so if people even hear intent to sound like another artist, that can be a problem."
Leiter goes a step further: "If a client plays something like the Beatles' 'In My Life' as an example of what they want, I tell them, 'I will not knock that off and I cannot give you something that sounds like that. What I can do is capture the emotion of it.' Use your genius to translate the emotion, feel, and style into what they need, without coming near to the original example the client cited."
When you're trying to recreate the vibe or emotion of a given song, without stepping onto dangerous ground, Landesman recommends starting with obvious similarities to at least set a similar sonic stage. "If they say they want a track like 'Artist X', are most of that artist's recordings acoustic? Okay, use an acoustic piano, acoustic guitar, and maybe a ukulele on your own track. Is the singer female? Okay, bring in your own female singer to record."
When it comes to preparing the final mix, another tactic Landesman finds helpful in trying to emulate a specific sound is to import a track from the target artist into your session and A/B it with your own mix. "Listen back and forth to try to get some sort of sonic comparison, and try to tweak your mix so it sounds more like the track you're trying to emulate," he says. Even small adjustments to the amount of compression or reverb on a final mix can make a significant difference.
Play to your strengths – but take risks
"If you primarily focus on ambient or dance music, and that's who you are as an artist, then stay focused on that in your jingle writing," says Landesman. "If you get involved with a production company and an assignment comes in that's a left turn for you, though, give it a shot. That's the best way to prove that you're diverse, and being diverse is never a bad thing when you're working independently with ad agencies or freelancing. But that said, focusing and having a specialty isn't bad either."
Be flexible when it comes to money
Creative fees vary based on usage, so understand that a car dealership in Topeka, Kansas will pay you a fraction of what you'd make from Coca Cola, says Leiter. "In some situations, I do people favors for a few hundred dollars," he continues. "In others, I can get upwards of twenty-thousand dollars or more for writing and rearranging."
If you're ever asked, "How much do you charge?" Leiter advises responding with another question: What's your budget? "That tells you what level of production they're looking for," he says.
As you work with a company, be aware that different clients will have different requirements with money and ownership. Some may want a "buyout" type deal, which is essentially a work for hire — you do your work, get your money, and then the company owns the copyright flat out. Other times, says Leiter, you can hold on to copyright and register your work through a performing rights organization like ASCAP or BMI to make money on the back end. Take advantage of music licensing services to protect your work.
"You're not going to get what you want every job," says Landesman. "Just get what you can from the gig, learn from it, and decide down the line if you want to work with this client again. Once you have a roster of clients built up, you can better choose the good from the bad."
Get familiar with unions
As a fledgling jingle writer, you most likely won't have to deal much with unions right away, says Leiter, but it's still important to be aware of them. For some gigs, companies will require that you use union singers and musicians, and some union singers and musicians will only work on union gigs. Just be sure to ask your client what the situation is and proceed accordingly.
The unions you're most likely to work with as you get deeper into commercial jingle writing include SAG-AFTRA (Screen Actors Guild – American Federation of Television and Radio Artists), and the American Federation of Musicians (AFM). Spending even a little time on each organization's website will give you some familiarity, so if you do work with them, you'll have a head start.
Go the distance
"Don't expect to go in, email your clients your first draft, and have them say, 'It's terrific. Here's your money!'" says Leiter. "Do as much work as you need to get them what they want. Remember — you're building a career and you want them as a client forever."
---
Disc Makers' regular contributor Michael Gallant's debut trio album Completely received a four-star review from DownBeat magazine and a five-star review from Critical Jazz, which stated: "This, my friends, is the future of jazz. Fresh, invigorating, progressive – there are simply not enough positive adjectives to list here." Learn more, download through iTunes, jam along with the new JamBandit app, or purchase through CD Baby. Follow Michael on Twitter at @Michael_Gallant or on Facebook.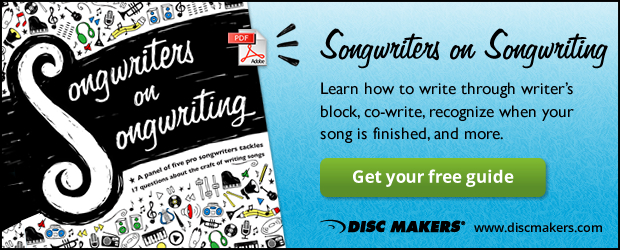 Related Posts
How to Stay Productive as a Music Composer
Breaking Down The Pop Ballad
Building A Career in Music
Writing Jingles – The Process Explained
Making Money With Music Licensing – Part 2: Creating Value and Income
How To Submit Your Songs to Music Blogs, Record Labels, Radio, and Press
How to pitch your music for video games
Placing your music in video games: advice from Halo composer Tom Salta