Breaking your music career goals into smaller tasks will make the impossible seem easy. Do one thing a day to promote your music career and you'll be on the right path.
If I told you you should do over 350 things this year to achieve your music career goals, you'd probably think I was crazy. But you could do one thing a day, right? One thing a day over the year is how many? Exactly, 365 things on your journey in the new year.
As a songwriter, before I moved to Nashville, I developed a plan that really helped me stay focused and committed to my songwriting journey. I called it simply, "Do one thing a day for my songwriting." Those things enabled me to develop a great network of friends and industry in Nashville, and made me more prepared when I moved. I was familiar with the craft and business of songwriting, I was writing better songs, and I really kept my songwriting goals focused. Whether or not you are planning on moving to Nashville or another large music community, these tips can help you stay on your journey, learn something every day, and keep you on track to reaching your larger music career goals!
One thing a day includes making a phone call or sending an email to a songwriter to set up a co-write session, or an industry professional to ask a songwriting/business question, or someone in a music workshop to discuss an upcoming event. It includes making plans for your next trip, planning an upcoming workshop meeting, or contacting the media regarding local songwriting events.
Sometimes I would talk to out-of-town or out-of-state friends who are on their songwriting journey to share ideas, goals, challenges, and successes. Sometimes a call would be needed to say hello to someone I had not spoken to for a while, preferably someone positive who always encouraged me in life, even though that friend was not a songwriter.
One thing a day includes opening my "hook book" to write a hook that I had just found reading a book, or from a conversation overheard during the day. Or, I might find a hook watching a movie or TV, from the preacher's sermon, a newspaper, or magazine. Sometimes, the hook came from out of nowhere, or from wherever these things come from. I would also open my notebook to review older ideas, to see if I was inspired to write another verse or chorus to something I had started previously, and maybe even complete an unfinished song.
I might play the guitar or keyboard, even for a couple minutes a day, which is another excellent thing to do that may inspire an idea. I'd try to channel a melody that might lead to a song, learn a new chord or strumming pattern, or work to improve a song that I've written. If I have more than a couple minutes, then I play the instrument and visualize myself playing my songs to an audience, a concert hall, one of our local venues, or playing live in The Grand Ole Opry, which is my ultimate goal.
One thing a day also includes reading a chapter – or even one or two pages – of a songwriting book to increase my songwriting skills. In fact, why not go ahead and have a songwriting book in your bathroom at all times? If I read a little before going to bed, I often make it a songwriting or industry publication for my bedtime stories. I read the "how to" songwriting books, biographies about people in the songwriting or music industry, or any book or industry magazine that enables me to learn one thing per day. It's is a great investment for my journey.
Plan on attending songwriting seminars to learn and network in the business. There are several seminars in Nashville and all over the country throughout the year. There are so many websites – check out one a day. Google songwriting and see what comes up and read an article. Just one a day and you will have learned a lot by the end of the year!
Another thing you can do is get involved in the local songwriting associations. When I lived in Charlotte, I was the coordinator for the Nashville Songwriters Association International (NSAI). I was fortunate to have two great co-coordinators for the last year in Charlotte, as I had my condo on the market and was making plans to move to Nashville. I know from personal experience that it's great when songwriters ask what they can do to get involved with the local songwriter workshop.
I highly recommend networking in your local community by attending the music events and singer/songwriter nights. This is an excellent place to meet new co-writers and friends that have the same interests as you and inspire new songs. Help build your songwriting community – get involved or start a group of songwriters and musicians organization to bring music people together. Start a newsletter in your community that lets everyone know who is playing where and other music happenings! An example is the Nashville Muse that is sent to 10,000 readers every Monday. You can go to NashvilleMuse.com and see "this week's edition" and do the same type of e-mail newsletter for your community. Also, check out Music Starts Here, our newest venture to try to connect people in the music industry. Be a resource to your community!
One thing a day should include time to review your goals. I wrote my goals down and placed them where I could see them every day. I still do this. That way, I can pause for a minute, look and make sure I have done one thing that day for my songwriting journey. Visualize your goals happening with your songwriting. But, the most important thing for you to do each day is – have fun on your songwriting journey!
Arriving in Nashville in 2002, Doak Turner has had a unique impact on one of the world's most famous music cities. Doak was awarded the NSAI (Nashville Songwriters Association International) Community Ambassador Award in 2012, founded a weekly newsletter called The Nashville Muse, and launched MusicStartsHere.org, a website that hosts over 300 video interviews with music industry pros, producers, and songwriters. He also hosted events such as the "3rd Sunday at 3" songwriters roundtable, and the annual "Guitar-B-Q" networking events.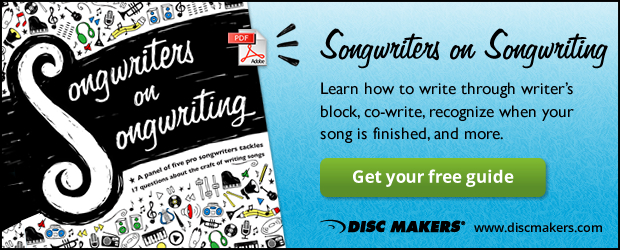 Read More
Ask a songwriter: 5 questions for Byron Hill
Ask a songwriter: 5 questions for Kent Blazy
A DIY Songwriting Workshop Idea
Hosting Music Networking Events
Setting Your Goals