With multi-track recording programs like GarageBand, Pro Tools, and Logic becoming nearly ubiquitous, it's easier than ever to take your own music all the way from first inspiration to finished audio file without leaving your room. But just because these high-powered tools are available, it doesn't mean we all know how to use them well.
One big stumbling block that many up-and-comers encounter is learning to deal with virtual instruments (VIs) – the sampled pianos, guitars, drums, strings, and synths – that you can trigger from your keyboard, via a MIDI connection, and record internally in these programs.
Given that many such sounds often come standard with recording software, it can be tremendous fun to lay down a virtual drum groove, record a virtual bass line on top, add a virtual organ pad, and so on. Regardless of how cool your composition is, though, and how inspired your performance may be, the end result can still end up sounding mechanical and rather lifeless. But what's to be done?
Making your virtual instruments breathe with the music, sound more realistic, and convey the true emotion of the song is a craft unto itself. To help you bring your own pre-packaged sounds to life – regardless of whether you're using GarageBand or Pro Tools, Logic, or Digital Performer – here are some tips from the pros.
1. KNOW THE REAL INSTRUMENT
"It all starts with thinking like a player," says Ronen Landa, a composer who has had his music played on the Discovery Channel, Animal Planet, and MTV. "If your virtual trumpet doesn't take breaths like a real trumpet player would, it will ring false. Understanding the limitations and capabilities of the actual instrument will allow you to create a more realistic representation. One hint – despite your ten fingers on the keyboard, most guitars only have six strings!"
Emilio Palame – a pianist and composer who has worked with Peggy Lee and Chuck Mangione, and has composed and arranged for Nickelodeon shows – agrees. "For horns, think unison lines or octaves, and then maybe two- or three-part harmony at the most," he says. "Unless you're trying to emulate a big band, in which case thicker chords can possibly work."
2. KNOW YOUR VIRTUAL INSTRUMENTS
One of the best ways to make your VIs sound natural is to spend lots of time playing with them before you hit record. The more you absorb the nuances and idiosyncrasies of your new virtual instrument, the easier it will be for you to bend that instrument to your musical will once the red light is on.
Getting to know your VIs means, among other things, paying attention to how both the beginning and the end of a note sounds. "To make a solo track sound natural, you have to place your notes carefully, so as not to unnaturally cut off the previous note," says John Montalbano, a bassist and composer who has recorded with Public Enemy and composed music for Comedy Central, VH1, and Fuse. "You're kind of limited to the timing of the VI samples you have to work with, so it's very important to know your samples."
Knowing your VIs also means knowing their strengths and weaknesses – and specifically, how to maximize the former and cover up the latter. "For a pad instrument that is underlying the main focus of the track, it's not quite as critical to have a pristine sounding virtual instrument," says Montalbano. "It's more important to have the flexibility to adjust the timbre or tone quality of that virtual instrument so it sits well in the mix. If you're using it as a solo instrument, the focus of the listener will be on that instrument, so it's much more important to use a sound that has greater fidelity and detail, and to spend more time making it sound realistic."
Finally, knowing your virtual instrument means knowing all of the internal tools and parameters you can use to tweak its sound. "Many VIs now offer different mic positions, tonal variations, modulation expressions, and so on," says Landa. "Use all of these tools to help achieve a realistic sound that balances well with the rest of your track."
3. AUTOMATE DYNAMICS
"Watch out for long sustained notes," warns Landa. "They can trap you in a vast expanse of boring dynamics, so handle with care."
Indeed, Palame says that, when it comes to horns and strings, the most glaringly unrealistic thing you can do is create static tones. "You don't want a note just to sit there," he advises. "That's not how people play. Use crescendos and decrescendos as much as possible. To get more realistic sounds, do a lot of volume automation. Even if you're only changing volume a slight amount, it just makes the instrument breathe more."
If you have a recording control surface attached to your computer via USB or FireWire, you may be able to simply move a fader up and down as the track plays back in order to automate volume changes. And even for more basic recording programs like GarageBand, you can also draw in volume curves below the track itself to add more realistic ebbs and flows to your music. Be sure to check out your recording software's instruction manual for specifics.
4. BEWARE CUT AND PASTE
Whether you're working with repeating drum parts or bass lines, string pads or guitar leads, adding variation to each repetition of a part can help your music sound less mechanical. "Playing the lines into your recording software, rather than cutting and pasting them, can help you achieve some subtle variations in performance," says Landa.
Palame points out that cutting and pasting when it comes to drum parts can sometimes work – but only if done carefully. A dynamic and well-crafted four-bar phrase, for example, can be repeated and still sound fresh. "Each of those four bars has to be different when it comes to the velocities of each drum hit, especially the hi-hat and kick," he said. "If the snare is only on the beackbeats, consistent velocity there is good because you want the backbeat to be fat."
And while four bars is usually enough to trick the mind, don't be lazy as you program the drum hits for your repeating phrase. "Be sure to do slight variations of open and closed hi-hats, and add modest fills to transition to the next section. Of course, you should think about adding cymbal crashes for accents and on the downbeat of each new section."
5. RECORD IN MIDI, PROCESS IN AUDIO
"Convert your virtual instrument MIDI tracks to audio before applying effects," says Montalbano. "Some virtual instrument suites have effects built in where you can add reverb, compression, and other effects while still in the MIDI state, but I prefer to convert before applying effects. It just gives me a better picture of what the audio sounds like overall."
Palame agrees: "Virtual instruments are easier to process once they're in audio," he says. "I always wait until the end to do that, though, so if there are any note changes I have to do, I don't have to go back and process things more than once."
6. PAN FOR REALISM
Where you pan certain parts (where you place them from far left to far right) can make a big difference in how realistic a virtual instrument may sound. "With strings, pan the violins and solo violins more to the left, violas to the center, and celli and basses more to the right," recommends Palame. "That's how they would appear on an orchestra stage. If you put a stereo mic in front of a real orchestra, that's how you would hear things."
Quick tip: if you're not sure how to pan any given virtual instrument, pop on a favorite album that features that instrument prominently and listen to where it appears in the recording, left to right. Placing your own virtual instrument in the same space will be a great place to start as you build your own track.
7. CHOOSE THE RIGHT PLUG-INS
In addition to the sounds that come included with any given piece of recording software, you can easily beef up your VI arsenal by purchasing plug-ins – add-on software programs that can give you more sounds to work with. There are tons of useful virtual instrument plug-ins available, and more being developed on a regular basis.
"For rhythm section sounds, the basic two that everybody should have are Spectrasonics Stylus RMX for drums and Trilian for bass," recommends Palame. "As far as keyboards are concerned, Synthogy Ivory is the best virtual acoustic piano I've heard. Both the EVP 88 that comes in Logic and the Elektrik Piano from Native Instruments are great for Rhodes and Wurlitzer electric pianos."
"Some of the packages out there have fantastic detail," continues Montalbano. "For classical and strings, I use the IK Multimedia Miroslav package, mostly. They even have samples of the violinist breathing!" For percussion, Montalbano recommends software from Toontrack, a company that creates a popular line of drum-based plug-ins.
To help you choose the right plug-in for your music, many manufacturers offer sound samples on their websites; some also make demo versions of the software available for free download. Getting opinions from the larger music community is also helpful – publications like Electronic Musician, Sound on Sound, and Keyboard regularly publish in-depth reviews of VI plug-ins, and online music production discussion forums are also great places to mine for opinions and recommendations.
It's worth noting that some VI plug-ins are significantly pricier than others (some high-end orchestral VIs cost thousands of dollars), and not all plug-ins work with all pieces of recording software, so make sure that your recording setup, and bank account, can accommodate the VI of your dreams before you buy.
8. APPLY EFFECTS … CAREFULLY
Whether you're working with digital effects inside your recording software, or running your audio out to external effects processors, treat your virtual instrument audio like you would treat a live recording, recommends Landa. "I EQ each individual instrument for a final mix," he says. "Sometimes I'll run much or all of an ensemble through a single reverb to create the feeling that all the instruments are in the same room."
Montalbano also recommends adding custom reverb to your virtual instruments, and using another powerful tool as well: "You may want to use some compression to bring out the nuances of the VI," he says.
While effects can make your virtual instrument sounds pop and sizzle, they can also get in the way. "Some arrangers add chorus to virtual strings to try to make them sound more real," says Palame. "It can create an interesting sound and texture for sure, but it does not make strings sound more realistic at all." For horns, Palame recommends a specific effect: "Add a slight, 180-millisecond slapback delay," he says. "It gives them more ambience and impact, especially if you're using shorter notes.
Disc Makers' regular contributor Michael Gallant's debut trio album Completely received a four-star review from DownBeat magazine and a five-star review from Critical Jazz, which stated: "This, my friends, is the future of jazz. Fresh, invigorating, progressive – there are simply not enough positive adjectives to list here." Learn more, download through iTunes, jam along with the new JamBandit app, or purchase through CD Baby. Follow Michael on Twitter at @Michael_Gallant or on Facebook.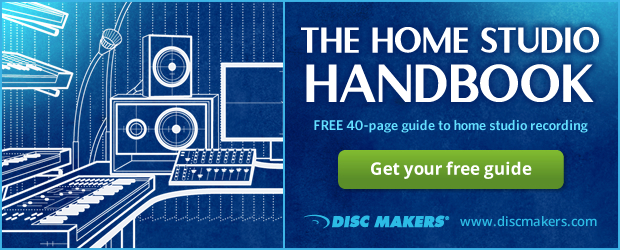 Related Posts
The wide world of licensed music in video games
Going mobile: A look at music making apps
Placing your music in video games: advice from Halo composer Tom Salta
Virtual synths and the art of imperfection
MIDI FAQ for beginners
Using a MIDI Controller In Your Home Studio