From smart phones to 24-track recording consoles, there are a variety of ways to record your live gig. Here are nine gear options to get you started.
In "Recording Your Live Gig, Pt. 1: 8 tips to get the most out of your live recording," we talked about strategies for making outstanding live recordings – and now we're back with equipment recommendations to help you get the job done. From smaller and less expensive options through to inclusive, high-end rigs, here are some ideas that will introduce you to the plentiful live music recording options available.
Smart Phones
It may seem a little silly, but if you have a smart phone with a voice memo option, you already have a digital recorder for your next live gig. Don't expect outstanding audio quality, and make sure to test your phone out beforehand to see how it reacts to varying sound levels, says Michael Winger, who runs the live recording company Flying Kitchen and has recorded acts like Regina Spektor and Tom Petty.
"With any gear, make sure you have the ability to control the gain to accommodate either very loud or very quiet sound levels," Winger says. "With an iPhone, it's a good idea to get an extra mic input device so you can get this kind of control. I usually don't expect too much out of an iPhone recording, though I use them all the time for fun."
Blue Mikey
Speaking of extra microphone input devices for the iPhone, the Blue Mikey is the "king of iPhone recording," says Stephen Fortner, editor in chief of Keyboard magazine. The stereo condenser microphone plugs directly into the bottom of your iPhone or iPod and can rotate 230 degrees once it's installed. And in keeping with Winger's recommendation, you can adjust gain settings to accommodate both loud and soft sound levels.
Be sure to check out the Blue Microphones website before you buy, though, recommends Fortner; as of the writing of this article, the Mikey works with many versions of the iPod, as well as iPhone versions 3GS and earlier, but not the newest iPhone 4 – so make sure you have a compatible piece of Apple hardware before hitting "order."
Zoom H2 and H4
"These portable recorders aren't hugely hi-fi, but they are cheap and allow you to control gain," says Winger. "The on-board mikes sound pretty decent and they record to SD memory cards, which makes getting extra storage easy. I sometimes set one of these up at the back of the room when I record, if I'm concerned about the power at a club and think something might go wrong. I've also used them to record wedding ceremonies and other location gigs."
The Zoom H2 doesn't feature dual microphones like the majority of hand-held digital recorders, but rather packs four mics into its small casing. Even though it only records to stereo, the multiple mics give you interesting options when it comes to choosing how the H2 picks up sound – you can either have it record directionally (capturing only what's directly in front of it, for example) or enable it to equally record everything in a 360-degree field around the device. And while the Zoom H4 only has two microphones built in, it can record up to four tracks at the same time. Also interesting are the H4's on-board effects, which can let you add virtual guitar and bass amp sounds to your recordings.
Korg MR-2
Cookie Marenco, California-based producer, engineer, and founder of Blue Coast Records, is a fan of this little hand-held unit for many of her on-site recording gigs. "You can record in DSD, or 'direct stream digital,'" she says. "It's an extremely high-resolution audio format, but units only cost around $700. I see it as protecting your recording for the future."
The Korg MR-2 can lay down up to two tracks at once, and you can record audio either through the on-board stereo condenser mic, or through stereo line input. Once you record on the MR-2, you can port audio files over to your computer via a USB 2.0 connection and mix and edit from there. Another nice touch is that the MR-2 comes with screw mounts built in, so you can mount the unit on a tripod. This can both keep the MR-2 safe from the threat of spilled drinks and dirty tabletops – and give you greater flexibility about how and where to position it in order to capture the best sound possible.
TASCAM DR-2d
"If you're just looking for a stereo picture of the room, this is a very cool option," says Fortner of the small, hand-held recorder. "It's about $250 and records high-resolution audio – up to 96kHz. Also, it has a 'dual recording mode,' meaning that it can simultaneously capture two stereo recordings of a live gig at the same time. And you can set it to record the second file a certain number of decibels lower in volume than the first."
Sounds nice, but what's the point? "If a band you're recording gets really, really loud on a powerful chorus, a normal recording could clip or distort as a result of the increased volume," says Fortner. "But given the Tascam DR-2d's backup file, recorded at a lower volume, you can splice in audio that isn't distorted. Very cool."
The DR-2d also can let you simultaneously record twin stereo files from both the on-board microphones and the device's line input. Want to capture both a board feed and room ambience at the same time? This will let you do it.
ZOOM R24
"The Zoom R24 is a 24-track recorder that can record eight tracks at once," says Fortner. "And once you've recorded a live show with it – stereo drums, guitar, bass, and keyboard, for example – you've got four stereo tracks. It's particularly good if you want to take stuff home and do overdubs over that." Fortner also admires how smoothly the R24 interfaces with computers, even functioning as a control surface for computer-based recording software. "You can get home, dump the tracks right in to whatever editing software you're using, and then use the R24's faders to mix the music," he says. "It's a great intermediate solution, and for $500, it does a ton."
The R24 comes with other goodies as well – among them, built-in studio effects to tweak your recorded sound, a drum machine with 400 factory preset rhythm patterns, and the ability to connect twin R24s with a USB cable so you can record 16 tracks at once.
MOTU UltraLite-mk3
The little black boxes in the MOTU UltraLite family aren't self-contained recording solutions in and of themselves – instead, they're audio interfaces – they're the devices that receive and digitize the sound coming in from microphones or direct-input instruments. They then send the sound into your computer, where it's processed and preserved by your recording software.
Any recording enthusiast will tell you that are many worthy audio interfaces on the market, with new ones coming out constantly – and that the majority of them are of high enough quality to help you lay down fine tracks. So what makes the UltraLites particularly useful for live recording? First off, they are (as the name implies) light – and also ruggedly built to take the beatings that come from regular setups and breakdown at concerts. Second, they pack an admirable amount of inputs, outputs, and controls into a small package; the ten input jacks, for example, provide plenty of space to handle the majority of small and medium-sized recording situations. And finally, they've helped power the sound for major tours from artists like Madonna and Roger Waters. Not a bad track record.
JoeCo BlackBox Recorder
"If you want to go higher end and capture 24 tracks of a performance, this is a serious solution," says Fortner. "The BlackBoxes are single rack-mount recorders that can lay down 24 tracks of high-definition audio at once. Then, you can pipe it over to your computer for editing through a USB connection. It kicks ass, but it's definitely high-end." Indeed, expect to pay in the $2,000-4,000 range if you want to start bringing this piece of gear to gigs.
[http://www.sweetwater.com/store/search.php?s=JoeCo+BlackBox&go=Search]
The BlackBox prides itself on simplicity of use and can be triggered to record from a footswitch. If you really want to go all out and record, say, a symphony orchestra, you can link multiple units together to multiply the amount of available tracks you can use.
Alesis HD24
"The HD24 is a great 24-track unit that's built like a tank and can record several hours of 24-track audio, depending on your disc space," says Winger. "You need to bring a separate mixer to use this one, but if you're in a situation where you can only get direct audio outs from the live console, it's a great, easy box to use."
In part 1 of this series, Winger emphasized the importance of using redundant recording systems in case one craps out – and this is the device he often brings as his fail-safe. "I use these as backup recorders for all our live gigs," he affirms. "It has definitely saved our butts at least twice."
Disc Makers' regular contributor Michael Gallant's debut trio album Completely received a four-star review from DownBeat magazine and a five-star review from Critical Jazz, which stated: "This, my friends, is the future of jazz. Fresh, invigorating, progressive – there are simply not enough positive adjectives to list here." Learn more, download now through iTunes, jam along with the new JamBandit app, or purchase through CD Baby. Follow him on Twitter at @Michael_Gallant or on Facebook.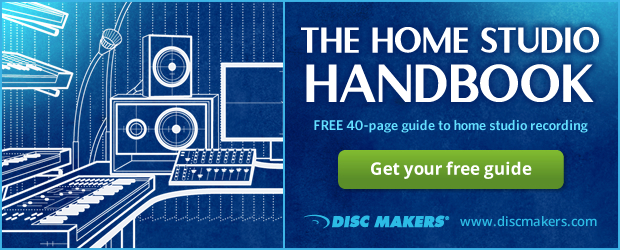 Read More
Recording Your Live Gig, Pt. 1
Help the soundman get you a great live music mix
Get a Great Live Mix – Eight Ways to Take Control of Your Live Sound
Ditch the pre-show performance jitters
Improving Your Music Performance Starts With a Vision