The studio is up and running and it looks great. I'm getting used to the sound of the speakers in the room and the sound of the ISO booth. The more I listen and work in the room, the more secure I feel in knowing what changes I need and want. I have made a list of things to be addressed by priority and am going to tackle the final construction and acoustical treatments issues.
Keeping the peace
My neighbors in the back could hear music late at night because of the window in the studio. It is of utmost importance that I keep them happy while still being able to work. My father built a window cover using rigid fiberglass and 1/2″ plywood. The unit was press-fit into the window opening and covered in the same acoustical fabric as the rest of the room. I went outside as my father cranked up the audio in the control room. Not a sound escaped. The unit he built did the job perfectly!
Air apparent
The next priority was the air conditioning. It seems like this year in Philadelphia there was no spring – just a straight trip from winter to summer. I was going to wait to address air conditioning issues at a later time, but after just a few days of sweltering heat and humidity, I raced to fix the problem.
My first thought was to pop a window unit in the adjoining bedroom, but the thought of hearing the compressor howling while I was working was not inviting. For a number of years now, Mitsubishi has been making a split AC unit where the compressor is on the outside of the home and couples with the inside unit by a three-inch pipe. The system is whisper quiet and really effective.
In my application, the compressor was mounted on the roof. The only place to put the indoor unit was above my control room door. I had put a glass block up there to let in some light and open up the room a little, but that had to be covered over. 220-volt lines were run from the basement to both the unit on the roof and in the control room. The condensation line was run down to my main sewer pipe in the basement. The air conditioner is very quiet and puts out about 16,000 BTUs, more than enough for my studio needs.
Signature sound
As I listened to my Mackie 624's in the room, I noticed a null followed by a hot spot due to bass build up. So I did a balloon test and sent the .wav files to Nick at Acoustics First. I didn't follow the layout to the letter and the room needed a little help.
Before Nick sent some new materials, I put a bass trap in the center of the room in front of the console between the other two traps. This was the original configuration in the design drawing, and it did a nice job of smoothing out some of the boominess.
Nick sent me a two-by-four foot, four-inch thick piece of "Cutting Wedge" acoustic foam. The foam absorbs frequencies from 500hz and above and takes the ring out of spaces. When layered it can actually absorb lower frequencies as well. I mounted this in the ISO booth across from the curved wall. Immediately the sound was tighter and more pleasing in the booth.
Curtain call
The exit from the studio to my bedroom is by way of French doors. These are constructed from wood and glass. I wanted to reduce any mid-to-high frequency reflections off of this surface, as well as obscure the view to my bedroom, so I decided to hang some curtains.
I called Moskow's, a drapery store near my home, and asked about fabric. The owner told me he had the original theater curtains that were left over when we remodeled Sigma Sound's "Studio 1" over 25 years ago! Amazingly the curtains were in pristine condition and matched the décor in the studio. The curtains came in one piece so I asked to have them cut. Then, instead of using a standard pull cord setup, I put up a rod and used heavy-duty shower type hangers to mount the drapes. Now there would be no binding and I could just grab the drapes and pull them open or closed.
ISO door
I was getting a little more leakage than I wanted out of my ISO booth door, so I decided to call in a professional. Albert Kleinschmidt is a musician as well as a professional door man, so I had him over to try to lessen the amount of leakage between rooms. The first thing he did was to explain a few basics.
1. Fill voids in frame and door hardware.
2. Isolate hard surfaces from hard surfaces.
I had already filled the door frames with expandable foam and used two acoustic panels of varying thickness on the ISO booth's window (as explained in previous articles).
Albert started isolating the hinges from the door frame using standard gasket material available at any hardware store. Then he cleaned the frame with isopropyl alcohol and installed perimeter gasketing. [Note: The gasketing should fit snug but not be too compressed when applied, as this will prevent the material from "puffing out" and working optimally.]
Albert put two strips along each side of the frame, as my door was definitely a little undercut. After everything was installed, the door was closed and I ran a flashlight up and around the door frame to see if any light got through. This is a very easy initial way to physically test how well the area is sealed. After it was determined that everything looked good, Albert installed an automatic door bottom. This device drops a rubber bar down to seal the door bottom when the striker on the side hits the doorframe.

Finally we put on some music and closed the door. After listening with our ears pressed against different areas on and around the door, it was decided that we should caulk around the widow frames and put some gasket material inside the door handle.
When all was said and done, the door closed really well and there was a marked drop in higher frequency bleed. The amount of leakage was absolutely tolerable and I was extremely happy with the results. Was it as good as double doors made to be acoustically sound proof? No, but that would have cost $10,000 just for the doors and frames, and even if I wanted that, there wasn't enough space. In all, I spent less than $500 dollars for my door, metal frame, hardware, and window. I've got a quality environment to cut vocals and other miked instruments for a very reasonable price.
Home brew speaker stands
When mixing, it's good to have more than one pair of speakers as a reference. I decided to pull out my trusty Tannoy PBM 6.5's and place them next to the Mackie 624's on top of my Argosy desk. This would complete my midsize near field speaker requirements, but I needed more space for a larger speakers like the JBL 4410's. I looked around for speaker stands and almost died. Hundreds of dollars for a pair of stands. No way!
I was getting ready to visit the hardware store for some 2x4s and some 3/4″ plywood to make stands when my dad emailed me a link to a site that had a really neat, inexpensive speaker stand design that he thought we could expand on.
For each stand, you'll need:
– 3" schedule 40 PVC pipe cut two inches shorter than the actual height you want the stands (you'll have to cut the pipe even shorter if you're placing feet on the stand)
– 1" thick piece of solid wood board
– 3 1x4s cut to the total height of the stands (minus the feet, if applicable)
– a 50 lb bag of fine sand (that's enough for two speaker stands)
– a threaded 3/8" rod cut 1 3/4" longer than the length of your pipe
– 2 washers and bolts
Cut two pieces of board to your preferred size (either 10, 12, 14, or 16-inch square): one for your base, the other your top. A 7/8" hole is counter sunk on the top of the top piece and the bottom of the base, each about half way through the wood right at the center of the square. Then a 7/16" hole is drilled all the way through.
Rub silicon glue along the bottom of the PVC pipe and affix it to the bottom piece of wood. Slide the threaded rod thru the base and attach a washer and bolt on the underneath. Make sure that your PVC pipe is centered. When the glue has dried sufficiently get a funnel and fill the PVC tube with sand. Tamp down to help the sand "settle" then pop the top on, and affix with the washer and bolt in the counter sunk top piece.
Now get the three 1×4 boards and screw these into the sides and back of the stand's top and bottom solid wood. I used six 2 1/2″ wood screws for each board (three top/three bottom). Depending on the weight of your speakers place heavy objects such as decorative paving stones around the base.
To customize you can stain or paint the wood, paint the pipe or cover it in fabric or even wallpaper. A carpet square can be attached to the top or you can use a foam pad for the speakers to sit on. You can put felt, rubber, or metal pin feet on the bottom, depending on your floor covering. Just remember to factor in their height when determining the cut on your PVC tube. These stands are very sturdy, look really cool, and cost less than $25 each. That's far less than store bought stands, and they can be the exact height you need rather than an off-the-shelf approximation.
Organizing
Every studio, no matter what the size, needs to have certain accessories. Electrical needs include audio cables, wire, wire strippers, connectors, soldering iron, solder, adapters, power strips, batteries, electrical tape, replacement fuses, and basic small tools such as screw drivers, pliers etc. For mailing and business you need envelopes, special mailing packets for CDs, labels, stamps, various adhesive tapes, and packing material. Reference materials include blank CDs and DVDs, CD sleeves, and back up CDs and DVDs of software programs. Office supplies like pens, pencils, markers, labels of all sorts, staplers, staples, paper, paper clips, ink cartridges, receipts, invoice forms, and expense books are necessities. That's a lot of stuff. Hunting around for these things when you need them can be frustrating and also embarrassing when a client is in the room. What to do?
First, use this list as a rough basic starting point as the minimum of things you need to operate your studio efficiently. Then buy, build, or salvage storage for all these items. Set up an area for each so that if you need to mail something everything is next to one another. If you need a cable, they all are in one dedicated area.
I put up shelving in an alcove that was made in a studio wall. The alcove was made for a dual purpose: first, to increase surface area and reduce parallel walls, and second, to act as a storage area that did not step on the footprint of my small room.
I went to a lumber store and bought solid wood shelving and attached it on three sides to 1x2s that were anchored into the walls (attaching it to three sides makes it much sturdier than the typical two end pieces used with shelves). Make the height of the shelves different to suit what you need on each. Down below my shelving I put a storage cabinet that I salvaged from a Radio Shack that was closing. After pulling out some of the plastic dividers, I had a custom storage area for my batteries, cables and electrical stuff. The cabinet fits perfectly in the alcove so no space is wasted. Take advantage of every inch of space you can when making your storage area.
I found an old scratched up two-drawer filing cabinet and got camo paint. I taped up the chrome handles and sprayed the cabinets so they looked like they were out in the field. Then I put all my receipts for studio expenses in one drawer and all my invoices in the other.
When I was done, I had created an area where anything I needed was within a nine-foot tall, two-and-a-half-foot wide, one-foot deep "zone." By adding a small step stool, everything is within arm's reach.
It's never done…
I tackled everything I wanted to get to in the construction phase of the studio build. I am sure there will be modifications and changes down the line. There always are. My mind is already working on adding a small carpet in the studio, adding carpet to the ISO booth, hanging a curtain on the main entrance door…
The next phase of our studio series will be looking at the gear that was chosen and also to review gear that might find it's way to your and my studio. I hope you found this series informative. You can always contact me with any specific questions.
Click here to read Part 1 & 2 of this series.
Click here to read Part 3 & 4 of this series.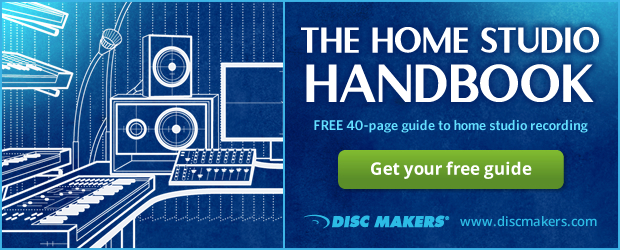 Michael Tarsia is a two time Grammy recognized Engineer, with over two dozen Gold and Platinum album credits. He is also a Director and Instructor for the Sigma Soundz Recording Arts Program. Learn more at www.miketarsia.com, email sigmasoundz@gmail.com, or call 215-837-1002.