Sponsorships and artist endorsement deals come in many shapes and sizes, and not all are from national brands. Form a plan if you're looking for partnerships with companies and brands.

A sponsorship or artist endorsement is a symbiotic relationship between artists and product-based companies. You can receive free merchandise, cash awards, recording time, promotional items, assistance with promoting local shows, distribution through CD samplers, and exposure from company advertisements. You can appear more credible in the eyes of the public, as well as the eyes of club bookers who might be interested in having you perform at their event.
Through artist endorsement deals, companies can creatively expose their brand name and products to their target demographic audience and increase public awareness and sales. Everybody wins! Though sponsorships are usually reserved for artists already creating a small buzz in their community, everyone can benefit by checking out the following tips.
Know the products and brands associated with your fans
The first step toward getting local and national sponsorships is to understand what products and brands your target audience is attracted to. Survey your fanbase – as well as the fans of groups you sound like to get ideas. Pay attention to your fans' clothing, footwear, headgear, sunglasses, and what they drink. They might be drawn to Quicksilver clothing, Vans shoes, Ray-Ban sunglasses, Gold Coast skateboards, Harley Davidson motorcycles, and Rockstar energy drinks. Whatever the products and brands your fans enjoy, this information is essential in helping you home in on which businesses and companies are worth approaching.
Put together a local target sponsor list
Research local businesses that sell the products associated with your target fans and compile a local target sponsor list. Gather each business's name, owner, address, phone number, and even store hours. Don't be afraid to include small mom and pop stores on your target list in fear that they won't have the money or interest in sponsorships. One Los Angeles band approached a hip and fashionable clothing boutique on Melrose Avenue and got free merchandise to parade onstage and give out to fans. Furthermore, the band's CD was made available for sale in the boutique while select tracks blasted over the sound system daily. It's not too difficult to find interested businesses willing to form alliances with you. Artists right in your very own city may already have relationships with local stores and they'd be willing to share contact information with you.
Compile a national sponsor list
Research the companies that manufacture the products associated with your target fans and compile a national sponsor list. Gather each company's name, marketing director, address, phone number, and also its submission policies. If alcohol is a product associated with your fans, add companies like Jagermeister and Jim Beam to your target list. These companies have long reputations for supporting up-and-coming bands with rewards of cash, recording time, and musical gear.
Target equipment manufacturers
Consider setting up endorsements with equipment manufacturers to get free or discounted gear and reach new fans. Equipment endorsements are like product sponsorships, but they deal specifically with musical instruments and products. Just jot down a list of the various brands of musical instruments you currently play – or truly desire to play. Companies such as Sabian, Rhythm Tech, Gibson, and a number of new and developing companies are all known to provide endorsements to musicians who can show that they're generating "attention" in their community – and specifically generating the attention of people between the ages of 18 to 30 who aspire to be musicians. Just visit the websites of your target companies and write down the artist-relations directors' names, the addresses, phone numbers, emails, and submission requirements.
To network and begin forming relations with certain companies, you should also plan to attend the bi-annual NAMM show, a convention that attracts nearly every equipment manufacturer and artist relations director – from both established companies and newer folks that may be more receptive to speaking with you. The show is usually held in Anaheim, California in January and rotates in select cities in August.
Seek to get on corporate CD music compilations
Major companies often attempt to connect with their clients in unique ways and provide a value-added perk by distributing CD music compilations and playlists. While this is not necessarily a form of sponsorship, it is certainly a way to align your music with major companies and get exposed to new listeners.
Seek to get on corporate music compilations and playlists by making a list of the various companies that attract a similar demographic audience as you. Browse these companies' websites and look for announcements. Also keep your eyes open for announcements posted on message boards. Just be extra careful of new and smaller companies that request payment to be on their compilations. Should you decide that paying to be on a sampler is worth the promotional value, always check the company's references first!
Show you're creating a buzz by assembling the tools
Prepare to show sponsors you're creating a buzz by collecting articles written about you in local newspapers and blogs, getting testimonials from local club owners (raving about your shows and your draw), and saving copies of current and past tour schedules that show you're playing out regularly. Prepare a well-written bio that specifically addresses why you would be a superb candidate for sponsorships, write a cover letter that shows your enthusiasm for promoting specific brands, and have photographs taken of you using specific products.
Sponsorships with local and national companies can amount to free merchandise, cash awards, and the credibility that comes from being affiliated with successful companies. But make no mistake – sponsorships do not come easy. You have to put yourself out there and be ready to take rejection until you get to the magic word "YES." As success coach Tony Robbins says, "If you don't ask, the answer is always NO!"
The contents of this post are © 2014 by Bobby Borg BobbyBorg.com. All rights reserved. Not to be posted, printed, or used in any other way without proper attribution to Bobby Borg and Disc Makers.
Get your FREE download of Bobby's new Disc Makers guide, The Complete Marketing Process: Creating and executing a complete marketing plan, excerpted from Bobby's book, Music Marketing For The DIY Musician: Creating and Executing a Plan of Attack On A Limited Budget (September 2014, Hal Leonard). The book is available on the Hal Leonard website, Amazon.com, or at BobbyBorg.com.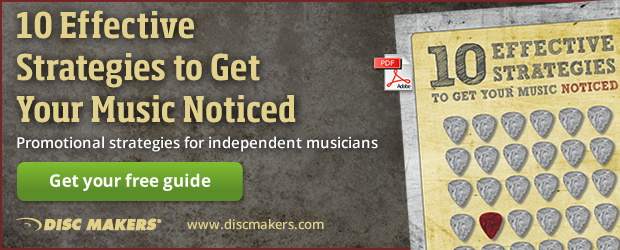 Read More
How to submit your songs to music blogs, record labels, radio, and press
Artist Endorsement Deals – dos and don'ts
How Musicians and Composers Make Money
Finding money for your project – a look at Kickstarter and other fan-funding sites
Connect to your fans with a compelling story